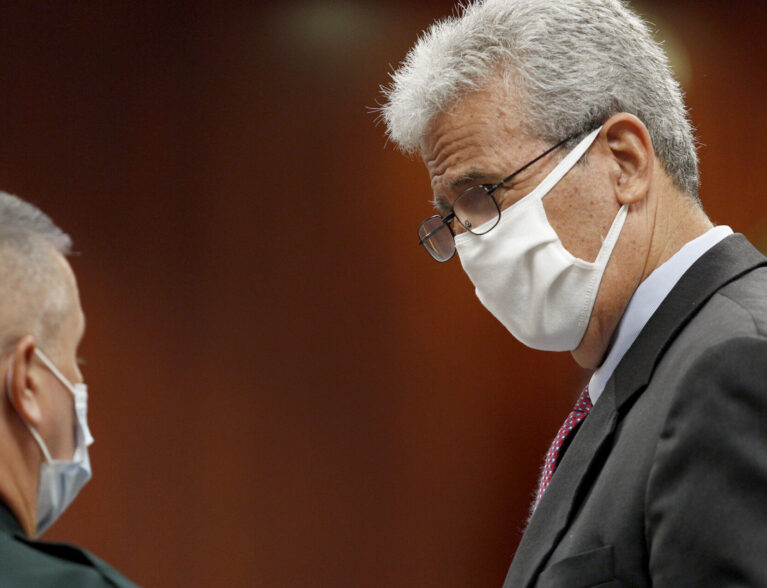 INDIAN RIVER COUNTY — The sentencing hearing for former Assistant Fire Chief Brian Burkeen was postponed again Wednesday after his wife revealed she recently tested positive for coronavirus.
Burkeen and his wife, Ginger, tuned in by phone Wednesday to Judge Dan Vaughn's courtroom for Burkeen's sentencing for a nearly $300,000 tire theft scheme, a crime officials said Burkeen committed between 2013 and 2018. Vaughn agreed to postpone Burkeen's formal sentencing to 8:45 a.m. July 16 after Ginger Burkeen told the courtroom she tested positive for coronavirus Tuesday.
Brian Burkeen, 57, of the 10000 block of 138th Avenue, Fellsmere, pled no contest to the theft charges in March. If convicted, Burkeen could face the maximum penalty of 30 years in prison.
Burkeen told Vaughn that he got tested for the virus Tuesday after his wife received her results back. Burkeen said he expects to get his test results back next week and was instructed by doctors to self-quarantine for 14 days.
"I'll agree to postpone Burkeen's formal sentencing until it's determined if he tested positive or not for the virus," Vaughn said. "I will require Burkeen to remain home unless he has a medical appointment or to meet with his attorney. I wish to be advised of his test results ASAP."
Social distancing measures were in place inside the courtroom. Everyone was also required to wear a mask.
Prosecutors argued there was no evidence the former assistant fire chief was experiencing coronavirus symptoms, and pushed to proceed with the sentencing. But, the defense claimed that Burkeen should be physically present for his sentencing, noting that his wife would also possibly be there for support.
Assistant Public Defender Michelle Rhodeback and Assistant State Attorney Lev Evans spoke to the Burkeens over the phone, where the audio could be heard inside the courtroom. Rhodeback told Vaughn that Ginger Burkeen, a nurse at Cleveland Clinic Indian River Hospital, began to feel sick last week and that her condition worsened.
The defense presented Vaughn with paperwork showing that Ginger Burkeen got tested. But, the paperwork did not list the testing results.
Ginger Burkeen told the courtroom she did not observe Brian Burkeen to have any virus-related symptoms. Brian Burkeen told Evans he did not have a cough, loss of smell or taste or any other symptoms of COVID-19.
Burkeen's original sentence date was scheduled for April 30. Limitations on court proceedings caused by coronavirus pushed that date back to June 25, then to July 1, and now July 16.
"If (Burkeen) fails to appear (July 16), we can sentence him without him being here," Vaughn said. "If he fails to appear, we can issue a warrant for his arrest."
Even though the sentencing was postponed, Vaughn allowed two witnesses to still testify in the case. Officials said Burkeen fraudulently ordered and picked up more than 1,400 tires from Goodyear that the county did not need and charged them to the Indian River County Emergency Services District account.
Burkeen then sold the tires to people he knew through social media postings, and kept the proceeds. Suspicious invoices charged to the fire department's fleet, and account balances that did not add up were discovered after Burkeen retired from the Indian River County Fire Rescue in February 2018, officials said.
In the courtroom, Goodyear Tires Manager Thomas Germain said that the store on 58th Avenue was one of the locations where Burkeen picked up the tires. Germain also said tires that were delivered to Burkeen remain unpaid by the former fire chief and the county.
Ed Halsey, internal audit director for the Indian River County Clerk of the Court, said he was asked to conduct a financial audit for the incident. Vaughn granted restitution – or compensation for financial loss – to Indian River County, the county's insurance company Hanover Insurance, and Goodyear.
Vaughn ordered Burkeen to pay $5,000 to Indian River County, $287,185 to Hanover Insurance Company and $26,477.45 to Goodyear. Burkeen will pay those amounts when he is released from prison, prosecutors said.
Burkeen has lost his substantial pension and health benefits provided by the county.
Photos by Kaila Jones