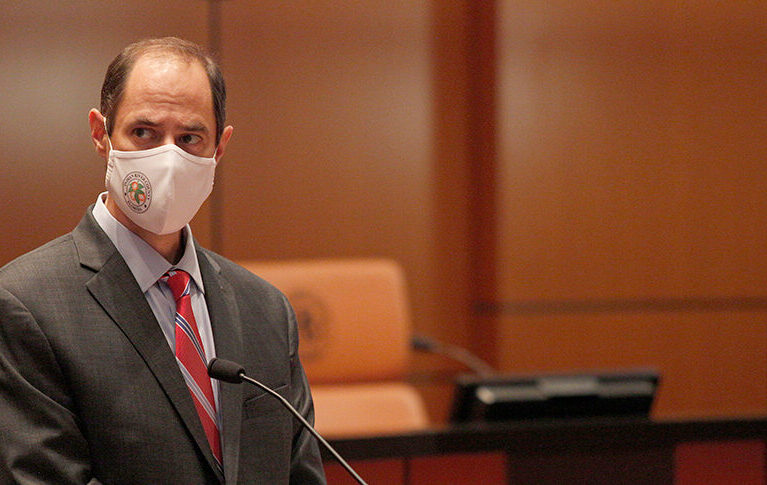 INDIAN RIVER COUNTY — Customers and the general public will not be required to wear face masks, despite the statewide spikes in new coronavirus cases, county officials said Friday.
The announcement came as authorities nationwide debated whether to require residents to wear masks as a method of slowing down infection rates. But, Indian River County did lay out face mask regulations for those planning to visit or use county operations, along with employees at businesses that serve the public.
Residents who visit indoor county facilities, including libraries, or who ride the Go-Line bus must wear face masks, Indian River County Administrator Jason Brown said. Face masks will be provided to those who don't have one, authorities said.
Employees at businesses that serve the public, including restaurants and retail stores, must also wear protective face masks, Brown said.
Face coverings are not required for workers who do not have frequent interactions with other people. The masks also are not required for those who are exercising while maintaining social distance, officials said.
Masks for the general public are encouraged, but not required, for unincorporated Indian River County, Administrator Jason Brown said. But,those who visit indoor county facilities or ride the Go-Line bus must wear masks. #VeroNews pic.twitter.com/d0R0oCpyyS

— Nicholas Samuel (@JournalistNickS) June 26, 2020
Brown spoke about the new emergency order for face mask requirements at a Friday news conference. The order goes into effect at 8 a.m. Monday for unincorporated Indian River County.
6/26 Indian River County COVID-19 press conferencehttps://t.co/oXrFnCdIvb

— Indian River EOC (@IndianRiverEOC) June 26, 2020
Other towns in the county will make their own decisions on face mask regulations, Brown said. Those exempt from wearing face masks are people with underlying health conditions and children ages 2 or younger.
"We need to find a way to reduce the number of people becoming infected," Brown said. "Our focus is voluntary compliance, education and encouragement. Our goal is not to throw people in jail."
But, the regulation does state that those who violate the order could possibly be charged with a second-degree misdemeanor, as a last resort. The emergency order will expire when the local state of emergency ends.
The order is in response to the coronavirus pandemic. As of Friday, Indian River County had more than 540 cases, a cumulative total, along with 16 COVID-19 related deaths.
There were five people still in the hospital, with two on ventilators, Florida Department of Health Officer Miranda Hawker said. Hawker and Brown reminded residents to continue to wear face masks when in public places where practicing social distancing is difficult.
Accommodations will be made for employees at indoor businesses – serving the public – who are not able to wear masks because of health issues, officials said. Even though the order does not require patrons at businesses to wear face masks, those establishments could still implement their own mandatory face covering rules.
Brown said county officials will continue to monitor the current conditions and make adjustments as necessary.
Those who can't wear face masks because of health issues and plan on going to county facilities should contact the department they plan to visit to make the necessary accommodations.