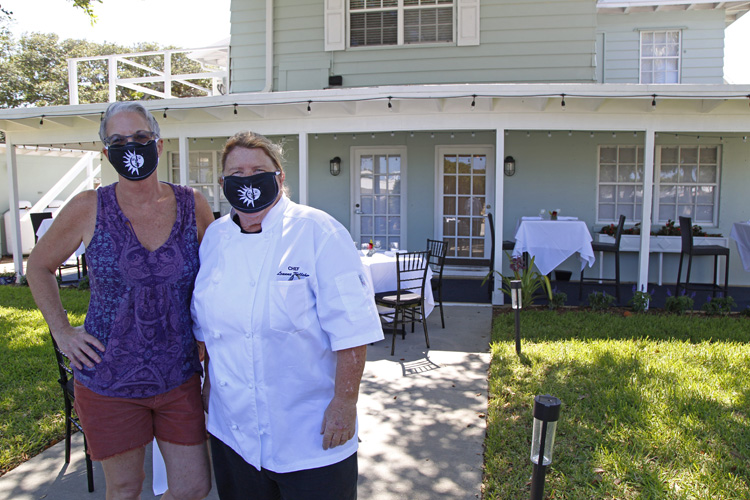 From Phoenix to Myrtle Beach, Houston to Orlando, restaurants – most of which were only recently given the go-ahead to welcome diners back in their doors – are closing again. This time, it's not because owners fear that someone in their midst might catch the coronavirus – it's because they know that they already have.
The closures, typically announced on social media, come at the discretion of restaurant owners. Many states and localities do not require restaurants where employees have tested positive to shutter. What steps owners take when faced with a sick employee – whether it's deep cleaning the entire space, informing customers or testing other staffers – are largely up to them.
Though they're not required to, many owners are opting to go public when they know the virus has been in their midst.
While they haven't heard of any cases yet at restaurants in Vero Beach, Kilted Mermaid owners Linda Moore and Rick Norry have a plan in place should it occur at their restaurant and bar.
"We haven't been told that we're required to report it but we would. It's the only responsible thing to do," says Moore. "We would close and get everyone tested. We have a firm that will come in and do a deep clean."
Initially, Norry says they gave staff the option to wear masks but when cases began to spike they made it mandatory. They even have hand sanitizers at every table.
Norry says they are keeping live entertainment to solos and duos and have halted their Open Mic Night in an abundance of caution. "I just don't think it's responsible right now."
Paying for testing and cleaning – not to mention lost business – means another financial hit in an industry that's already suffering.
Scott Varricchio, Citrus chef/owner, says he is incurring more costs because he keeps four people on staff at all times for the sole purpose of sanitizing every surface, railings, door handles, chairs, tables, etc.
"I have more employees working now than I did before because I want to do what's right. I have heard from a number of customers, 'We have come back here because other places are not doing what you're doing and we don't feel safe there.'"
Varricchio also said he was heartened to hear that people in the Florida Keys are required to wear face masks at indoor businesses. The fine for not abiding by the new ordinance is $500 and is in effect until June 2021.
"It's not required but I think it should be. I've required my staff to wear masks since we reopened. Is it hard? Yes, but it has to be done right now," he adds. Varricchio says he's even gone as far as forbidding his staff from going to some of the places in town that aren't following the CDC's recommended protocol.
Leanne Kelleher, Tides chef/owner, has relaxed some of service standards expected in a fine dining establishment to keep both members of her staff and her customers safe.
Tides servers no longer pour water or place bread on the plate of each person at the table. Both are placed on the table to limit the potential for contamination, she explains.
"All staff have hand sanitizer in their aprons and we even have hand washing parties," she says with a chuckle. "We assume that everybody that comes in has been exposed so we're doing everything we can to prevent the spread, especially with so many people coming to Vero from areas with high infection rates."
Kelleher says she's been sold out, often having to turn customers away because she's taking the suggested CDC protocols to heart.
"It's a no-brainer. When people come in here they see what we're doing and I think they feel comfortable," she adds.
"What it boils down to is personal responsibility," says Kelleher. "People need to realize how important what they do is to other people. Everybody needs to do their part to keep other people safe if we're going to get through this."
Please let me know your thoughts, observations and comments by emailing stephanielabaff@att.net.
Emily Heil of the Washington Post contributed to this story.