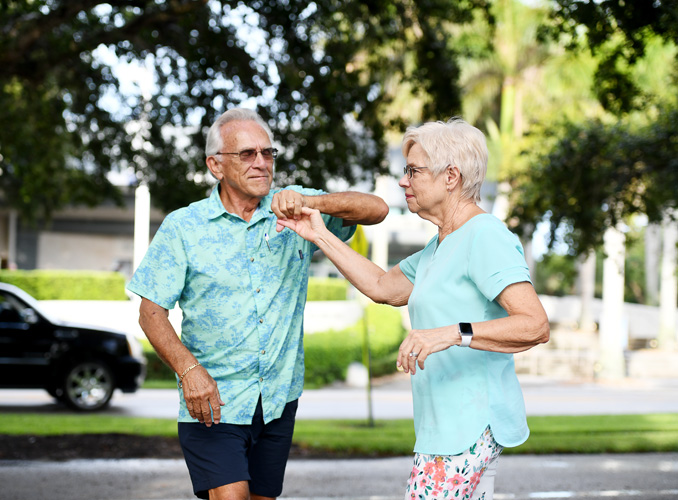 The response to the changes Riverside Theatre enacted to comply with COVID-19 social distancing guidelines for its Friday and Saturday night Comedy Zone and Live in the Loop Concert series has been overwhelmingly positive.
"It's been going great. We've been selling out the Loop area for the last couple of weeks," said marketing director Oscar Sales, noting that to comply with 50 percent capacity, seating at tables outside is limited to about 150 spots. Although the concerts are free and seating is not assigned, RSVP passes are required. Comedy Zone purchasers need just show their tickets for concert entry.
Because of a loosening of guidelines, Sales said they have even added 20 BYO lawn chair spots (a pass is required) for the grassy area.
The Comedy Zone twice-nightly performances in the Waxlax Theatre can currently accommodate about 75 attendees, and Sales says those too have been mostly selling out.
"Our guest emcees and our comedians are enjoying performing, even though the performances are not full," said Sales. "They're thrilled to be working."
Last November after Gary Parker, who had filled the role of emcee at the Comedy Zone for about five years, decided to step down, Riverside held local auditions for the position. It includes warming up the crowd with a few jokes, telling them the rules and introducing the comedians.
"We were able to select quite a few people; we were surprised," said Sales. "We had eight people who were really good."
The current guest emcees are Jim Harpring, by day the Indian River County Sheriff's Office Undersheriff, and aspiring comedian Josh Armenteros.
"The comedy has been really good," said Mary Lou Brown, who has become a regular at the concerts and Comedy Zone performances. "I think it's the best deal in town."
Another post-pandemic change is that servers now take orders and deliver the food and drink (optional purchases; no drink minimums) to the tables. Masks are required on campus indoors and out, except while seated at your table.
"I've been having a ball. I'm addicted to it now because it gets me out of the house. It's an outing and an event and we need that right now," said Brown, adding that she appreciates the safety precautions which allow people to safely interact. "It's cheap and easy and fun."
Live in the Loop concerts run from 6 p.m. to 9:30 p.m. each Friday and Saturday, and the Comedy Zone shows in the Waxlax Theatre take place those nights at 7:30 p.m. and 9:30 p.m. Food and beverage service begins outside at 5:30 p.m. and in the Waxlax at 6:30 p.m., with a limited menu after 9:30 p.m.
For more information, visit riversidetheatre.com.
Photos by: Brenda Ahearn
Click HERE to see more or buy photos