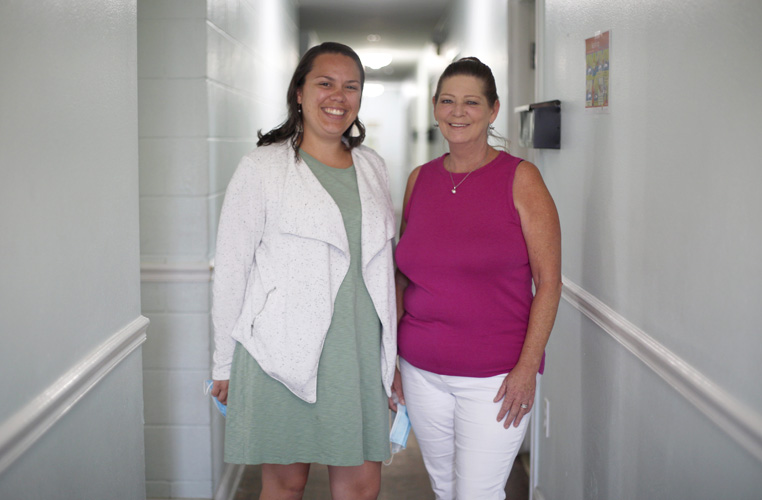 Already adept at dealing with crisis situations, the Hope for Families Center sprang into action as the devastation of the COVID-19 pandemic began to take its toll on already struggling homeless families.
Keeping the safety of staff and residents at the forefront, the HFC team made the decision to move all of the families living at the center into one wing. That way they could turn the other wing into a quarantine space should someone contract the coronavirus.
With the reduction of room availability and to err on the side of caution, officials chose not to admit any new families from mid-March through April. Instead, they focused on keeping the families already in residence as safe and productive as possible, as they continued the process toward their self-sufficiency.
Safety protocols were made possible through community connections, explained Diana Grossi, HFC CEO, noting that PPE equipment was made available through Cleveland Clinic Indian River Hospital. HFC staff members wear gloves and masks when interacting with residents, and residents wear masks when they are in any common areas.
Additionally, HFC board members Dr. Bill Cooney, president, and Dr. Richard Tompkins facilitated the receipt of coronavirus tests through the Mayo Clinic. Staff members and adults residing at the shelter were tested by Treasure Coast Community Health in the parking lot of that healthcare provider's 37th Street facility.
"We have not had a single case, either with staff or clients," said Grossi with a smile.
With most of the residents out of work and their school-aged children – who account for 62 percent of the HFC population – needing to be homeschooled, staff had to develop creative ways to keep their residents on track.
During the Safer at Home mandate, staff continued to assist their residents to find homes, thereby reducing the number of occupied rooms from 11 to six. In early May, when some sanctions were lifted, HFC began taking in one new family at a time, with a heightened intake protocol.
New families are queried about recent travel and exposure potential, and are quarantined for five days before being moved into the wing with other families. When that wing quickly filled up, they gradually opened up the wing previously set aside for quarantine.
Grossi noted that calls to HFC lessened during the shutdown, as families tended to stay with relatives or used stimulus money to stay in hotels. Now that businesses are re-opening, government aid is dwindling and relatives are turning people out of their homes, they are getting more inquiries.
"Now we get four to five calls a day looking for shelter," said Grossi, adding that 90 percent of those callers have lost jobs as a result of the shutdown.
"The tough part is triaging who we're able to bring in and who we have to say there's not enough room," said Cooney. "If you can provide people rapid rehousing, then they can stabilize their family, get jobs and go to school."
HFC provides homeless families with safe shelter, food and employment services, and assists them to build a framework of personal discipline. The ultimate goal is to build a foundation for long-term independence, enabling families to move from a state of hopelessness into one of well-being and productivity.
The center's 21 rooms have a capacity to house 84 people, although it typically averages 75 people. On average, families stay for 90 days, during which time HFC assists parents to obtain employment and save enough to pay two months' rent toward permanent housing.
Most of the residents were working before the pandemic and were furloughed, and Grossi said the majority who lost their jobs are now regaining those positions.
In other good news, the certificate of occupancy for the Joseph V. Flaherty Family Foundation Reading Resource Room was issued, and HFC has begun setting up the new space. Furniture has been ordered through a John's Island Foundation grant, and Quail Valley Charities is funding the purchase of laptops for children to use in the educational space.
Once the reading room has been completed and current books have been cataloged, Grossi said they hope to purchase additional books that align with an Accelerated Reader program. They also plan to institute a volunteer program to improve the literacy of children and parents.
"I firmly believe that if we support the education of these children and we can instill the love of learning, we will help to break that cycle of homelessness," said Grossi.
The board is in the process of long-range planning to address an anticipated increase in need over the next five to 10 years and the feasibility of expansion. Grossi said that in the past three years, the shelter has increased from serving 220 people each year to 325.
"They come to us with multiple issues that we have to wade through and work with them to solve," said Grossi, citing such issues as evictions and a lack of transportation. "We work with them to make critical decisions. It's all about budgeting and teaching them the difference between a want and a need."
The economy in general is a concern, said Grossi, adding that HFC does not receive any state or federal support.
"We're always in need of operations money. This year we have had one equipment loss after another. We've had to replace the stove, ice maker, dishwasher and now a septic pump," she said. "We rely on the community to support us and to get these people out of their cars, off the streets and into jobs where they can become productive citizens. That's our mission."
"Education, good health and security are the things that people want in life," said Cooney. "The span across the Indian River should be a lot shorter than it is, in that the real key is to educate the people that live in 32963 about homelessness."
For more information, visit hopeforfamiliescenter.org.
Photos by: Kaila Jones
Click HERE to see more or buy photos