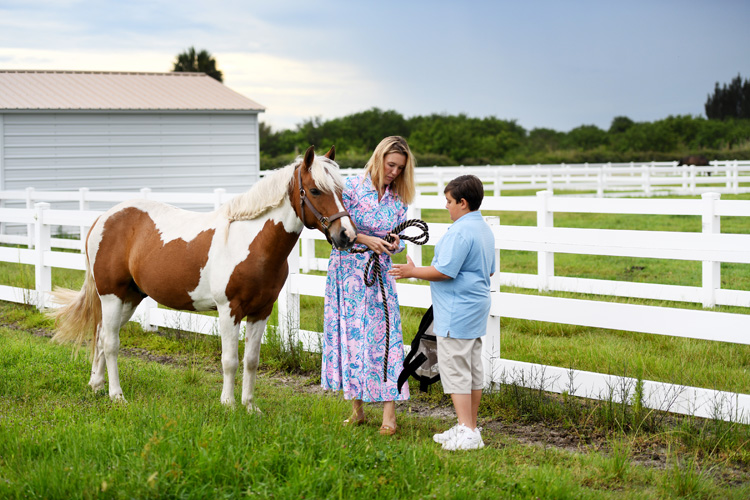 When Charles Suleman, like many children, developed an interest in horses at age 8, parents Jenna and Farid Suleman assumed it was a phase that would quickly pass. They didn't imagine their son's fascination with all things equine would strengthen, and would eventually impact not only the trajectory of their lives, but the future of one of the most magnificent equestrian estates in the county, which had sat vacant for years amidst the pine, palm and grasslands adjacent to Quail Valley Golf Club.
Jenna Suleman is a slender, charming young professional with a clear vision and an intense passion for the peaceful, beautiful 40-acre compound west of Vero Beach that the couple purchased only a few months ago. Still undergoing renovation but already in operation, their Vero Beach Equestrian Club now vibrates with energy.
During a walk across fragrant, rain-dampened grass, past emerald paddocks and through the pristine barn with this down-to-earth, devoted young mother, as she enthusiastically shares her pastoral vision, several residents poke their velvety noses over stall doors to check out the visitors.
Jenna Suleman is part of a powerhouse couple who are also major players in the high-stress worlds of finance and media; splitting their time between New York City and Miami for the past 20-plus years, and only recently putting down roots in Indian River County.
Jenna Suleman is a senior vice president – investments at Wells Fargo Advisors, Miami. Previously, she held a similar position with Morgan Stanley. Farid Suleman is a director of Fairway Group Holdings, and previously was chairman and CEO of Citadel Broadcasting. He was with Infinity Broadcasting Corp. (now CBS Radio) for 16 years.
During a walking tour of the 69th Street property, Jenna Suleman's vision and enthusiasm are front and center as she relates how a professional, big-city couple came to acquire an equestrian facility in Vero Beach.
When it became obvious that Charles' love of horses was no passing fancy, Jenna decided to provide him with riding lessons and insisted he also learn about proper equipment, horse care and all other aspects of responsible horsemanship. And, she told him, "If you're going to learn, Mommy's going to learn. We'll learn together."
As their horse experience continued in New York, Colorado and Miami, she observed, "as a consumer," aspects of the various facilities she liked and others she "wished were different," picturing how she would do it.
Simultaneously, the family had begun to realize they "needed space, needed change."
So they began a search.
"We'd never heard of Vero Beach until 2019," Suleman says.
That was when they learned about the property formerly known as Sawgrass Farm, built almost 30 years ago by local developer Harry Vanwormer for his equestrian wife. Vanwormer had spared no expense to make it the very best, inside and out, for humans and horses; even down to the perfect type of soil for heavy-use equestrian activities.
Both Jenna Suleman and Cindy O'Dare, Premier Estate Properties broker associate, enjoy telling the story of the incredible coincidence they discovered when they first met to discuss the property.
The Sulemans had driven up from Miami and O'Dare mentioned she had previously lived on the beach in Miami. Farid said they had as well, on a little stretch nobody knew of called Golden Beach. "Me too," said O'Dare, astonished. "What street?"
"Atlantic Way," Farid replied, with O'Dare asking, in disbelief, "What number?"
Turns out the Sulemans had purchased and built on the exact same location, 7835 Atlantic Way, where O'Dare's house had stood years before.
In October 2019, the Sulemans made the decision to move here, purchasing a home in Orchid and the former Sawgrass Farm shortly thereafter.
"Like many others," Jenna Suleman says, "we fell in love with Vero Beach, its people, its quality of life, and now we're full-time residents."
They are also impressed with Vero's cultural opportunities. Jenna notes the only thing Charles loves almost as much horses is theater, so he'll most certainly be exploring Riverside Children's Theatre opportunities before long. Charles, now 10, and brother William, 9, plan to enroll in St. Edward's School in the fall.
The Vero Beach Equestrian Club opened early this year as an exclusive, gated riding facility "designed for the premier comfort of horse and rider." Boarding, training and "trailer-in" membership are currently offered, and a summer youth camp is under way. Several equine boarders are in residence, thoroughly enjoying their comfortable accommodations.
Much in the same way as beauty salons, riding instructors can rent space as independent contractors. Experienced premier trainers Alicia DaRosa and Garrett Gustafson are already operating on the property, Jenna Suleman says.
As we walk the beautiful grounds, it is clear she has invested significant time and thought into developing her vision; providing a path for personal development on one's "personal horse journey" in a serene environment. She shares plans for the estate and its several structures, which she describes as having "great bones."
The main house is currently undergoing renovation, a new 70-foot-by-150-foot enclosed arena is under way, and there is a seating area from which parents can watch their young equestrians take mounts through their paces. There are fenced private paddocks, gorgeous barn suites with hot and cold running water, two dressage arenas and one jumping arena, grass turn-outs and a large, fully stocked lake. Future plans include offering the best equipment and supplies in-house and a horse rehab facility with a treadmill. "The sky's the limit," she says with a smile.
The club operates much like an exclusive golf and country club, with annual memberships, private clubhouse and amenities for horse and owner; a place where members can relax, decompress and enjoy the "equestrian lifestyle at its best."
Photos by: Brenda Ahearn
Click HERE to see more or buy photos