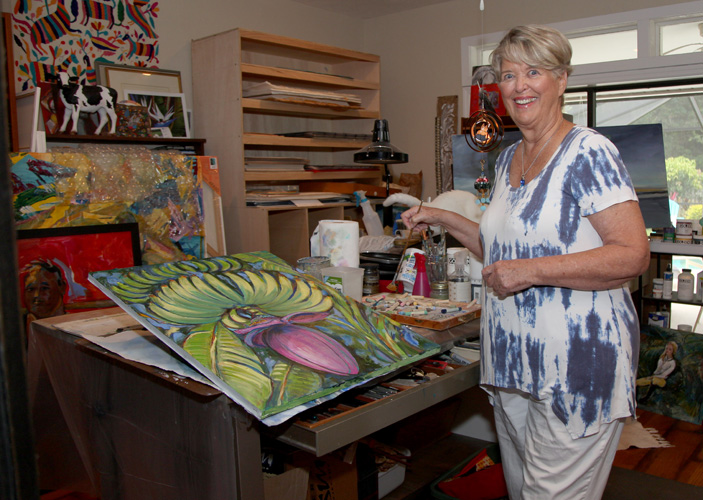 Surrounded by a group of her artwork – paintings in acrylic, watercolors and pastel – Anne Whitney reflects on how a love of family, travel, teaching and art has brought her to this moment.
Resting her gaze on a 28-inch-by-44-inch acrylic on hardboard painting titled "Marigold Market," she thinks of her sister Lisa, who emailed Whitney the photo upon which she based her painting. The scene is India; the imagery features a small boy squatting amid several large open sacks, brimming with marigold flowers. He is shown adjusting the edge of one such sack, perhaps to give us a better view of the produce within. In India, marigolds are woven into festive garlands for both home decoration and temple offerings.
"Lisa lives in San Francisco now, but she and her husband, who works in the shipping industry, have lived all over the world. They have lived in Thailand, Singapore and Hong Kong. Wherever Lisa goes, I go to visit her," usually for a month at time, says Whitney.
Another piece inspired by a photo from her sister is a mixed media work on paper of a Singaporean monkey family perched on a tree branch.
Whitney confesses this is one of her favorites.
"Look, the baby monkey's right here," she says, pointing to a small face peering from a concavity of fur between the bodies of its mother (the one with long, fringy sideburns) and a close cousin.
Whitney asserts that she did not know what the picture's subject would be when she started it.
She explains that she used a "splash and dash" process in which she freely flung sepia watercolor and black ink onto the paper, and then she sat back to see what kind of imagery would emerge from the chaos.
"You just do a very abstract base, and then the picture finds you. I started seeing monkeys," she says.
At that point, Whitney fetched her photo of the monkey family and drew its affable simians directly on top of her now-dry underpainting.
Other animal subjects include Whitney's acrylic of two pandas seen at the National Zoo in Washington, D.C.; a watercolor of three wood storks spied near a drainage ditch in Vero; and a school of salmon rushing to spawn in Washington State. In addition to her animal pictures, Whitney is known for the strong, sure touch she brings to her human portraits and figures.
Executed on sanded paper, the drawing shows two lean female figures, each standing in a different pose. Whitney explains that both figures were drawn from the same model, who moved from one dynamic pose to the next, standing still for 15 minutes at a time.
The sanded paper leaves no room for mistakes, says Whitney. Erasures are not possible. The all-or-nothing effort includes bright tonal variations in colors of turquoise, sienna and pink on the black-limned figure at left, and red and purple shading on the figure at right. Her drawing is energetic, but not one of Whitney's economical lines is out of place; her boldly placed colors flawlessly enhance the three-dimensional aspect of her living subject matter.
"People look at my pictures and say, 'They are so varied.' Well, yes. I paint and draw what I want to; what moves me to create," she says.
Whitney was born in Valdosta, Ga., the first of her parents' five children. She eventually gained three sisters and a brother.
"I was an Army Air Corps brat. I came in for a landing at Moody Air Field in 1944," Whitney laughs.
The following year, her family lived near Alamogordo Army Air Field (the present-day Holloman Air Force Base) in New Mexico. They were 22 miles from Trinity Test site, where the first atomic bomb was exploded July 16, 1945.
When he left the service, her father managed his dad's dairy farm in Sherman, Pa., for two years. Whitney was a preschooler then, but she remembers the farm: the workhorses Dick and Trixie, her pet duck, a pig pen with a mean old boar, and wagon rides at haying time. The idyll ended when Whitney's father left the farm for a job in sales at IBM. After living in a succession of communities in New York, the family settled in Montclair, N.J.
Whitney says that she was "always" drawing and painting as a child. Her mother, a watercolor hobbyist, was convinced of her 12-year-old daughter's promise as an artist, and duly enrolled Anne in classes at the nearby Yard School of Art.
Whitney spent her high school years in Montclair, and was pre-ordained to enter St. Lawrence University, her parents' alma mater. Enter she did, but found Canton, N.Y., to be "gray and dismal," and stayed only two semesters.
After summer break, spent as the first female lifeguard to be employed on Nantucket's beaches, she announced to her parents that she was going to go to art school. For a year afterward, Whitney commuted daily from Montclair to the Art Students League in New York City. Her goal, to build a portfolio with which to apply to art school, was successful.
She was accepted at several schools, including the Rhode Island School of Design. However, the attraction she felt for a certain Harvard student whom she met on Nantucket led her to choose the School of the Museum of Fine Arts in Boston, close enough to Cambridge to visit her boyfriend on weekends. The romance fizzled after a couple years, but Whitney continued on to receive her four-year certificate from the school.
She again worked in Nantucket over the summer, earning enough money from two jobs to live the next nine months in Mexico City.
In Mexico she accepted job as a coordinator with The Experiment in International Living, a study-abroad program founded in 1932.
"After my initial summer in the Netherlands, my first year-long stay was in Ireland. I eventually went to England, Denmark, Italy and Mexico. I got to travel for free. In the excitement of this job, having the whole world open up to me, I did not try to start an art career."
Whitney eventually returned to New Jersey to get a teaching degree at Montclair State College, after which she taught art to public middle school students in Sussex, N.J., for a little over three years.
She came to Vero Beach to apply for a job at St. Edward's upper school in 1985.
"Peter Benedict, then head of the school, interviewed me. He said, 'Do you think you can handle this?'"
Replied Whitney, "Of course I can."
So began a 30-year career in which Whitney built up the art department, eventually becoming its head.
"When I started to be an art teacher, my own creativity came back. It was so much fun. I loved my career, and now I love my retirement time, because now I'm really getting back to my art."