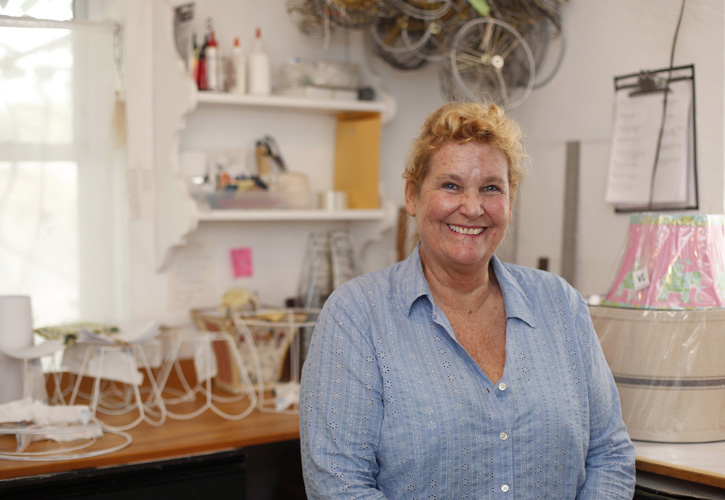 While beautiful lampshades can transform a room, they have also transformed the life of Maggie Barnes, the meticulous owner of Vero Lampshades. Her 6-year-old business, which she started at age 53, has been growing so rapidly that she can barely keep up.
For the 25 years prior to beginning this venture, Barnes had managed dozens of residential properties on the barrier island. It was hard work, and she eventually decided she'd had enough. After doing some research on Etsy, a website where artists and craftspeople can sell their creations, she came up with the idea of making lampshades.
As unusual as it sounds, the venture was not all that far afield for her. Barnes had studied bookbinding and the construction of artists' books while studying fine arts at the University of Arizona in Tucson. Later, she became an apprentice to a Manhattan bookbinder where she worked on fine and rare books. As a result, she knew she had the design aesthetic and meticulous skills needed to make artistic lampshades.
So, using those skills, Barnes turned a third bedroom into a setting for her cottage industry and began slowly building up a clientele. There were weeks, she says, that if she didn't sell $15 finials from her website, she didn't eat.
However, through careful craftsmanship and attention to detail, Barnes established a name for herself and a loyal following. Businesswise, the timing couldn't have been better. In recent months, with people staying home during the pandemic, many have taken to redecorating their homes.
"Right now, business is better than it's ever been," says Barnes. "The people buying my lampshades are not waiting for stimulus checks. They are in their homes, looking at their ugly old lampshades and they're sprucing up."
One of her longtime fans is Indian River Shores resident Judy Vanderzee, who Barnes met through her previous business. At the time, Barnes handled everything from cleaning Vanderzee's pool to house sitting and taking care of whatever needed fixing.
"She was an ambitious girl, earning her way," Vanderzee says. "She's a very special girl with special qualities.
"That's hard to find, even today. I was always a working person myself. I know how hard it is to be a woman in today's world and make it. Then, to go into business on your own, in your house, and make a go of it to a point where she is very busy – it's just a lovely story."
A steadfast customer and admirer of her work, Vanderzee says you cannot tell the difference between Barnes' lampshades and those from high-end shops in New York City or Paris.
"If you lined them all up, you wouldn't know which one Maggie made," Vanderzee says. "They are adorable, affordable. She does them herself in her darling house and does the packing."
An artist in her craft, Barnes creates her lampshades in wide array of colorful, sophisticated and whimsical styles.
There are large gingham drum lampshades and square bell lampshades that look like they came right out of Martha's Vineyard. Charming French Country-style lampshades are evocative of Provence, while smart stripes and prints fit snugly on sconce or chandelier-style lampshades.
Shades with vintage materials, Lilly Pulitzer fabrics and even fine mesh are interspersed with the tropical inspired, sporting flamingos, dragonflies, shells and coral.
Barnes says she always advises her clients to consider the surroundings of the area in which the lamp will sit. From a design standpoint, she says to think of textiles, patterns, stripes, color palette, trim, shape and size. And don't be afraid to mix them up, she adds.
"If you have floral drapes and a plaid couch, you can put floral with a plaid trim and it just pulls everything together," she says.
Another consideration is shape. A lamp with a square base needs a square lampshade. A ginger jar lamp needs a round lampshade or one that is hexagon shaped. And, while candlestick lamps can use multiple shapes, she tells clients to pay attention to the base and to reflect that.
Barnes says it takes her about three days to make a lampshade.
She has to take it one step at a time, waiting each time for the glue to dry thoroughly. She carefully coats hidden wiring with enamel paint, and generally wraps grosgrain ribbon around sections of the frame to add quality and interest.
"This is where my training comes in," she says. "With artists' books, there is no room for mistakes. If your pages don't line up, if the book edge isn't even all around, it really shows. Cutting and gluing and even sewing are very precise."
All this attention to detail and her boldness in design have contributed to her being busier than ever these days.
"This boom and all the attention I'm getting is a long time coming and really good," Barnes says. "If I get busy enough, I would hire someone to do all the packing and shipping. It takes hours to properly pack a lampshade."
Although the shades are works of art, they do serve a practical function – providing light to an area – and the design form can affect that light, shooting the light up or down, or filtering out softly through the sides.
And certainly, redecorating with new lampshades is an easy and cost-effective way of sprucing up a home.
For sure, with time on their hands, people have recently turned to the internet to view "DIY" (Do It Yourself) videos, before attempting their own versions; applying a little trim onto a white lampshade or even attempting to paint their lampshades.
However, the mistakes of a DIYer often come into full view as soon as the light is turned on.
"It's incredible the amount of work that goes to make a shade fit a lamp," Barnes says. "It's much more than putting on a piece of trim that you can get at JoAnn's Fabrics."
She also cautions her clients to watch their wattage, noting "you don't want a burnt lampshade."
And, don't forget the finial, she says. They're a "nice little accent" to the new lampshade.