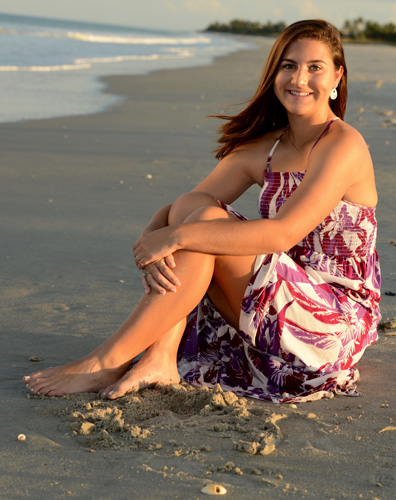 All St. Ed's senior Hailey Rhymes cared to do when she returned from a spring break trip with friends was eagerly dive back into the final few months of high school, enjoy one final episode with a team sport she may never play again, and participate in a string of highly anticipated senior rituals leading up to graduation.
Then maybe take a few carefree weeks off to relax, hang out with friends, and contemplate the start of college at the University of Colorado in Boulder near the shadows of the Rocky Mountains.
What happened instead was not even close. She found herself trying to focus on school work at home from a perch in front of a video screen, almost completely cut off from most human contact beyond immediate family, all the time realizing that nobody has yet figured out how to replicate electronically the very essence of the sport she loves after it was removed from the mental and spiritual beauty of the fresh outdoor air.
"Life has been pretty interesting since the shutdown," Rhymes told us. "After spring break we were quarantined. I haven't seen some of the people in my class since we last left school (March 6). It's a strange feeling because our class never received closure from our final year of high school. It's crazy that in the future this will be a huge moment in history.
"I've only been at St. Edward's for three years, but I was really looking forward to all of the senior traditions. A lot of kids have been here since pre-K and they have been waiting for this moment for their entire lives. It's been tough. Everything has been washed away. It's all gone."
Rhymes said one of the hardest things to lose was spring lacrosse. The season started with high expectations and she was off to a spectacular start personally with 16 goals in the only four games played. However, she made a decision much earlier that was bound to pack this senior year with a little extra emotion.
"I played the game for about 14 years, and decided my junior year not to play in college," she said. "My senior year was going to be a last hurrah before heading off to college. This was obviously my favorite sport, and this was going to be a really big season for me."
Sports played a prominent role in her time at St. Ed's. Cross country and soccer filled out the menu, but lacrosse was clearly the main entrée. Hailey Rhymes was team MVP, and First Team All-District and All-Area as a sophomore and junior. She was team captain in what 'could have been' this year.
Colleges and universities are in a wait-to-decide mode while planning to welcome students for the fall semester. The one certainty is that, in a variety of ways, it will be unlike any other year on record.
"I will know what CU plans on doing by June 1," Rhymes said. "I am going to be majoring in environmental design, with a focus in architecture."
Meanwhile, she will be waiting like everyone to see if – and how – graduation comes off as tentatively scheduled on Aug. 1. That will create an opening to jot down some additional thoughts on this upheaval in her life.
"For my AP English Literature class we had to document our time in quarantine," she told us. "The project is called 'Capturing History.' Here's the first entry I wrote when we found out we wouldn't be returning to school."
"The moment I arrived home from spring break everything changed. Beforehand I didn't view the coronavirus as a big deal and even laughed at the occasional meme. That was until everyone was told to be staying home and social distancing, something that's never happened before.
Everything changed in an instant and I had no say in it. It's hard justifying having something taken away from you just like that with none of your wrongdoing. I've been in a weird state as I've lost my routine completely and having a hard time getting back into one.
Online classes have sure been a weird feeling, but it is good to see everyone's faces again. It's a little hard having motivation because of the unknown. I hope that I will soon be able to see people face-to-face and not through Zoom.
I've been doing a whole lot of sleeping in, watching Netflix, and reading Harry Potter, but I've also been balancing that with going to the beach, pool, running and paddle boarding.
I know that families and friends everywhere are feeling the same to a greater magnitude when losing people they love. I'm consciously trying to use this period of time to reflect and be grateful for all that I have."