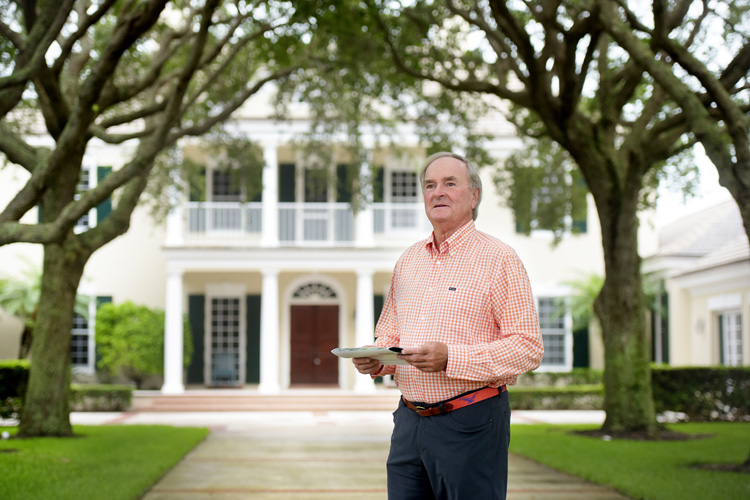 The real estate market in John's Island took a hit during the shutdown but came through in substantially good shape, according to John's Island Real Estate broker Bob Gibb.
Of the 40 contracts set to close between March 1 and June 1, only one fell through, when the buyer walked away from a sizable deposit due to COVID-19 economic damage to a business interest.
"We were off to such a great start this year," Gibb says.
"Through March we were on a record-breaking pace. That will not be sustained, but it will be an OK year."
Gibb sees several factors supporting the JI and island real estate markets, despite continued economic uncertainty due to the pandemic.
He believes trillions in stimulus money put into the economy will support housing values and that the sharp rebound in the stock market from its March low has given buyers and sellers new confidence, boding well for a V-shaped economic recovery.
Like other island brokers, he has seen an influx of buyer interest from people who want to get out of big cities like New York City and Chicago due to high COVID-19 infection rates. In addition, he identifies a second stream of buyers driven by pandemic concerns.
"As the COVID situation and unrest is driving people out of dense urban areas like New York City, some of them are buying in Westchester and Fairfield County and that is bringing liquidity to those markets that has been lacking. As those people are finally able to sell their homes, they are able to buy homes here."
Gibb says the market in high-end New York City suburbs has been "deadly" for the past few years since new tax laws impacted values there and in other locations.
"The 2017 Tax Cuts and Jobs Act put a $10,000 limit on federal deductions for state and local real estate and income taxes and eliminated some mortgage interest deductions," according to a report from Wharton business school.
In places where property values and income taxes are high, home prices were hurt substantially, losing 11 percent in value in suburban areas around New York City, according to Pro Publica.
That decline in values made it hard for sellers who were ready to relocate to Vero Beach or other locations to get the money they wanted or needed from the sale of their homes, bringing stagnation to those markets.
That stagnation trickled down to Vero, in Gibb's estimation, putting a damper on the higher end of the JI market.
"Our high end has been OK, not great [over the past year or two], but I think that is mainly because people have not been able to get their money out of houses in the northeast," he says.
Now, that logjam is breaking as people in finance, fashion, real estate, publishing and other industries who want out of the big city but still need to be close to Manhattan stream out to Westchester and the Hamptons to buy homes.
"I heard from a woman this morning who just sold her home after having it on the market for two years," Gibb says.
Other brokers are seeing the same phenomenon.
"One hundred percent," says Sally Daley, owner of Daley & Company Real Estate. "We have had people who have wanted to come down, but their market up there was very stuck. Now some of them are able to make the move."
"There's no doubt the exodus happening from New York City has made some of the New York suburbs more attractive than in recent memory, and we are seeing a trickle-down effect from that," says Richard Boga, of the O' Dare Boga group at Premier Estate Properties.
Boga says he and his partner Cindy O' Dare just put a home under contract to Connecticut buyers who sold their home to a Manhattan buyer fleeing the city.
"We are working another person who just sold their home in the Hamptons in the middle of the pandemic and another who has a home in the West Village and a home in the Hamptons.
"They are putting both on the market and looking at property here," Boga says.
"We are working with a lot of buyers right now, and we expect a pretty healthy year. Vero is well poised to capture a lot of the buyers who are fleeing the New York area and other big cities like Chicago."
As those buyers come, Gibb and his eight agents have a healthy portfolio of listings to show them, 58 properties in all, including single-family homes, condominiums, townhomes, cottages and homesites ranging in price from $265,000 for a 1-bedroom, 1-bath apartment in Island House to $16 million for an oceanfront home.
"Our website has never seen as much activity as it has recently," Gibb says.