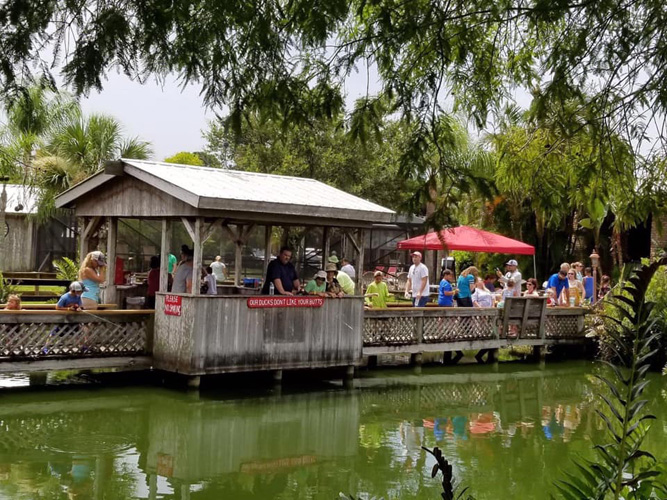 Children ages 2 to 13 years can participate in the "Kids Fishing Tournament" held 10 a.m. to 2 p.m. this Saturday, June 13, by the pond at LaPorte Farms in Sebastian. The cost is $10 to enter the tournament and $5 to rent a fishing pole. The farms will supply the bait. Owner Laura LaPorte said "the kids must do the fishing." In other words, parents, let the little ones have the pleasure of casting the line and reeling in the fish. All contestants are guaranteed that they'll catch something, LaPorte said. Winners get plaques and all children get a participation medal. The top three winners will also get a prize, such a fishing pole or tackle box. While you are there, be sure to enjoy the farm. LaPorte Farms is a petting farm with animals children can feed. There's a zebra, tortoises, a monkey, goats, sheep, llamas and a bird sanctuary. There are also horses, donkeys and ponies. Be sure to bring your camera because your child can also enjoy a pony ride for $5. LaPorte said they're also going to fire up the grill and cook hamburgers and hot dogs, which are available for purchase. No masks are required, and social distancing should be easy to do since it's a 5-acre farm, LaPorte said. "They are not on top of each other." LaPorte Farms is at 7700 129th Street, off Roseland Road in Sebastian. Normal business hours are 8 a.m. to 2 p.m. weekdays and 8 a.m. to 4 p.m. weekends. Admission by donation. Call 772-633-0813 or visit LaPorteFarms.com.
Coastal Connections will host a coastal cleanup 9 a.m. to 11 a.m. this Saturday, June 13 at Humiston Park in Vero Beach. It is open to anyone who shows up. A special protocol will observe social distancing. Supplies for the cleanup will be provided by Endless Summer license plates. Volunteers not only pick up debris, but they also record exactly what has been picked up so that important information can be entered into a national debris database. Not only does it help the environment, it also is fun, said Coastal Connections president Kendra Cope, who founded the group three years ago. You can also help by having some fun at Summer Crush Winery, which is sponsoring a fundraiser for Coastal Connections 1 p.m. to 5 p.m. Saturday. There will be wine, food and music. Cope and many of her colleagues will be there to greet you at the door. Admission is by donation. "There will be a food truck onsite," she said. "It will be a really great outdoor time, family friendly, all sorts of fun things to do." Music will be Jimmy Buffett-style and performed by Front Porch Blues. With restricted seating, it's probably best to reserve a space now. Visit SummerCrushWine.com/event/400. Summer Crush Winery is at 4200 Johnston Rd., Fort Pierce. Call 772-460-0500.
Those who are still a little hesitant about going out and being among others can certainly be entertained at home still. People with Netflix on their smart TVs or computers may want to know that some favorite movies and shows are leaving that online platform this month. There are three that should especially appeal. First to watch should be the acclaimed documentary "Cutie and the Boxer." It revolves around Noriko Shinohara, who put her art on the back burner to support the work of her older husband, Brooklyn artist husband Ushio Shinohara. A post-Dadaist known for his "boxing paintings" Ushio dons large boxing gloves and punches the canvas. He's done this as performance art as well. Noriko, in the meantime, draws cartoon imagery expressing her life and deeper feelings. (Caveat: Some drawings depict nudity.) The critically acclaimed documentary streams on Netflix through Saturday, June 13. For another remarkable film streaming through the rest of June on Netflix, consider the 1998 film "Elizabeth," which was Cate Blanchett's break-out role. She is fierce and frightening as the young woman who would become Queen Elizabeth I. You watch her go from carefree young lady to a cold, steely-hearted ruler. It also stars Geoffrey Rush, Joseph Fiennes and Vincent Cassel. And finally, discover the joy of cooking plus the joy of watching the great Meryl Streep in "Julie and Julia," the delightful 2009 film about blogger Julie Powell and famed chef Julia Child. The story concerns Powell's decision to cook all the recipes in Child's famous book, "Mastering the Art of French Cooking." The only caveat here is that it will make you run out and buy a few pounds of butter. That film streams on Netflix through June.