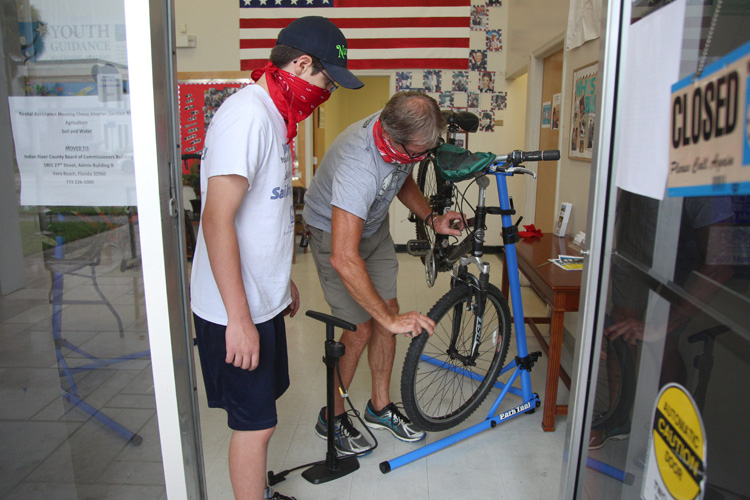 Bike Walk Indian River County, founded as a nonprofit advocacy group for pedestrians and cyclists, has recently partnered with Crossover Mission and the Youth Guidance Mentoring Academy to provide their young members with bike safety skills.
"Our group is dedicated to making our community a safer and more accessible place to bike and walk. One of our programs is safety training," said Hugh Aaron, BWIRC president. "We created a whole curriculum for bike safety classes."
As a reward for passing the class and getting 100 percent on two quizzes, BWIRC presented 17 Crossover Mission students with free bicycles and helmets. The training was provided via Zoom and online by Aaron and some of their other credentialed bicycle safety trainers.
On a recent Thursday afternoon, a group of those recipients rode their newly acquired bikes on a beachside ride from Riverside Park to Ocean Drive, making a stop for ice cream donated by Countryside Citrus.
"This venture today is a combination of our training group and our bike rehab project," Aaron explained. "The bikes came through our bike rehab project. We have a group that takes in donated bikes, and we have volunteer mechanics that rehabilitate the bikes to give them to people; often kids like these, who do something to earn them."
Cathy De Schouwer, Crossover Mission co-founder with Antoine Jennings, said one of their participants has cerebral palsy and already had a specially outfitted bike.
"So he took the class and gave his bike to his mom so they could ride together," De Schouwer said with a smile.
About eight students and a few staff members were joined on the ride by three representatives from BWIRC for the roughly 4-mile ride.
The Bike Walk IRC partnership with Youth Guidance fits right into that mentoring organization's push to introduce practical job training to its young members.
"What we're focused on now is getting kids hands-on, practical life skills that are related to trades and vocations," said Phil Barnes, Youth Guidance executive director, explaining that they plan to branch out into areas such as culinary skills, auto and boat mechanics. "Our goal is to eventually provide scholarships and potentially jobs to the kids who are excelling in the programs."
The first of those projects is the bike repair and maintenance program created by Bike Walk IRC.
"So they're going to learn how to actually take apart a bike, how to fix breaks, how to change the tires and basically learn all the ins and outs of bike mechanics," said Barnes.
The nine-week program is broken into three classes – two students apiece, consisting of boys and girls ages 12 and up – meeting each Tuesday and Thursday.
"Orchid Island Bike & Kayaks owner Malcolm Allen donated seed money to purchase tools for the program. Also, Bike Walk Indian River County did a fundraiser for us, and so far we've raised well over $2,000 for this program," said Barnes.
"It happened really fast and it's great. To see these kids with a wrench in their hands working on bikes, it's a good feeling. A lot of them have never even used tools before. They've got good instructors giving them the confidence they need to succeed. We're trying to give them the tools and resources to hit the ground running with this."
The best part is that the participants were taken to the BWIRC warehouse, where they were given the opportunity to pick out the bike they wanted to work on.
"It was really cool because they got to choose between beach cruisers, mountain bikes, all different types of bikes, but it's a bike that they really want," said Barnes. "We found that, already, that has really engaged the kids in this program. They will get to keep the bikes and they'll have a great bike that they've worked on themselves."
For more information, visit doyougivearuck.com.
Photos by: Kaila Jones
Click HERE to see more or buy photos