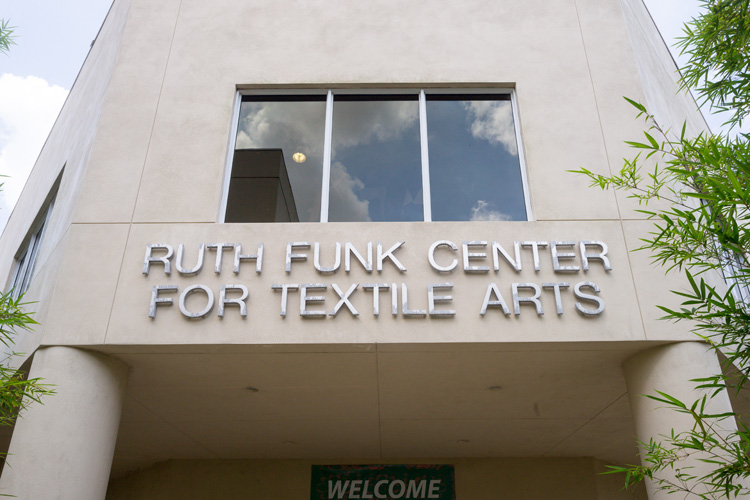 Museum leaders around the country are talking about reopening, but the two museums in Brevard County owned by Florida Institute of Technology are not so lucky. Both Melbourne-based museums were closed in March following state coronavirus guidelines; only one will reopen, and that temporarily.
In May, Florida Tech made the decision to permanently close the doors to the Ruth Funk Center for Textile Arts, located on the FIT campus, in response to the "unprecedented economic uncertainty created by the COVID-19 pandemic."
It was already known that the Foosaner Art Museum and its adjoining Renee Foosaner Education Center, located in the Eau Gallie Arts District, would eventually close. In April 2020, FIT announced a purchase agreement with Lawrence James, CEO of Northboro Builders, who plans to replace the museum with a hotel. The anticipated Aug. 31, 2020 closing came with the understanding that FIT would continue to operate the facilities through July 2021.
In accordance with that mandate, the Foosaner reopened to the public starting June 10 with its normal operating hours, 10 a.m. to 4 p.m. Wednesday to Saturday. Barring any unforeseen circumstances, the museum will remain open through that July 2021 date.
"It's terribly sad," says Indialantic author and arts patron Jenifer Marx. "I think the community loses. They had outstanding staffs, and the shows were curated as professionally as any museum in a large city. But I get it. It simply has to be."
In a March 2020 letter to congressional leaders, the American Alliance of Museums wrote that "as many as 30 percent of museums, mostly in small and rural communities," may close because of COVID-19.
Brady Roberts, executive director of the Vero Museum of Art, says he has heard from colleagues in the Association of Art Museum Directors that there will probably be a couple of dozen museums that will be hit especially hard by the pandemic.
"I hate to see museums close," he says. "Closing a museum is an unusual thing. You hope the collections will stay in some sort of a public trust."
Indeed. Carla Funk, FIT's executive director of university museums, is charged with what to do with the collections. Funk, who is no relation to the late Ruth Funk, is assembling an advisory committee to assist and advise on the transfer of the priceless items.
"My goal for the collections is to find new homes for them," she says.
In 2001, FIT had taken over the financially beleaguered Brevard Art Museum after receiving a $1 million donation from the late arts philanthropist Dee Negroni Hendrick to rename the museum in honor of her parents, attorney Samuel J. and artist Renee Foosaner. The museum had experienced money problems since its opening in 1978, so the $1 million donation, plus FIT stepping in, sent waves of high hopes into the arts community.
"FIT did a good job with the facility and brought in very expensive archival fixtures for proper shelving, environmental control," says Tom Powers, a Melbourne artist who helped facilitate its turnover. "And they made a complete inventory of the collection."
Then, two years ago, Powers, along with Melbourne attorneys Allan Whitehead and Gary Frese, learned that FIT wanted to sell the museum. The trio reminded FIT that, contractually, the university had to run the museum for at least 10 years or risk losing ownership. It became simply a waiting game for Foosaner patrons to finally say goodbye to the 42-year-old museum.
"The hope was that in two years, somebody would step up, an arts alliance group, and take over," Whitehead says. "Nobody's done that."
The Foosaner has a collection that was last appraised at $3.5 million. There are about 5,000 objects in it.
Items of note include a sculpture by Louise Nevelson, an unparalleled limited edition collection of 69 large photographs by Clyde Butcher, works by Jean Miro, Jim Dine and John Chamberlain, and the world's largest collection of etchings and paintings by German impressionist Ernst Oppler. There are also collections of pre-Colombian art, the Conill-Mendoza Chase Collection of art deco industrial design, and a large work by the late, acclaimed feminist artist Miriam Schapiro, who visited the museum and taught a workshop there.
"I have already received phone calls from museums inquiring about the collection," Funk says. "That shows there are desirable objects. We're not interested in selling to private collections."
While the Foosaner was forged out of municipal buildings, the Funk Center was built as a two-story, professional museum on the university campus. It was the only textile art museum in the southeast. Melbourne textile artist Ruth Funk donated more than $1 million toward the center, which opened in 2009.
Since then, more than 50,000 visitors have viewed the Funk Center's 30 exhibitions; more than half curated in-house. The Funk Center had received awards, endowments and grants to continue its mission to "connect people to the communicative power of textiles through the preservation of our global collection and the presentation of engaging exhibitions and programs."
In addition to the exhibits, the Funk Center ran a Friends of Textiles program, which featured seminars with international speakers.
Vero Beach resident Jane Howard was a longtime supporter and patron of the Funk Center. A lifelong advocate for the arts, Howard is a former board member of the Vero Beach Museum of Art and head of the visual arts department at Indian River State College. She says she was "just devastated" when she heard it would close permanently.
"It's a tremendous loss to the community and to the college," says Howard. "All the shows were so professional and so well done."
Sally Dussing, another Vero Beach resident, used to take fellow art-loving women from John's Island to visit the Funk Center.
"One time, they had wedding dresses ('Tying the Knot' exhibit)," Dussing recalls. "Oh, it was wonderful. A Vera Wang and dresses from all over the world. We went on several trips; some of the exhibits were really far out."
Dussing and her friends especially enjoyed the "Little Black Dress" exhibition, one of the Funk Center's most popular. Other admired exhibits included the "Modern Twist" of Japanese basketry and "ReDress: Upcycled Style by Nancy Judd," an eye-popping, nationally touring exhibition of disposables turned into fashion.
The Funk Center's permanent collection has been valued at $1.5 million. Carla Funk says she has received calls from donors, such as Howard, asking what will happen to the works they gave the center.
"I tell them that my goal is to find the very best home (for the items)," Carla Funk says. "It will be cared for using the best practices by museum standards. I'm very proud of the care that we've given to everything donated to us, and I only want to keep their donation in the public domain and accessible to the public."
She says callers are relieved to know that their gifts are not going to be sold or put into storage somewhere.
"It would be wonderful to save (the collection) and put it somewhere it would be appreciated," says Nancy Bredemeyer, who retired as chair of the interior design program at Indian River State College. "I love the Funk Center. It was a very unique, obviously small museum that did a tremendous service for the community."