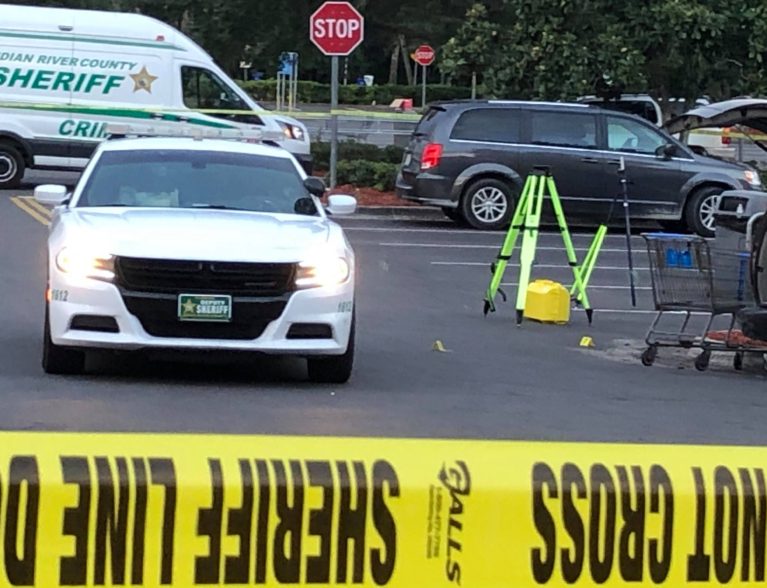 INDIAN RIVER COUNTY — Deputies released graphic dashboard footage Wednesday showing a man pointing a gun at a deputy before being hit by gunfire, and then fatally shooting himself.
An autopsy report showed the man, identified as Ronnie Heith Spradlin, 43, of Virginia, died from a gunshot wound to the head at close range, deputies said. Spradlin, wanted out of Virginia on burglary charges, was pronounced dead at the scene.
WARNING: GRAPHIC VIDEOOn June 9, 2020, Deputies with the Indian River County Sheriff's Office responded to a shoplifting call at Walmart in Vero Beach, Florida. When confronted by deputies in the parking lot, the suspect brandished a weapon and fired at deputies. He fled on foot east in the parking lot, where he attempted to carjack a family that included two children in the back seat. The suspect fired into the vehicle, striking the mother and father. The innocent family fled as the suspect carjacked a second vehicle occupied by a single female. The suspect fled east in the parking lot pursued by an Indian River County Deputy. The suspect came to a stop at a dead end and pointed a firearm at our deputy. The deputy fired through his patrol car windshield, striking the suspect. Autopsy results revealed the suspect then shot himself in the right temple. He died at the scene. No deputies were injured. The innocent family was treated for non-life threatening injuries at a local hospital.Investigation has revealed the suspect was wanted out of Virginia for burglary. The suspect is an 88 time convicted felon, with most charges in the Virginia area.

Posted by Indian River County Sheriff's Office on Wednesday, June 10, 2020
"He's a coward that took his own life," Indian River County Sheriff Deryl Loar said at a Wednesday news conference, updating the public on the deadly Tuesday shooting. "The threat is over and it's a safer day in Indian River County."
Authorities initially said Spradlin was struck and killed by gunfire from deputies. That was before authorities reviewed dashboard footage and the autopsy.
Loar, his voice wavering with emotion, refused to say Spradlin's name during the conference. The sheriff held up a picture that showed Spradlin, who authorities described as a known gang member, pointing a gun out of his window at a veteran deputy.
Deputies said Spradlin, who they later discovered was an 88-time convicted felon, shot two people after trying to carjack their vehicle following a shoplifting incident. The two people, a husband and wife, were taken by ambulance to Lawnwood Regional Medical Center & Heart Institute in Fort Pierce with non-life threatening injuries, Indian River County sheriff's spokesman Maj. Eric Flowers said.
It was unclear if the couple had been released from the hospital. Loar said three deputies involved in the incident were put on paid administrative leave, which is procedure for police-involved shootings.
Loar said the names of the deputies would later be released, though it was unclear when.
"They are the bravest deputies I've ever met," Loar said. "I've been in contact with them."
More from update on Tuesday shooting. pic.twitter.com/PkVspIhgxg

— Nicholas Samuel (@JournalistNickS) June 10, 2020
Spradlin had been in the county for a few days before the deadly shooting, Loar said.
The incident began after deputies responded to reports of a man shoplifting at the Vero Walmart, located off of State Road 60. Loar said Spradlin, who came to the county to visit friends and family, was with his wife inside the store.
Loar said Spradlin stole swimming trunks and then fled the store. It was unclear if his wife, who was not arrested and was still inside, knew about the theft.
"We don't know if she knew that this was (Spradlin's) plan of action," Loar said.
A deputy confronted Spradlin, who they said was 6-feet 5-inches tall and weighed 300 pounds, in the parking lot. The deputy and Spradlin began to fight.
The deputy deployed his Taser, but the prongs failed to connect to Spradlin. Loar said Spradlin pulled out a handgun and fired several times at the deputy who was about 4 feet away – but missed.
"Thank God he missed the deputy," Loar said. Another deputy fired shots at Spradlin, but missed.
Loar said Spradlin then tried to carjack a grey vehicle. When he couldn't get inside, Spradlin shot at the vehicle, striking the driver and his wife in the front passenger seat.
The ages of the man and woman were not available.
Loar said two young children were in the back seat. The husband then drove the vehicle out of the parking lot to Murphy's Express gas station, where family flagged down deputies.
First responders treated the man and woman before taking them to the hospital.
Loar said Spradlin then searched for a second vehicle to carjack. Spradlin pointed his firearm at a woman and told her to get out of her silver Sedan.
Spradlin then drove off in the Sedan, riding down an access road to a dead end in the Auto Zone parking lot, deputies said. Spradlin, still in the driver's seat, pointed a gun over his shoulder at another deputy tracking him, Flowers said.
Deputies initially said Spradlin fired several times, though the dashboard video does not appear to show Spradlin's gun discharge.
The deputy shot through his own windshield of his patrol car several times, striking Spradlin on his left side, Loar said. The move is a technique some deputies learn through training, Loar said.
Loar said Spradlin then leaned over to the right and fatally shot himself.
"You don't get into a gun fight in Indian River County. It's that simple," Loar said.
Detectives recovered a vehicle with Virginia plates they believe belongs to Spradlin in the Walmart parking lot, Loar said. Deputies were working to search the vehicle.
Deputies continue to investigate the deadly shooting.