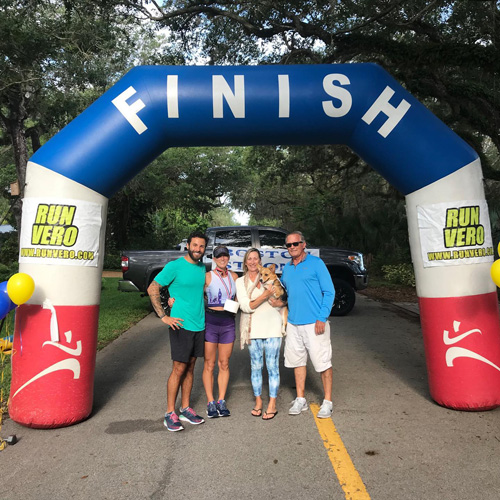 Kendall Wyckoff, a registered nurse at Cleveland Clinic Indian River Medical Center, was looking forward to running in her third consecutive Boston Marathon on April 20, until COVID-19 forced its cancellation. The famed 123-year tradition, which draws a field of 30,000 elite runners, had initially been postponed until Sept. 14. Last week, organizers realized that for the safety of everyone involved, even that date was not realistic.
The plan now is to hold a virtual marathon instead, but Wyckoff is already ahead of the game. She recently entered the Runtastic Conquer COVID-19 Virtual Run and ran her own Vero version of the Boston Marathon.
In between working and studying to become a nurse practitioner, Wyckoff trained for the 26.2-mile race by running upwards of 60 miles each week, alternating weekly workouts with long runs of 18 to 22 miles, easy runs and interval training runs.
"I've studied the course so many times," said Wyckoff of the Boston course. "It's known for its hills."
Florida, of course, is not. To compensate, she simulated the elevation by running the Barber and Alma Lee Loy bridges, looping them with runs along A1A and Indian River Boulevard.
"My goal was to get to the 1,000-foot elevation, which it would have been in Boston. I had to do 14 bridges total to equal that," said Wyckoff. "This was my 10th marathon total, so it was a special one."
On race day, husband Zac ran a half-marathon with her, before breaking off to set up a festive finish at their Central Beach home, tying balloons on neighbors' mailboxes, borrowing the Runners Depot Finish Line arch and putting up a Boston Strong sign.
Runtastic would eventually mail their medals, but Zac (who received a half-marathon medal) wanted something to celebrate the moment – doing so with the unofficial symbol of the pandemic.
"He put a toilet paper roll over a medal I already had. It was cute," said Wyckoff.
Looking ahead, Wyckoff and her husband are both scheduled to run in the New York City Marathon in November, assuming it happens.