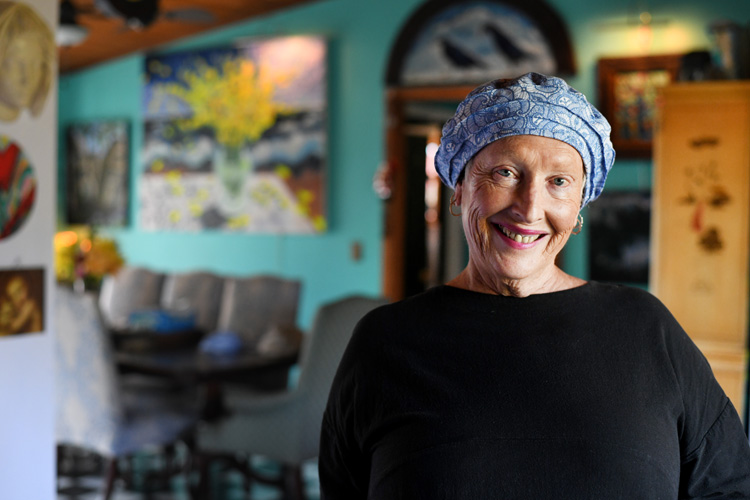 Driving up to the Vero Beach house that Marylou Mullan shares with husband Eric Kuhlmann is an instructive experience. Its deep purple hue and host of colorful ceramic heads affixed to a post near the front door alerts you that a free spirit lives within. An open garage door reveals an artist's studio, with stacks of large, blank canvases stacked against one wall and unfinished canvases leaning against the other. Taking up the central area are two acrylic paintings on easels.
One canvas shows an old orange grove, its fruit hanging like red suns from gnarled blue branches. The other is a geometric city-scape, walls pierced by numerous windows that stretch into the distance; buildings glimpsed between buildings. The 48-by-48-inch canvas is her nod to social distancing, says Mullan.
The windows, she says, will eventually hold a few human figures; sketches of people rather than detailed renderings. At this point the windows are empty. The overall color scheme is muted: brushy black, white and blues over a wash of beige, the color of raw canvas.
"My husband was like, 'Stop right now, it's great! Don't paint on it again!'" Mullan says.
"I brought it in from the studio and I'm looking at it, and I said, it's not done! There's nothing happening!"
That's why the canvas is again propped on an easel in Mullen's studio.
Her orange grove painting was recently revisited, too. Mullan says she did not like the way she resolved the far distance in the first go-around. Now, the opening in the midst of the trees shows a harvested field in which regular rows of golden stubble march out of sight. Above them, the horizon is dense with birds.
That detail is strongly reminiscent of Vincent Van Gogh's late painting "Wheatfield with Crows." The rest of the picture is pure Mullan, who has had plenty of practice painting orange trees.
"It's part of a series called 'The Vanishing Groves.' I think this one is No. 38," says Mullan, who adds that she likes No. 38 because it is "colorful and kind of happy." The trees look robust; muscular even, despite a few sawed-off limbs.
"They look healthier than the other ones, that's for sure," says Mullan, leading the way into her living and dining area, where her paintings, as well as those of friends, are thickly hung.
Seated in a comfy chair, she points out two earlier grove paintings, one of which is a favorite of hers in the series.
"It's so gnarly. I've always liked the brightness of it. I used to paint this grove all the time at René Guerin's house," says Mullan, referencing a local painter who was born and raised in Vero. "She had that old grove, about 10 trees. But it's gone. It died; it was diseased."
Like Guerin, Mullan enjoys painting out of doors, in nature. Unlike her friend, Mullan is not from here.
She came to Vero Beach 33 years ago with her first husband, the late Drew Mullan. Vero is where they raised their sons Billy and Shane and where Mullan taught in public schools for more than 20 years.
A native New Yorker, the family moved here in 1986, after Drew retired from his job. They stayed on the west coast of Florida first, but Mullan says she did not like traffic and bustle on that side of the state. Instead, she took the advice of friends from New York, the late Paul and Anne Freitag, who had a winter home in Vero Beach, and highly recommended the then-small town as a great place to raise children.
Mullan's sons were then 5 and 3 years old.
"We came here and I said, are you kidding? It's like Mayberry!"
Although she is now well known for her expression-filled paintings of natural Florida, Mullan did not pick up the brush until 20 years after she arrived to the land of the orange and the mockingbird.
First, she had to raise her family.
"They took a lot of energy when they were younger. My two (now) giant sons. All I did was feed them and watch them sleep."
When her children had one foot in middle school, Mullan attended Florida Atlantic University in Boca Raton to get a college degree. She intended to major in art, which she had done briefly at Marymount in Washington, D.C.
"But I knew I had to get a job, so I majored in English. It was a 202-mile round trip from my driveway to the university. I'd put the kids on the bus and then I'd drive to school."
With her degree she got a job teaching English at Fort Pierce Central High School. After four years there, Mullan applied for and got a job teaching English at the newly opened Indian River Charter High School in Vero Beach. It was 1998.
"I think there were five of us teachers there at the beginning, along with founding director Judy Jones and assistant founding director Jim Carroll. We took 88 dropouts from VBHS and started that school."
Because the school was founded to help wayward students earn their high school diplomas, its rules were constructed to help differently-abled learners fulfill the requirements needed to successfully complete school.
"I had one kid who would only learn if he perched on the top of my book case. He's an entomology professor at UCLA now. I let him have bugs. He had a millipede and a tarantula."
Mullan's position at the school soon changed to that of art teacher.
"I was at Charter when I really got motivated. But when you're an art teacher, when you're doing art with other kids, and always working at art with other kids, you get home and you don't want to do much. Then I started drawing more. Then I started using acrylics."
Mullan taught at the Charter High School for five years. Near the end of her tenure there, Drew fell ill with cancer and Mullen was granted a leave of absence to care for him. The couple's boys were away at college.
It was during that difficult and lonely time that Mullan began painting in earnest.
"The first painting I did was of morphed figures. It's kind of sad. It doesn't look anything like my work now, and that's a good thing. I think we should always be changing and evolving."
After Drew's death in 2005, Mullan returned to teaching art at Glendale Elementary School where, years before, her children had studied. Before her retirement from teaching in 2014, Mullan taught ceramics for a couple of years at Vero Beach High School's Freshman Learning Center.
Today her art continues to evolve. Her touch has become lighter and her brushstrokes shorter. A recent ocean painting verges on pointillism.
Mullan relates that she recently took two classes about Abstract Expressionism online. Offered by the Museum of Modern Art in New York, classes featured an art history lesson followed by a studio session in which she practiced abstract techniques in real time.
"It is inspiring to do more and more things," she says, noting that the class led her to try such techniques as "mark-making," which she says was new to her.
Nevertheless, she plans to paint over her abstract canvases in favor of Florida themes.
"I'm not an abstract painter," she says.