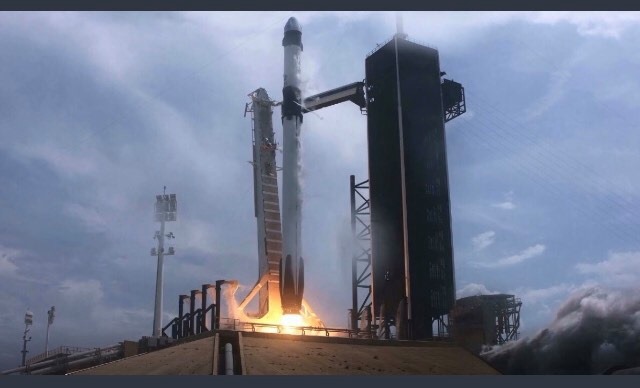 Gloomy weather and the sound of thunder didn't stop beach goers from witnessing a historic moment for American spaceflight Saturday.
Residents stood along the shoreline waiting for the 3:22 p.m. launch. Suddenly, in the clouds above, a flash of light rose into sky, followed by cheers.
The flash was the SpaceX Crew Dragon, carrying astronauts Robert Behnken and Douglas Hurley on a 19-hour pursuit to the International Space Station. The rumbling from the rocket could be heard minutes later.
The event was considered the first crewed space launch by a private company. The launch was originally scheduled for Wednesday, but was scrubbed because of stormy weather conditions.
On Saturday's launch, the SpaceX rocket, and the Crew Dragon capsule atop the rocket, took off from Kennedy Space Center in Cape Canaveral. The last crewed flight from American soil was in 2011 at the end of the space shuttle program.
Liftoff! pic.twitter.com/DRBfdUM7JA

— SpaceX (@SpaceX) May 30, 2020
Photos by Brenda Ahearn