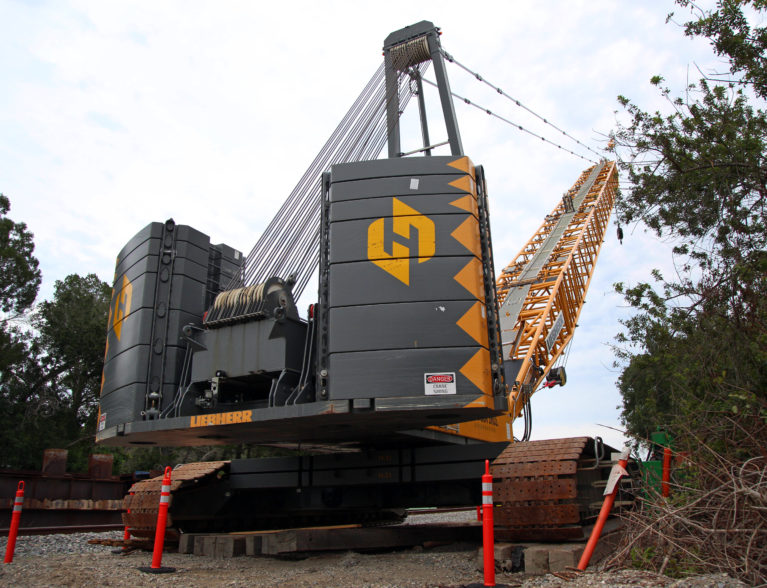 As Indian River County finalizes its last gasp appeal to the U.S. Supreme Court to stop Virgin Trains planned Miami-to-Orlando high-speed passenger rail service, the train company is forging ahead with a major bridge replacement project here.
Virgin Trains announced it will start daytime pile driving operations in Roseland this month as it prepares to replace the 94-year-old railroad bridge over the St. Sebastian River.
The company plans to spend $33 million replacing the rusty 1,625-foot-long, single-track steel bridge with modern concrete structures that can accommodate two high-speed passenger rail tracks.
The St. Sebastian River Railroad Bridge is among the 28 Florida East Coast Railway bridges VTUSA is replacing or upgrading as part of a $2.5 billion expansion of passenger service from South Florida to Orlando.
Virgin Trains also plans to spend $3 million constructing three new concrete bridges adjacent to existing steel railroad bridges in Indian River County, the company web site says.
Construction is planned for September through April 2021 on the new South Canal Bridge, February 2021 through September 2021 on the new Main Canal Bridge and March 2021 through August 2021 on the new North Canal Bridge.
Virgin Trains has continued working on track upgrades despite halting its existing passenger service between Miami and West Palm on March 25 to prevent the spread of the coronavirus.
If Orlando to South Florida service starts by the end of 2022 as planned, VTUSA would send 34 passenger trains per day through Indian River County at speeds reaching 110 mph.
Meanwhile, a lawyer representing Indian River County was to file an appeal in the U.S. Supreme Court by the Monday, May 18 deadline in an attempt to halt the passenger rail project.
District and appellate courts earlier rejected the county's claims the Federal Railroad Administration improperly allocated $2.1 billion in tax-exempt bonds for the Virgin Trains project even though it was legally ineligible for the financing.
Commissioners had given up on the case until a group of John's Island train safety advocates privately collected $200,000 in February to cover the county's legal fees for a long-shot appeal.
The Supreme Court reviews roughly 180 cases annually, or about 3 percent of the 7,000 appeals filed.
Jeffrey Lamken, of MoloLamken LLP, Washington, DC, is handling the county's appeal. If the high court agrees to hear the case, the county will pay MoloLamken another $400,000 in legal fees.
But the case has not slowed Virgin Trains construction crews.
Last Thursday, VTUSA contractors deployed a frontend loader to the train tracks near 83rd Avenue and 130th Street in Roseland to build up the railroad bed on the bluffs overlooking the river and bridge.
A massive 290-ton Liebherr LR 1300 hydraulic crane sat alongside the train tracks waiting to be positioned on the bluffs. The bridge replacement project is expected to take 30-to-36 months – which could put the 2022 service start date in jeopardy.
"There's nothing anybody can do to stop them," said Patricia Hyden, whose 83rd Avenue home – built by her grandfather in 1923 – overlooks the river and bridge. 
"I can't fight them. I can't financially afford it. They're a big business and I'm a small property owner," said Hyden, who fears that noise and construction activity will harm her quiet neighborhood. 
"When they start pile driving, they'll make a whole lot of noise. It's stressful, [but] they can do whatever they want because no one can afford to fight them."
Upcoming Virgin Trains USA railroad bridge projects on the Treasure Coast include:
Crane Creek, Melbourne: 660-feet, replace
Turkey Creek, Palm Bay: 180-feet, replace
Goat Creek, Grant-Valkaria: 120-feet, replace
Sebastian River, Indian River and Brevard counties: 1,625 feet, replace
Taylor Creek, Fort Pierce: 210 feet, rehabilitate
St. Lucie River, Stuart: 1,270 feet, replace
Loxahatchee River, Jupiter: 585 feet, rehabilitate
Earman River, Palm Beach Gardens: 175 feet, rehabilitate