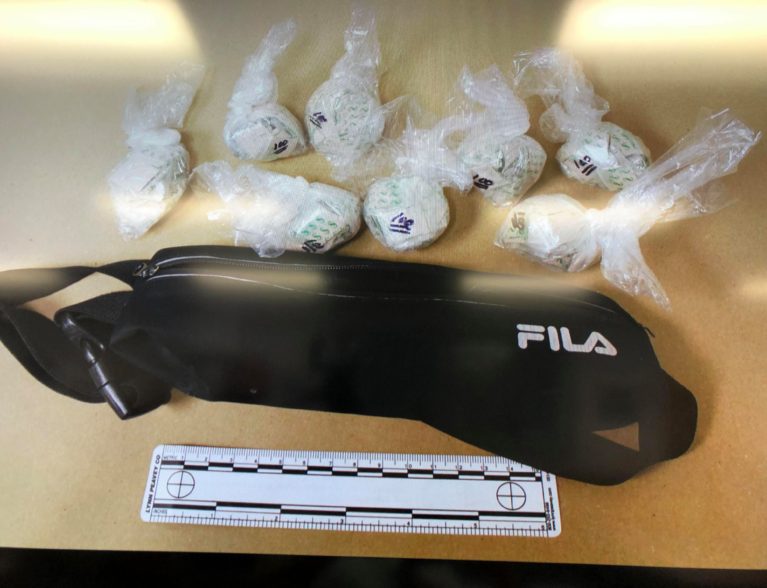 VERO BEACH — A man described as a high-level drug dealer was detained after police seized more than 90 individually wrapped packages of fentanyl total from his vehicle in two separate incidents.
Vero Beach police tracked Burnell Heiges Emlet III in February and May during a narcotics probe. Officers hope Emlet's arrest could lead to a decrease in drug overdoses in the city.
"Emlet grew up here. He was a main player in selling fentanyl," Vero Beach police Chief David Currey said in a Friday news conference. "He's off the streets. We've been working hard. This is our community. We all live here."
.@VeroBeachPD Chief David Currey talks about arrest of Burnell Heiges Emlet III, charged with several felonies including trafficking fentanyl. Emlet was found with more than 90 individually wrapped fentanyl packages total in two arrests. #VeroNews pic.twitter.com/fZ2Gztr0gR

— Nicholas Samuel (@JournalistNickS) May 29, 2020
Police arrested Emlet, of Fort Pierce, on a variety of charges including possession of fentanyl, two counts of trafficking a controlled substance, two counts of possession of drug paraphernalia, driving under the influence and possession of a firearm by a convicted felon. Emlet was held Friday at the Indian River County Jail without bond.
"This was one of the larger drug arrests we've made in some time," Currey said. "That's a lot of fentanyl. We're happy the drugs were taken off the streets."
The first incident happened when police responded to an unresponsive motorist at a traffic light at 9 p.m. Feb. 23, Currey said. Officers found Emlet, who they said also used fentanyl, slumped over the wheel of a red Toyota Sedan at 16th Street and Old Dixie Highway.
Officers ordered Emlet to get out of the vehicle. Police noticed that Emlet had a bulge under his shirt, which they later determined to be a semi-automatic pistol, Currey said.
Emlet told officers he did not have a concealed carry permit, Currey said. Officers searched Emlet's vehicle and found 74 individually wrapped packages of fentanyl and cash.
Officers arrested Emlet on several charges including trafficking a controlled substance and driving under the influence. On Feb. 24, Emlet was released from the county jail on $51,000 bond.
On May 22, Emlet again found himself in trouble with the law after officers spotted a Kia Sedan driving erratically over the eastbound lanes of the Merrill P. Barber Bridge. Police pulled over the driver, Emlet, near the Holiday Inn Vero Beach on Ocean Drive, Currey said.
Officers found dozens of narcotic pills, including Alprazolam and Diazepam, in the vehicle, Currey said. Officers also found a lock safe in the trunk, which had 17 individually wrapped packages of fentanyl, each containing 100 doses, Currey said.
Police also seized cash from the vehicle, leading to a total of $55,420 taken into evidence from both cases. Officers said they believe Emlet obtained the drugs from Orange County.
Currey said police do not believe Emlet's firearm was stolen. It was unclear if Emlet was connected to other key drug dealers in the city.
Police arrested Emlet a second time. Officers noted Emlet is convicted of prior drug offenses.
Currey noted Vero Beach has had a slight increase in drug overdose cases this year compared to 2019. In 2019, the city saw 26 overdose cases, while 2020 already has 29 overdose cases, including three that were fatal, Currey said.
Currey noted that officers always have the appropriate gear – including masks, gloves and gowns – if needed in case they find fentanyl during a narcotics investigation. Currey said the high-profile drug can turn deadly within minutes, or even seconds, if a person is exposed to even a minute amount.
"Fentanyl is 10 times the strength of heroin," Currey said. "It's a dangerous drug for the user."
Photos provided by Vero Beach Police Department
This story will be updated.