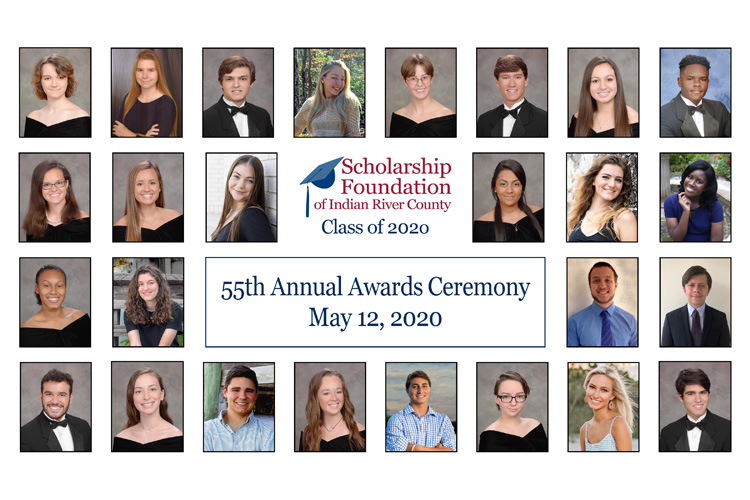 The Scholarship Foundation of Indian River County demonstrated the same tenacity and fortitude that its scholarship recipients will need as they forge ahead into the next phase of their educational journey.
Because of COVID-19, this year's 55th annual Awards Ceremony took place via a Zoom Webinar facilitated by several board members, who shared some of the impressive accomplishments already accumulated by these students during their academic careers.
Sixty-one scholarships, totaling $422,100, were presented to 26 current and former graduates of Vero Beach High School, Sebastian River High School, Indian River Charter High School and Saint Edward's School. The students have already established themselves as political activists, published authors and environmentalists, and aspire to leave their mark in a vast array of careers and occupations.
The 2020 Scholarship Class will attend 15 colleges and universities in five states. Award-winners include three prior recipients currently attending college, and four dual-enrolled high school seniors who will also receive associate's degrees from Indian River State College this year.
Likening the current pandemic and economic turmoil to the eras of the great depression and World War II, Bobby Sexton, SFIRC board president, relayed that he was confident the recipients were "strong enough and big enough to carry us through today's crisis."
Sexton went on to remind the students that they had not made it to this point on their own.
"I bet most of you can name one teacher that believed in you and inspired you to create better things for yourself and for the world. If it weren't for the teacher that affirmed you, if it wasn't for the donors who don't know you, life would be a lot different for you now. Take that to heart," said Sexton, before challenging them to improve the lives of others and to make a difference in the world.
This year's Alumnus Address was given by Kimberley Toperzer, who graduated in 2016 with a diploma from Sebastian River High School and an associate's degree from IRSC. Toperzer graduated with a bachelor's degree in biomedical engineering and applied mathematics in 2019 from the Florida Institute of Technology, where she is also pursuing a master's degree in mechanical engineering. She is currently employed as a systems integration/test engineer at Lockheed Martin in Cape Canaveral.
Toperzer shared her belief that to be successful in life, you first need to discover your passion.
"I hadn't known what true passion was until I began gaining experience," said Toperzer. "Jump into your college journeys with open minds, and gain as many experiences as you can so you, too, may find what inspires you."
She noted that without the support and generosity of the Scholarship Foundation, she would not have been able to pursue her dreams.
"I hope that you, too, will be able to accomplish everything you set out to achieve. Experience all that you can, as you never know where you may find inspiration," she added.
Nancy Richardson Luther presented the foundation's most prized scholarships, the Richardson Scholar Awards, named in honor of her parents, Dan and Marge Richardson.
"If I could give you all one bit of advice to have a successful and happy life, it would simply be to always be kind to one another," she said.
"Over the past 55 years we are fortunate to have so many generous individuals, businesses, local organizations and foundations who have supported our organization and helped us accomplish what we have today in support of Indian River County students and families," said Camilla Wainright, SFIRC executive director.
She commented that the Scholarship Foundation has awarded a total of $12.9 million in need-based college scholarship awards to 2,994 local students since 1965.
"This would not be possible without the support of so many in our community," she said. "All the scholarships awarded tonight are a culmination of the generosity of people in our community who are passionate about education and want to help future generations achieve their educational goals."
In an effort to reach out beyond their educational purview, the foundation hosted a drive-through food drive the next day, collecting 839 pounds of food and $2,500 in monetary donations, which will be distributed through the Church of God by Faith Food Bank in Wabasso. The pastor of the church, Rev. Charlie Jones, is the grandfather of 2018 scholarship recipient Alexus Woods, who currently attends Stetson University.
For more information, visit sfindianriver.org.