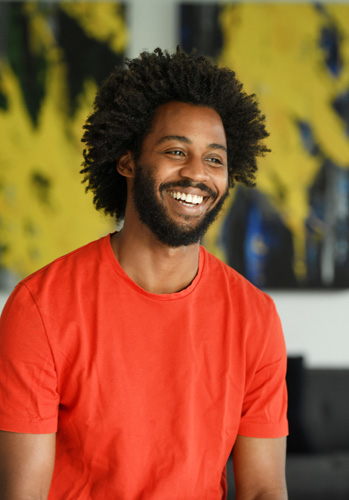 There's a new artist in town.
Joshua McMiller blew in from New York City a scant three weeks ago and recently set up a painting studio in the garage of the house he shares with his companion, Vero native Christopher Foster.
Part of the floor is covered with a tarpaulin, upon which the pigments and tools of the painter's trade rest. Against a wall rests a large work in progress. To create it, McMiller poured acrylic pigments directly onto the canvas and then manipulated them with spatulas to create a roiling green ocean-scape of towering waves; some land-lovers, however, will surely see the Green Mountains of Vermont gently rolling into an atmospheric distance.
Entering the house, McMiller remarks, "this is three days in of us having furniture here."
Standing in the middle of the living area, which incorporates kitchen, dining room and living room into one expansive whole, he says "in New York City I got used to tiny spaces. I feel free here!"
McMiller's acrylic paintings on canvas, the product of the past two weeks, adorn the home's walls. In the entrance hallway, a monochromatic black-and-white abstraction splashed with a loop-de-le of brilliant metallic gold pigment greets the visitor. In the dining area, an 8-foot-high and 10-foot-wide scene of tall reeds topped with golden inflorescence echoes the view of the canal just outside the patio doors.
A four-panel abstraction takes pride of place over the living room sofa; each canvas is a monochrome painting.
The vertical compositions bear bold stripes of color – green, ultramarine blue, turquoise and red against a monochrome background of black, white and atmospheric mixes of gray. Over each of these the artist has flung, scumbled and scraped an opaque layer of metallic gold that selectively conceals and reveals the compositions. They might put you in mind of cityscapes of New York obscured by a healthy dose of Florida sunshine.
Coming so recently from New York, McMiller is hungry for all the sunshine and wide open space he can get.
In New York City, coronavirus was "aggressively in your face," he says.
A runner and yoga enthusiast, McMiller found it hard to exercise outdoors in New York, when everybody else has the same idea. The parks were packed.
"To worry about social distancing when you are running is not a fun thing. Here, I've been living it up. I do track practice in a nearby park, I run over bridges, I run past cows," he says. Cows are scarce in New York City.
McMiller's recent residence there was for a year only, but he had previously lived in the city for six years, from 2006 to 2014, when he was working as a model for the Ford agency.
Since that time, he has worked as a production assistant with a commercial photography studio in Columbus, Ohio, and was most recently a flight attendant with Delta Air Lines. Coronavirus put the kibosh on that brief career.
"I will be 34 next month," says McMiller.
"They say 33 is your Jesus year. You get serious. You start to pay attention to a higher power, if you are smart."
Born and raised in a suburb of Birmingham, Ala., the power of family and the Pentecostal Church played an important role in McMiller's childhood.
He was one of six siblings; his only sister is the eldest child in the family and McMiller is placed squarely in the middle of five brothers. His mother, Janet McMiller, has a Ph.D. in education; she worked as a teacher, an assistant principal and a program specialist in Birmingham area schools during McMiller's childhood. His late father, Lawrence McMiller, was a businessman in sales and an avocational artist.
"Dad did realism, abstract, whatever; the same as me," says McMiller, who notes that six years after his father's death, he still lights a candle in his father's memory every day.
"For some reason, I now have the space to understand him more deeply than when he was alive," says McMiller, who adds that he inherited his "emotional intelligence," that is, his capacity for empathy and adapting his emotions to reflect the situation at hand, from his dad.
"He did not play into gender roles. He was very emotional and to me that was his strength."
McMiller drew as a child; his favorite subject was people. His fellow elementary school students clamored for his drawings, which young McMiller would magnanimously sell them, for only 50 cents apiece.
He was accepted into Ramsey Magnet High School which, he says, had an exceptional visual arts program. McMiller excelled there, winning prizes for his art in competitions at the school and for students city wide. His work appeared twice in student shows at the Birmingham Museum of Art. When the time for came for college, he elected to study art at the University of Alabama in Tuscaloosa.
Once there, he felt let down.
"My high school art program was more extensive and expansive than the university's," he says.
He stuck it out for three years before deciding, during summer break, to apply for a modeling job. He was 19 years old.
"I did a photo shoot, and came to Miami and got started through Ford," he says.
"I was mostly a commercial model. I was all over JCPenney's, Target, Walmart, Kohl's. I'd do in-store modeling, advertisements. I was on a billboard once, but they just showed my mouth!"
He did TV commercials for Burlington, too, but one of the most interesting jobs he had was for Abercrombie & Fitch, when he was a fit model at their New Albany, Ohio, headquarters. A fit model is a sort of living mannequin, on which a designer fashions clothes that will look as well as they fit.
"I was the men's size medium. Every hat, shirt, underwear, T-shirt they made was fit to me. I had no concept of this world."
McMiller had still not given up on art. He made portrait sketches, both realistic and abstract, of friends. Living in Columbus from 2016 to 2018, he created a series of 15 works composed of broken mirror shards glued to plywood backings. He arranged the shards to describe a bald eagle in flight, the shape of the continental United States, and the silhouettes of various guns, among other things.
The eagle piece, he says, is titled "Broken Freedom."
"I wanted to tap into the narcissism of society. I was doing this kind of political statement. I wanted people to see themselves, literally, in my art. I wanted people to see themselves as part of a broken America."
He had his first solo show with those works at Global Gallery in Clintonville, Ohio, a hip coffee shop, gift store and art gallery just north of downtown Columbus.
McMiller moved again to New York in 2019, and the rest is history.
He asks, "Right now, sheltering in place, do I have to wait to make myself happy? Or just sit down and do art?"
Answering his own question, he says "art is the most powerful way for me to meditate, to get into a space of spirituality, and to be myself."
For now, Vero Beach, which McMiller refers to as "a base that is on the radar, off the radar," will do.