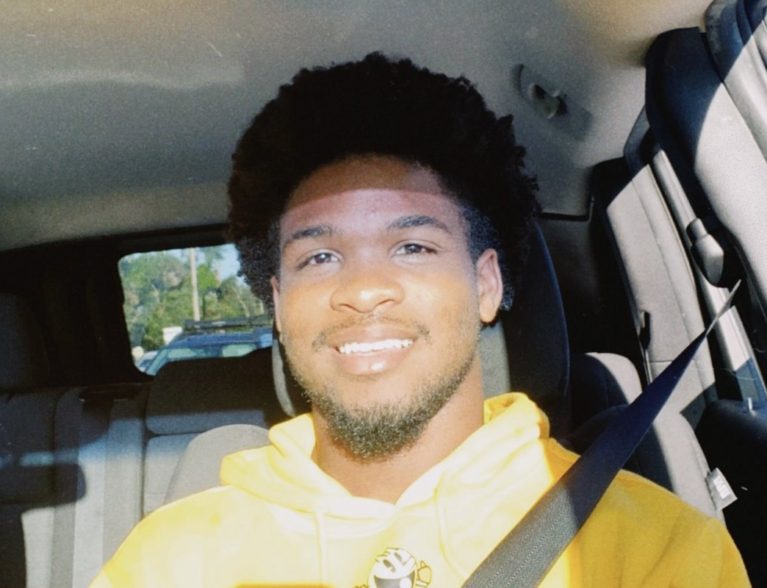 INDIAN RIVER COUNTY — The heartbreak sank in almost immediately for Vero Beach High School Principal Shawn O'Keefe as he began receiving calls May 13.
The news was tragic. Caller after caller told O'Keefe that honor student and athlete Lenton "Ty" Ward was possibly pulled out to the ocean by a rip current.
"He was one of the most polite young men we had on campus. He seemed very kind to everyone around him," said O'Keefe, who would see Ward during lunch, class changes and on the football field. "He was very conscientious about turning in his work even during the coronavirus crisis."
O'Keefe spoke to Ward's family, who told him the U.S. Coast Guard was searching for the missing 18-year-old who vanished about 150 yards offshore of Dollman Beachside Access in St. Lucie County. Ward, who was swimming, was at the beach with friends celebrating their upcoming graduation, family members said.
The beaches had rough surf that day, along with high waves and strong winds, authorities said.
"When the news first came out, we were concerned, yet hopeful because the U.S. Coast Guard was still conducting a search," O'Keefe said of Ward, who planned to go to college for video game design. "The family was hopeful the Coast Guard would find him."
The Coast Guard combed more than 900 miles in hopes to find the teen, who celebrated his 18th birthday with family on April 20. But, authorities did not find Ward, leading them to suspend the search the evening of May 15.
"It's devastating anytime we lose a student," O'Keefe said. "It's very difficult for the class of 2020. We're trying to help students through it all."
A candlelight vigil for Ward was held at 6:30 p.m. Friday at Vero high's Citrus Bowl Football Stadium, located across the street from Vero Beach High School Performing Arts Center.
Social distancing measures, in efforts to prevent the spread of the coronavirus, were put in place at the vigil. More than 100 attendees took candles before walking two laps around the track in honor of Ward and his family.
Ward's family, who declined to comment, was seated along a portion of the track near the scoreboard. The family cried as photos of Ward in his football and lacrosse uniforms flashed across the screen. Ward's name could be seen atop the scoreboard with his jersey number 45.
Senior photos and team pictures of Ward lined the football field as those in attendance walked the track. Ward's jerseys could be seen in the middle of the football field, along with "Ty 45" painted in the grass.
O'Keefe said there were no speakers at the vigil in order to keep people from congregating.
"We will keep people moving while they're here," O'Keefe said before the vigil.
Attendees hold candles as they walk two laps across the track in honor of Lenton Ty Ward. Ward, a VBHS student, hasn't been seen since he vanished May 13 while swimming at Dollman Beachside Access in St. Lucie County. #VeroNews pic.twitter.com/XFHFYKa594

— Nicholas Samuel (@JournalistNickS) May 22, 2020
Ward's family created a GoFundMe page to raise funds for a memorial ceremony. By Friday evening, the page had more than $4,400 in donations.
On the page, Ward's family spoke about the teen's faith in God, passion for fishing and how he loved working out. The family said Ward took dual-enrollment classes and maintained a high grade point average ever since middle school.
"He has grown leaps and bounds throughout the years and has triumphed in all areas of his life regardless of trials or roadblocks," the family said in a statement. "He has been a rock and compass for his three siblings and brings joy and laughter to anyone in his presence. Words will never be able to describe the pride and joy that Ty has made his mother, father and whole family."
Led by example
The football field and classrooms at Vero high are a little dimmer without Ward's bright smile and humble personality, school officials said. Ward transferred to Vero high in the middle of his sophomore year from St. Lucie West Centenntial High School in Port St. Lucie, football coaches said.
At Vero high, Ward played as a defensive back on the football team his junior and senior year, the school's Athletic Director and Football Coach Lenny Jankowski said. Ward, who had never played lacrosse before, decided to join the lacrosse team his senior year.
"He was a great teammate who led by example. He was a selfless person willing to do things for the good of the cause," Jankowski said. "He would come to practice everyday and always had a smile on his face. His teammates and coaches loved him."
For both sports, he wore the number 45 on his jersey. Jankowski said Ward had a positive aura.
"He was somebody you would be proud to know and proud to be around," Jankowski said.
The last several days for Jankowski have been rough. Jankowski said he received calls from Ward's teammates, coaches, teachers and administrators since the student went missing.
"We were all very concerned," Jankowski said. "That speaks volumes to the type of kid he was and how well liked he was on campus. He was there for his teammates and coaches."
Ward's teammates, Tyrese Simmons and Cheech Rojas, described the student athlete as a "happy, joyful kid" who always gave his all in practice. Simmons, 18, a senior and defensive back on the football team, said he and Ward talked about plans to attend college.
Still, the pair were undecided about what university they would attend. But, the opportunities seemed endless.
Rojas, 18, a senior and outside linebacker, said he and Ward would often workout together. The two also took some of the same classes.
Rojas recalled some of his funniest memories with Ward. Rojas said that during class, Ward would always tell him about "fried cheesecake."
"He would say it was the best thing ever," Rojas said.
Vero Beach high football players Tyrese Simmons and Cheech Rojas say Lenton Ty Ward was a happy joyful kid who always gave his all in practice and in the classroom. #VeroNews pic.twitter.com/DjUPdM83PA

— Nicholas Samuel (@JournalistNickS) May 22, 2020
Never missed an assignment
While Ward excelled on the football field, he also made sure academics were a top priority, his teachers said.
Government and economics teacher David Johnston said he was in denial when he first heard about Ward's disappearance. Johnston almost came to tears when reminiscing about how he and Ward would talk about life and where Ward was headed in the future.
"The sky was the limit for him. He did well in class," Johnston said. "I wish he was still here."
Johnston said Ward would spark intelligent discussion, while injecting humor, about different topics during government class. Ward's Senior English Teacher, Libby Steinman, said the student was quick to give his insight into writings the class had studied.
"He was the light in your classroom and his work was impeccable. Always a pleasing young man," Steinman said. "He listened to what his classmates had to say and honored their opinions."
Steinman said Ward never missed an assignment. The teacher said Ward always gave his best and that his well-thought out writing was a joy to read.
Steinman recalled when her class had to write an essay on the play "Fences" written by playwright August Wilson. The play involves a son whose dream of playing college football on a scholarship is snatched away by his father.
Steinman said Ward, who was passionate about football, internalized the writing and thought what if he were in that situation.
Junior English Teacher Linda Gaddis said Ward would often help other students who were struggling in class.
Community heartbroken
Ward's disappearance prompted the response of several agencies, including the Coast Guard, sheriff's offices in St. Lucie and Martin counties, Florida Fish and Wildlife Conservation Commission and the U.S. Border Patrol. The Coast Guard conducted 24 searches in 58 hours, using boats and aircrafts to comb the rough waves for Ward.
On May 15, school officials asked the community to hold a moment of silence for 45 seconds to honor Ward. Staff members have provided virtual support groups and helplines for students, teachers and parents.
The school is also providing grief counseling for Ward's family, O'Keefe said.
"I never met him. But across all grade levels he was an outstanding young man," School District of Indian River County Superintendent David Moore said. "I'm happy the school is supporting the family. What a great community this is even in times of hurtfulness."
Several messages poured in on Facebook about Ward's disappearance. One Facebook user wrote "Praying for his safe return. May God continue to be with him and his family."
While Ward might not be physically with his family or school family, his spirit is found in the stories felt in the hearts of many.
"He was absolutely amazing. He touched a lot of lives," Gaddis said. "We're a family here. He was one of our dear children."
Photos by Nick Samuel