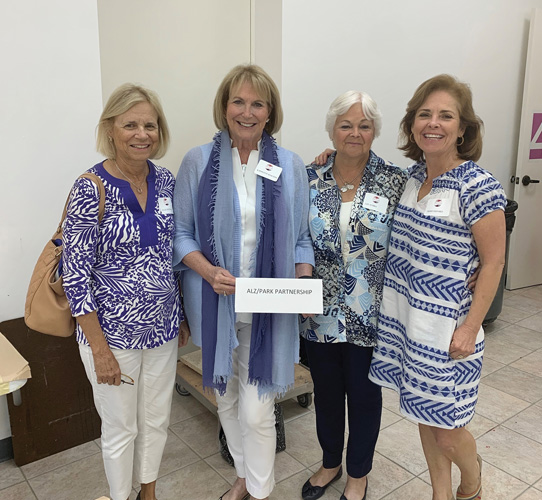 Like many other groups, members of The Circle, a philanthropic cadre of women who contribute to the Vero Beach Museum of Art's outreach programs, were thrown a curve when the museum was forced to temporarily close its doors as a result of the pandemic shutdown.
Instead of enjoying one another's company and casting their votes at the annual Closing Reception, which would have been held April 15, members instead voted by email, choosing for the 11th year to fully fund Museum Explorations, an engagement program for Pre-K through high school students. This year's steering committee was chaired by Cindy Binder and co-chair Becky Torbin.
Circle members each contribute $250 or more annually and vote to determine which Community Engagement programs – categorized as School Programs, Community Engagement Partnerships, Student Programs, and Family Programs – they will fund that year. The Circle has contributed just under $360,000 to VBMA community initiatives since it was established in 2009.
At an Afternoon Tea last November at the Marsh Island Clubhouse, Robyn Orzel, VBMA director of development, presented members with a list of programs under consideration. Fortunately, Circle volunteers were able to complete their site visits in January and February before narrowing the field down to a final four.
The Museum Explorations program was granted $21,566 out of a total $37,991 raised this year. After members voiced that the choice had been a difficult one, the decision was made to grant the remainder in equal amounts to the other finalists. As a result, the Alzheimer's and Parkinson's Partnership, A+ART, and the Veterans Program will each receive $5,475. The Museum will seek additional underwriting to complete the funding of those programs.
In light of the pandemic, according to Orzel, they are working with the school district to make some adjustments to the Museum Explorations program.
The museum had already served 2,631 students and was on track to reach more than 3,500 students until COVID-19 reared its ugly head, forcing the cancellation of the remaining school trips.
Museum Explorations partners with the school district to provide public, private and homeschooled students with enhanced "visual literacy, critical thinking and socio-emotional learning through art museum experiences." Small groups of students are taken on tours of the museum and engage in multisensory art activities, and teachers are provided with pre- and post-visit materials to augment the experience.
The Veterans Program, open to all IRC veterans, offers them shared object-based, art making experiences in a series of five-week classes.
The Alzheimer's and Parkinson's Association Community Impact Partnership provides Indian River County residents suffering from Alzheimer's, Parkinson's or other memory and motion disorders with inclusive art making, music and movement classes.
The A+ART Program partners with the school district to offer autistic and special needs teens and young adults with classes in relaxation techniques, music and movement, team building, art-viewing and art making.
For more information, visit vbmuseum.org.
Photos by: Cathy Cronin
Click HERE to see more or buy photos