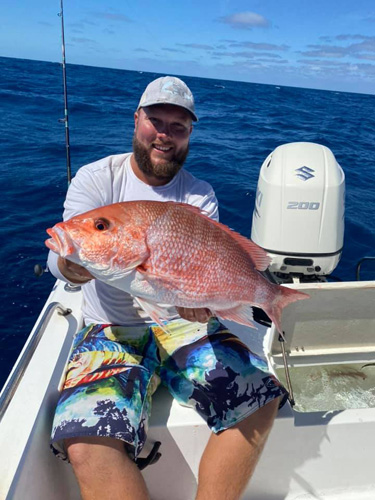 You have your choice now of either entertaining yourself at home or heading out. Of course, if you head out, you'll have to stay smart. That means to maintain good social distancing, wear a mask, maybe even gloves, use hand sanitizer frequently and wash those hands as much as possible. And for sure, if you feel ill, stay home.
Here's one idea that can get you outside, head a little south for a day trip, and still get you with some people – go fishing, regardless of your skill level or experience. And there's probably no better way than hiring a captain and their own private fishing boat. That's where Captain Bo Samuels comes in. He owns and operates Pullin Drag Fishing located on the southern end of our barrier island. His charters can take up to six people, but he's currently recommending up to four people on his 24-foot Sea Pro fishing boat. Captain Samuels said he does not expect guests to use facemasks nor gloves because he wipes down the boat with cleaners and disinfectants after each use, and it's all outdoors in the fresh air. He supplies rods, reels, tackles, fishing licenses, bait, gas and "everything." That also means a cooler with ice and bottled water and another cooler to ice the fish. "If they want, for an extra fee, I'll bring cold cut sandwiches, coffee in the morning and a case of beer," he said. Samuels, an award-winning fisherman, said he's fished out of Fort Pierce Inlet since he was a baby and that he's been a licensed captain for six years. He takes guests in-shore and off-shore fishing. Although he's been successful at helping guests catch sheepshead, flounder, snook and pompano in the winter and kingfish, mahi, cobia and snook in the summer, he cannot guarantee that guests will catch something. "I follow the migration of fish along the Treasure Coast," he said. "I know all the hot spots from fishing my whole life. I've never had a day where we got skunked." Making this even more appealing is the fact that Captain Samuels cleans the fish and tucks them into gallon bags with ice. Since this is a private fishing boat, he doesn't do "split trips," meaning you need to find some people who want to do this with you. The cost is $400 for half a day and $700 for a full day. You can find him at Little Jim Bait and Tackle a short distance east of the drawbridge. Or, to make a reservation, call 772-971-6661.
National Theatre Live continues to bring stunning theater into our homes. It has already brought us so much. At one point, they had planned to suspend the free streaming on YouTube, but with all the acclaim and support it has received, National Theatre Live is continuing. That is grand news, because so far, their productions have been nothing short of sensational theatrical art. The electrifying production that is running now until Thursday is the London production of Tennessee Williams' "A Streetcar Named Desire." You can find it on YouTube.com.
Here's something really different to do: Go on some virtual drives through big cities throughout the world. A website, DriveAndListen.herokuapp.com, puts you in the front seat as you go through big, busy cities like Toronto, San Francisco, New York City, Zurich, Tokyo, Singapore, Rome … there are so many. And then, you can turn on the "Street Noise" setting and hear the sounds of the cities. It's a lot of nutty fun.