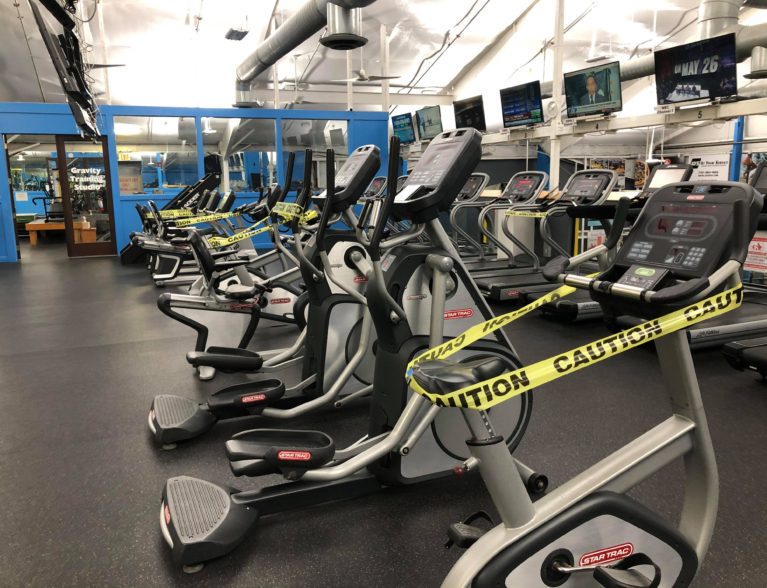 INDIAN RIVER COUNTY — Social distancing measures and increased cleaning were in place as gym members visited Vero Fitness on its reopening Monday.
The gym, along with several other fitness centers across the state, were previously closed because of the coronavirus public health crisis. The gyms reopened Monday under Gov. Ron DeSantis full Phase One plan to strategically reopen businesses.
Under Phase One, gyms can operate with 50 percent indoor capacity, and users must self-sanitize machines and surfaces after each use.
"The members have been waiting for the gym to reopen. People were happy to get back to doing water aerobics," Vero Fitness Owner John Cairns said. "The membership sales have been non-stop. It has all been very positive."
Vero Fitness, formerly known as the Jungle Club, is a family-operated fitness center. Cairns, his wife Marlene and daughter Katie Smith, the general manager, run the gym.
Vero Fitness – running since 1992 – closed March 20 because of coronavirus concerns. The closing caused the fitness center to lose revenue, but the gym is still stable for now, Cairns said.
"We're on solid financial grounds," Cairns said.
The closing gave the owners a chance to undergo improvements, including to the parking lot, repainting many areas in the facility, repairing equipment and regrouting the locker room tile, along with cosmetic changes, Cairns said.
The gym implemented new social distancing procedures Monday. Now, every other fitness machine is covered with caution tape to create a space between members.
The workout equipment is also spaced 6 feet apart from each other. Marking director Kasey Campbell said the center has limited its group fitness classes and the amount of people who can take them.
Also, members now have to make reservations to take the classes.
Some classes – including boxing and yoga – have been moved to either the pool deck or the arena, both located outside, Campbell said. Other sessions, such as body pump, are being held through live-streaming equipment such as Zoom.
Monday, members sporadically went inside the fitness center, which has several sections on its property. Staff are frequently wiping down fitness machines and providing customers with disinfectant spray.
The child care staff and personal trainers are wearing masks, Smith said. Staff are taking the children's temperatures, Campbell said.
Other employees who do not require close contact with patrons do not have to wear masks, Smith said. Cairns said the center will turn away anyone that indicates any sign of illness.
"We have forehead thermometers on hand to review a member's body temperature if there is a need to evaluate," Cairns said. "At this time, no one has come into the facility showing any signs of illness. Therefore, we have not had to refuse anyone's entry into Vero Fitness."
Vero Fitness is a 58,000 square foot facility with 2,400 members, according to its website. Toward the front is the main gym, and a walkway leading to a smaller gym.
On the second level is a cardio deck, spinning cycling room and a kids fit room, Campbell said. Outside are a hot tub and two pools, one for aquatic classes and recreation and the other for lap swimming.
The center has studios for boxing and yoga, two indoor racquetball courts, two tennis courts and nine sand volleyball courts. The facility also has an outside arena for volleyball and other sports activities.
More information on Vero Fitness' classes and hours of operation can be found on its website.
Photos by Nick Samuel