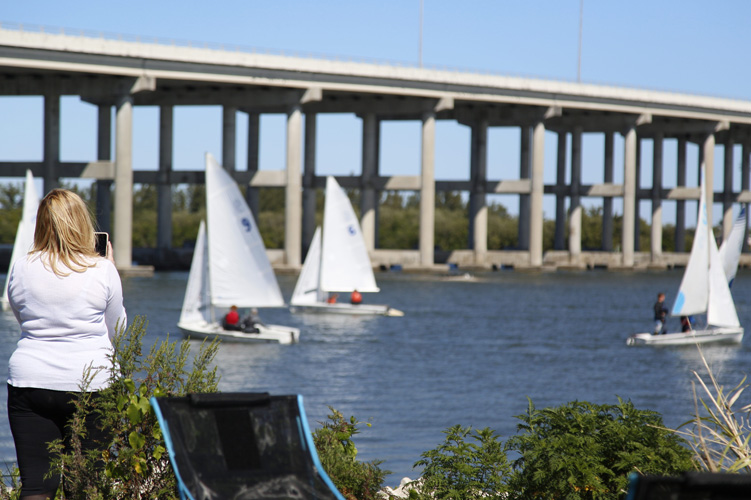 The Youth Sailing Foundation may be moored as we ride out the coronavirus crisis, but they certainly haven't abandoned ship.
When CDC regulations forced them to cancel their Rock the Boat gala, which this year had been scheduled for March 23 at the Quail Valley River Club, they trimmed their sails and got all hands on deck for a virtual event. Supporters were invited to "make some waves" as they viewed and bid on items at an online virtual auction.
Had the gala gone on as planned, guests would have enjoyed a sailing demonstration, viewed an informational video, bid on items in person, and enjoyed a delicious dinner. Instead, guests battened down the hatches in consideration of stay-at-home orders, and participated in a re-envisioned event that was a big success, according to Stu Keiller, YSF executive director.
Less than 2 percent of ticket holders requested a refund for the sold-out gala. Ticket sales, along with sponsorship money and the online auction, put the fundraiser at only 12 percent below funds raised at the 2019 gala.
Keiller credits the success to donor generosity and loyalty, along with the skilled crew that pulled it off. Big-ticket items were a cruise on the Mississippi that went for $7,500 and a picnic boat that brought in $15,000.
As to the reason for the event – raising funds so that youngsters can learn the joy of sailing – YSF also had shut down its operation when local schools were closed. Volunteers came out to help pull the boats from the water, de-rig and secure them.
Although they are landlocked for now, YSF has gone full speed ahead with planning for summer camps, slated to begin on June 1. During the course of the year, YSF works with at least 200 youth, plus the 160 in summer camp.
Nearly 80 campers had signed up within the first 48 hours after registration was opened for the popular one-week camps, which sell out each year. This year, June camps will be held at Quail Valley River Club and July at Saint Edward's School.
"It just shows you that people are looking beyond. As dark as things may seem now, people do see us coming out the other side. They want to have their kids enjoy the benefit of sailing. We're very heartened by that," said Keiller.
In other exciting news, Keiller announced the addition of two assistant sailing directors.
Will Monts will work with the elementary and middle school children in the squadron program and adaptive sailing, and will teach adult sailing.
Also coming aboard, Robert Ayala will help develop the regatta program, which had grown to the point where they needed someone to supervise more than one regatta at a time.
"Those two are major steps for us in terms of attracting that kind of talent. Four years ago we couldn't even think about that," said Keiller. He added that with the increased stature of the organization, people can now see career futures here.
Additionally, Keiller said that grants from the John's Island Community Service League, Indian River Community Foundation and the Schmitt Family Foundation have enabled YSF to aid the Ocean Research & Conservation Association with lagoon research, introduce a new Indian River Lagoon ecology class for parents and children, and to provide scholarships to children from the underserved community.
Nearly one-third of the summer camp participants are nominated by the Boys and Girls Clubs of Indian River County, Youth Guidance Mentoring and Activities, the Homeless Children's Foundation, Dasie Hope Center and Gifford Youth Achievement Center.
Founded in 2009, YSF offers free sailing instruction to Indian River County children and, in the process, they learn life skills, build confidence and learn to be good caretakers of the environment and the Indian River Lagoon.
"We're ready to get back out on the water. We're chomping at the bit to get back in the saddle and get sailing again," said Keiller.
YSF also had to cancel the annual Steven Martin Memorial Regatta but hope to announce a date for the Veterans Day Regatta shortly.
For more information, visit www.ysfirc.org.