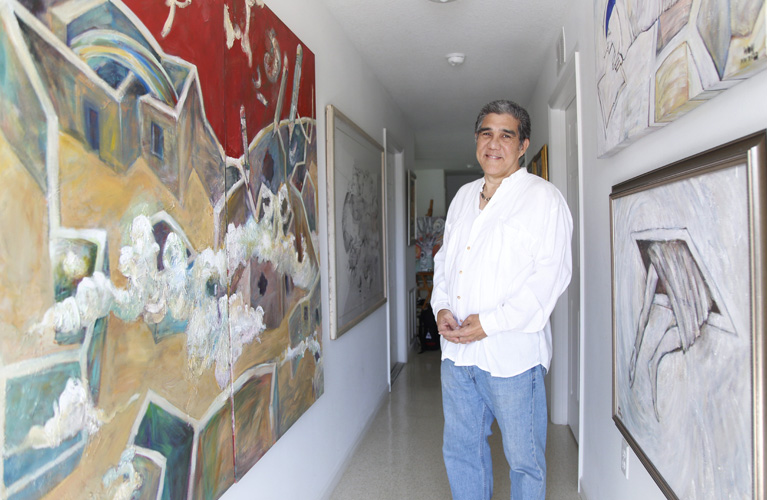 Fantasy and philosophy mark the oeuvre of artist Roberto Wong, who has lived in Vero Beach for five years. A native of Havana, by way of Miami, Wong poses a triple threat to the artists of Vero: He is a draftsman, sculptor and painter.
He is currently a proud member of the Vero Beach Art Club, not only to take advantage of the exhibition opportunities it offers, but also for the artistic camaraderie it affords.
In March, Wong was a volunteer booth-minder at the Art Club's short-lived Under the Oaks art fair. In January the club's Art by the Sea exhibition awarded a ribbon to Wong's sculpture "Coffee Time," a free-standing, construction of painted panels depicting a cubist coffeemaker with cup and spoon. Last year, one of Wong's ink drawings, also with a coffee theme, was included in an Art Club invitational that was presented in the Vero Beach Museum of Art's education wing.
It certainly looks like Wong is here to stay. But the artist, who came to the United States as a Cuban refugee in 1993, is a rolling stone.
He says that when he isn't on the move, "I'm waiting. I'm always in doubt.
"That is my definition of life."
Wong describes his worldview as "Postmodern," meaning that he believes that reality is defined by the individual, rather than by society as a whole. Wong's reality is always in flux; always on the move from one circumstance to the next, never quite here nor, ultimately, there.
To convey this state in his art, Wong takes a page from Surrealism as well as the newspaper caricatures and book illustrations produced by Cuban artists that Wong admired in his youth. Wong's perennial theme is travel, which he interprets as an endless journey in search for the unfindable. For Wong, the traveler comes to a stopping place only to restart his journey, once again.
Wong's art features absurdist depictions of boats, cars, trains and flying machines that carry humanoid passengers through one surreal environment to the next, each drawing or painting but a moment in time on the continuum of Wong's artistic journey. The interconnected gears and pistons that he often includes in his work are metaphors for the human mechanism in the vast dynamo of life. He is also fond of depicting labyrinths, which for him are metaphors of human striving.
In a recent artist's statement Wong writes that human life is an enigma. "Nobody has a mission or purpose; we are just in transit through this labyrinth called life. At the end, we find a puzzle for which we do not have all the pieces."
Wong's work is not as much of a bummer as it sounds. It also contains references to love, the distinctive scrollwork on Havana's streetlamps, the quatrefoil (a four-lobed shape seen in church walls and lucky clover leaves), the sacred heart, the Virgin Mary, and a cup of coffee.
"A coffee cup is present in a lot of my artwork," says Wong. "For me, coffee represents Cuba, of course, but it is also a universal symbol. I was in a couple exhibitions with a coffee theme."
He references "Café: The Journeys of Writers and Artists of the Cuban Diaspora," a series of exhibitions and performances organized by Cuban artist and curator Leandro Soto. Wong participated in Café X and Café XI, shown at West Indies University in Barbados in 2010, and Pueblo Arizona's Sangre de Cristo Art Center in 2011, respectively. Wong has used the coffee cup motif ever since.
Since 1993, Wong's art includes a number of group and solo shows in the United States, including Miami, New York City, Washington, D.C., Philadelphia, Cleveland and Tucson, as well as international group shows, including those in Bogotá, Paris and Rome.
Before 1993, he exhibited in Havana for about 10 years after receiving his degree in fine art from that city's Academia Nacional de Bellas Artes San Alejandro.
Wong's love of drawing was first evidenced in middle school, where he would doodle in the margins of his notebooks, which was not lost on his teachers.
"The teacher would call on me, say, in biology class, to come to the front to illustrate the day's subject on the board," he says.
At 14, during his last year of middle school, Wong went in the afternoon to San Alejandro for vocational study. He began studying art at the school full time at age 15.
"At the end of my third year of study at San Alejandro, times were hard in Cuba. It was 1980, the time of the Mariel exodus. It was almost like a civil war in Cuba," he says.
Pro-government factions protested in the streets against those who had applied to emigrate from Cuba to the United States.
"The government didn't stop the protesters from physically attacking the people who wanted to leave. I saw one of these confrontations from the windows of my drawing classroom. It was at the end of the semester and, at age 18, I decided to leave school," says Wong.
"My mom had always supported my wanting to be an artist. She said, 'How can you do that! You have only one year left before you graduate!'"
Wong worked in a warehouse during what was essentially a school break, before returning to San Alejandro to finish his degree in 1981. After graduation, he immediately began teaching art to middle school students in eastern Cuba.
Wong explains, "In Cuba when you finish school at this level, you spend two or three years in government service. You are paid for your work and you are exempted from military service. You are supposed to enter the reserves, but I never got military training. I just followed my heart to teach."
He taught in 15 different townships in Havana, and also worked as a graphic designer for two newspapers and, once again, in a warehouse.
"I even taught classes in a military vocational school," he giggles.
His journey to the United States began in 1991, when he signed on as a roadie for Albita Rodríguez. Known simply as Albita, the Cuban folk singer was just shy of her 30th birthday. She was famous in Cuba and had a growing audience in Latin America. At the time, Abita had a contract with a Colombian discographer to cut two records, and the Cuban government duly issued her and her band, Albita y su grupo, a travel visa for that purpose. They were afterward to return to Cuba.
According to Wong, "We stayed in Columbia for a year or so. Then we decided to go to Mexico. We met secretly beforehand to decide this, because we had a minder from Cuba's secret police along with us to observe everything we did."
Wong says that Albita told them "there is no guarantee as to what will happen next. I have a fake contract to record in Mexico. It will be an adventure."
To this day, Mexico has strong diplomatic relations with both Colombia and Cuba. Mexico at that time had an extradition agreement with the island nation. The group, says Wong, was well aware that if the Mexican authorities caught onto the ruse, Albita y su grupo would be sent back to Cuba.
After a close call or two, the group arrived in Ciudad Juárez and walked across the border into El Paso. The date was April 15, 1993.
Says Wong, "It was the first time a Cuban musical group crossed the border to come to Miami. Everybody went wild at the news. Our story was on TV and radio. A radio station in El Paso paid for tickets to fly us to Miami."
In Miami, Wong met up with a grandmother and aunts who had left Cuba for the U.S. decades before. Only his mother remained in Cuba; in 1994, she was one of the people who escaped Cuba by raft and landed safely in Miami, but that is another story.
Summing up his life story, Wong says, "As a child I was immersed in a different world. I was a Cuban. When I arrived in Miami, I met family previously known to me only by photos and letters, and a visit from Miami relatives to Havana. There was a big cultural gap between us, so the initial joy of our encounter in America was, for me, shaded with sadness. It made me realize that I belong neither to the land in which I arrived, nor to the isle I left. This is the fate of the immigrant."
They only thing that hasn't changed is his commitment to his art. It and he were born in Cuba, and it will go with him to whatever fate has in store.