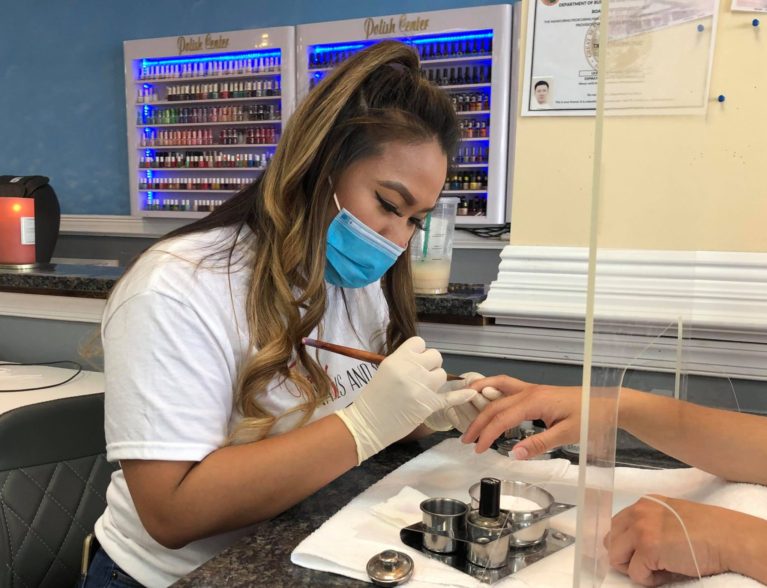 VERO BEACH — Destinny Tran always knew she wanted to run a business.
The 22-year-old Vero Beach resident, along with her parents Briana and Tony Tran, own Foxy Nails & Spa in Vero Beach on Miracle Mile. A few months ago, Tran's parents opened up Viet Bowl, serving noodles and Vietnamese dinners, along with The Oriental Market just across the street from the nail salon.
"My parents are very hardworking people," said Tran, whose family has owned the nail salon for eight years. "I get my spirit of entrepreneurship from them. I always wanted to make money. I was born into it."
The nail shop, along with several other non-essential businesses throughout Florida, had been closed because of coronavirus public health concerns. Monday, all nail and hair salons, along with barbershops, reopened in the state under social distancing and increased cleaning guidelines, an initiative under Gov. Ron DeSantis' Phase One plan to reopen businesses.
"It was horrible when they closed. I needed to get a manicure and pedicure," said client Amanda Sanders, 31, of Vero Beach, who stopped by the shop Tuesday for a nail polish. "I was excited and jumping for joy when I heard they opened back up."
Sanders said she has been going to the nail salon for about five years. She usually picks her favorite nail designs from the social media network Pinterest and shows them to the manicurists.
"I show them the pictures and they do it for me," Sanders said. "After I get my nails done, I feel like a whole new woman."
Keeping clients safe
Foxy Nails was busy Tuesday, which is normal for the Vero Beach-based salon. The shop's increased safety measures were in full effect as workers – wearing protective masks and gloves – gave clients polishes, waxes and eyelash treatment.
Customers and employees were separated by a see-thru plexiglass barrier.
Foxy Nails & Spa Owner Destinny Tran gives customer Amanda Sanders a manicure Tuesday at the nail shop. The shop reopened this week after being closed for two months because of the #coronavirus public health crisis. #VeroNews pic.twitter.com/HtgvLrY6Hi

— Nicholas Samuel (@JournalistNickS) May 12, 2020
Clients at the salon must sign a waiver confirming they do not have fevers, coughs, runny noses or other virus symptoms.
Only customers who made appointments are allowed inside, a rule under DeSantis' reopening guidelines for barbershops and cosmetology salons. Workers must allow at least 15 minutes between appointments, and no group appointments are allowed.
All employees at cosmetic shops across the state must wear masks, but that rule is not mandatory for clients. However, Foxy Nails requires everyone – including clients – inside to don masks, Tran said.
Clients also must sanitize their hands at a cleaning station. Customers must sit in every other chair, except for family members, Tran said.
Tran said the shop usually has about 22 employees working at a time. That number has since been reduced by more than half to promote social distancing.
The shop has increased its cleaning and disinfecting of tools and items.
Back to business
With the shop being previously closed for about two months, Foxy Nails & Spa suffered a big financial loss. Tran said she hopes the salon will recover when the coronavirus dies down.
But, with the closing also came an opportunity for change. Tran added new chairs, along with new stations, during a remodeling at the shop.
Tran said employees have close relationships with clients at the salon, and the atmosphere is like a "family." Clients are able to order complimentary drinks while getting their nails or feet polished.
Whitney McGriff, 32, of Vero Beach, is a regular customer at the salon. McGriff, who wore a mask while getting a manicure, said the shop is very comfortable, laid back and relaxing.
"They're very helpful and willing to go the extra mile to make sure customers are safe and satisfied," McGriff said.