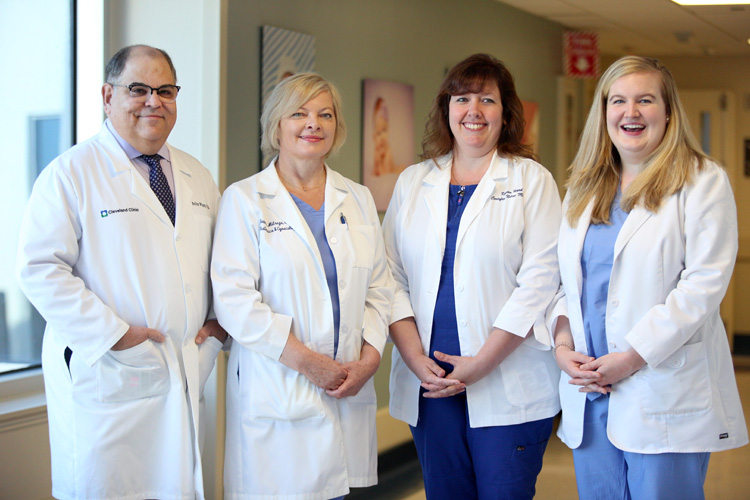 Kristen Ward, Helen Clark and Joanna Mitrega are not cast members of the popular British TV drama series "Call the Midwife," currently airing on Netflix and local PBS stations.
They are the real thing – midwives – who joined Partners in Women's Health in April, and longtime obstetrics and gynecology specialist Dr. Felix Bigay, also of Partners in Women's Health and the Cleveland Clinic Indian River Hospital, is clearly delighted to have them working with local mothers-to-be here in Vero.
Now, in case your midwifery lexicon is a little out of date, Ward, Clark and Mitrega are all CNMs, or "certified nurse midwives," a type of healthcare professional the National Institutes of Health and Tampa's Johns Hopkins All Children's Hospital are impressed with.
Hopkins says "studies have shown that midwife-supervised births produce excellent outcomes with fewer medical interventions than average."
NIH is equally upbeat: "CNM care appears particularly well-suited to help solve two difficult problems in U.S. obstetric care – our country's slow progress in improving the health status of newborns, and the excessive use of medical interventions during childbirth.
"CNMs," the NIH continues, "focus on childbirth as a normal event, emphasizing the educational and psychosocial aspects of care and the judicious use of technological interventions."
Dr. Bigay adds that CNMs work with women throughout their pregnancies.
"CNMs," he says, "can provide prenatal care and gynecological care. Also, they are trained to manage labor and postpartum care. They can order pain medication and epidurals, and assist on cesarean sections. All this with a backup of an OB/GYN physician here at CCIRH.
"The patient can have the benefit of having a CNM with them during the whole laboring and delivery process [while] having the peace of mind that an OB/GYN is close by if any complication arises."
And, he adds, CNMs can and do work with women even before they are pregnant.
"Ideally a woman should contact an OB/GYN or a CNM before pregnancy," Bigay explains. "That is a pre-conception visit and, in that visit, we evaluate the woman for medical issues that could interfere with her pregnancy." He quickly adds that, even if there has not been a pre-pregnancy visit, women should contact Partners in Women's Health as soon they find out they are pregnant.
The biggest downside of the whole midwife situation? NIH says "despite the fact that CNM care has been found to be safe and cost-effective, only a small fraction of those pregnant women who could benefit from CNM care use midwifery services."
But that may be changing now. In Vero Beach, anyway. Midwifery is nothing new.
It has been around just about as long as the human race, but it did fall on hard times for many decades, in no small part because of, as NIH puts it, "a lack of consumer awareness" and "practice restrictions most commonly due to state laws and hospital policies."
Florida, however, has aggressively promoted the use of CNM care as the standard of practice for healthy pregnant women and Bigay, Partners in Women's Health and Cleveland Clinic Indian River Hospital have all embraced the presence of CNMs from pre-pregnancy to pregnancy to delivery and beyond.
Finally, Bigay points out, "here at CCIRH and Partners in Women's Health, we take care of all pregnant patients irrespective of insurance or ability to pay for care.
Dr. Felix Bigay is an obstetrics and gynecology specialist at Partners in Women's Health and Cleveland Clinic Indian River Hospital. His office is at 1050 37th Place, Suite 101. The phone number is 772-770-6116.