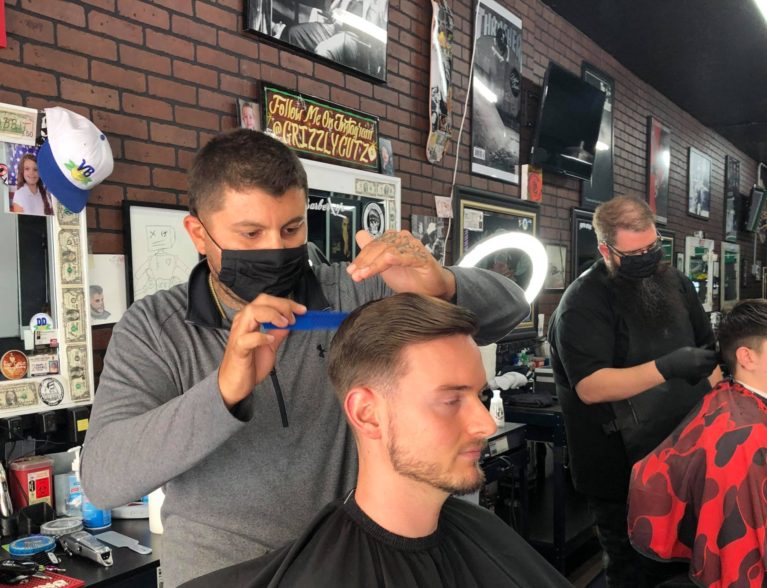 INDIAN RIVER COUNTY — The phone calls from eager customers never stopped at a downtown Vero Beach barbershop.
Only weeks before, the doors to Joey's Downtown Dapper Barbershop had closed and the clippers gone silent as the coronavirus snowballed into a public health crisis. Customers wanted to know when the shop would reopen.
"I had nothing to tell them because I didn't know myself. The closings put our barbers' families in a pickle," said MasterBarber Joey Lucchini, owner of the family-operated barbershop on 14th Avenue for five years.
"The biggest question amongst barbers was 'what now?' My biggest concern was not knowing when we would reopen. For all of my employees, this is their main job."
Then on Friday, Gov. Ron DeSantis announced on Twitter that all barbershops, hair and nail salons would reopen Monday under increased social distancing and cleaning guidelines. The re-openings are part of DeSantis' Phase One plan to reopen businesses in Florida that were previously shut down or restricted because of coronavirus, or COVID-19.
Here's a major announcement from my friend J Henry, owner of J Henry's Barber Shop in downtown Orlando. ⬇️ pic.twitter.com/KnXFaMRVns

— Ron DeSantis (@GovRonDeSantis) May 8, 2020
For beauticians and barbers, the governor's order was a lifeline. For customers, it was a chance to return to pre-corona normalcy.
"The governor's tweet was a relief," said Lucchini, who grew up in Vero Beach. "He gave us a start date."
After the tweet was posted, Lucchini started receiving 30 calls a day from customers trying to book appointments.
Back in business
Customers were upbeat Monday while getting their favorite skin fades and hairstyles while conversing with barbers. Other favorite customer cuts include comb overs, tapers and traditional cuts.
Lucchini gave client Adam Peterson a comb over. Peterson, 24, of Vero Beach, said he has been coming to the barbershop for about five months.
"It's always top notch here, no matter which barber you get," Peterson said.
Customer Adam Peterson gets a low fade combover at Joey's Downtown Dapper barbershop in #VeroBeach. Barbershops, hair and nail salons reopened Monday with increased social distancing and cleaning guidelines after being closed because of #coronavirus health concerns. #VeroNews pic.twitter.com/DHH4fu9b5k

— Nicholas Samuel (@JournalistNickS) May 11, 2020
The first day back in business was busy, which Lucchini said is normal for the downtown-based barbershop. Even though the shop normally runs from Tuesday through Saturday, Lucchini decided to re-open the doors Monday since it was the first day back for barbershops, hair and nail salons.
"We changed things up," Lucchini said.
Keeping clients, barbers safe
With social distancing measures in effect, clients have to fill out a sign-in sheet and wait outside before appointments.
Lucchini said some people waiting for cuts sit inside their vehicles or visit other businesses along 14th Avenue. All barbers – along with cosmetology professionals – must wear masks under DeSantis' executive order.
The order also said only customers with appointments will be allowed service. Barbers should allow a gap of at least 15 minutes between appointments.
No group appointments are allowed, the order shows. Clients are encouraged, but not required, to wear masks during appointments.
Some customers at Downtown Dapper had on protective masks while waiting to get a cut. Lucchini said some of his barbers already wear gloves, but it is not a requirement.
Lucchini said there is already a 6-foot distance between the barber chairs. The owner said barbers are switching out the black capes for each client, more often disinfecting tools and barber chairs, and have removed frequently touched items including magazines and books.
'Customer interaction will be biggest change'
Downtown Dapper is not only a barbershop.
Many clients, before the spread of the coronavirus, considered the shop a "social club" and a "big hangout" spot, Lucchini said. Lucchini said the business has a diverse clientele, with a wide variety of ages.
Before the health restrictions, customers listened to rap, oldies, classical music, and other music genres while waiting for service. The clients also watched college sports – including basketball, baseball and football – on the television mounted on the wall.
A PlayStation 4 gaming system was set up at the shop, where youth would previously play sports games. But, most of those amenities were removed under the new guidelines as a public safety measure.
Community support
Lucchini said the barbers are very grateful for support from the community. The owner said employees and clients at the shop are a big family.
"The local small businesses have been supporting each other," Lucchini said. "It's a really cool thing to see at a time like this. Thank you."
Client Chris Young said getting a haircut boosts his confidence because he is able to look more professional and presentable. Young, 27, of Vero Beach, said he is thankful the barbershop reopened.
"I'm happy to finally be clean cut again," Young said. "It feels good. I feel like a million bucks."
Photos by Kaila Jones