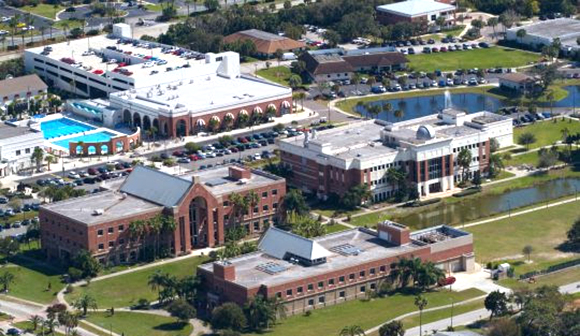 Florida Institute of Technology, a dynamic, rapidly growing research university north of Vero Beach, is feeling the COVID-19 economic pain.
University President Dwayne McKay announced Monday that the Melbourne school is cutting staff, implementing furloughs, closing a textile arts center, and eliminating the football program – all due to "the unprecedented economic uncertainty created by the COVID-19 pandemic."
According to a university news release, the cuts are meant to reduce costs and make sure the university can achieve its core mission of teaching science, technology, engineering and mathematics.
In a letter to the university community Monday, McKay wrote, "these are difficult time for our university. Indeed, all of higher education is struggling to deal with the realities of the COVID-19 pandemic, and the uncertainty that accompanies a global disruption to daily life. Some universities will no doubt close.  Florida Tech, however, has plans to persevere.
The FIT news release said the school plans to eliminate an undetermined number of staff positions later this month and furlough other employees. The number of staffers impacted will depend on how many employees opt for early retirement. However, "many of the furloughed employees are expected to be recalled to work closer to the start of the fall semester Aug. 17," the release said.
The Ruth Funk Center for Textile Arts, which opened on campus in 2009, will be closed later this year. The football program, founded in 2011, ends immediately. The team, which competed in the Gulf South Conference, has 120 players and eight coaches.
Scholarships for those student athletes will be honored for up to four years.