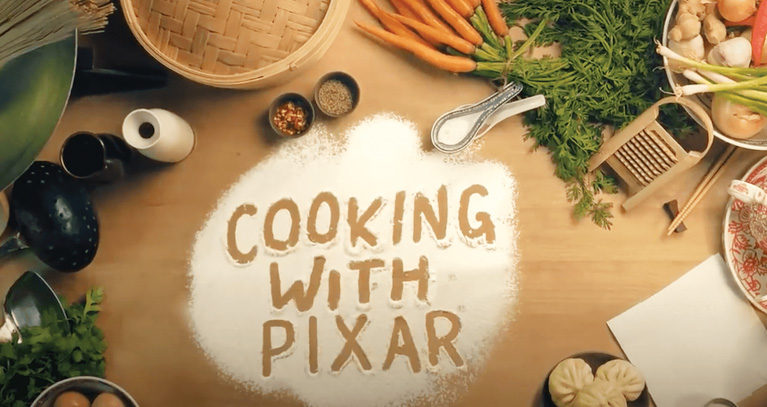 This is typically the time when children will ask to go to Disney World. You can keep those little ones busy with some fun and engaging Disney-related videos online.
And of course, because this is Disney, that means bright fun for all ages.
First, there's the "Cooking with Pixar" series on YouTube. These have a few videos inspired by some of the Pixar films. Some include "how-to" instructions as well as accompanying short videos which accelerate the fun part of cooking. You'll see a birthday cake made by elves Ian and Barley in "Onward," the Pizza Planet pizza from "Toy Story," Remy's Ratatouille with Poached Eggs, inspired by the movie "Ratatoullie," and those yummy-looking animated dumplings from the award-winning short "Bao." Remember, other than the ratatouille recipe, the videos are just about how to put all the ingredients together, so you'll have to search online for exact measurements. But still, they are fun. And if you want to really inspire your young cook, sign up for DisneyPlus.com, click on their "series" menu and head to "Be Our Chef," for a happy, upbeat family cooking competition with special Disney character guests.
Another fun series on DisneyPlus is "The Imagineering Story." You can see some inspiring behind-the-scenes video as well as some amazing finished products. But more than anything, you get on a Disney ride, in a sense, to see the amazing story behind Disney.
Travel & Leisure magazine has a way you can "visit" Disney while staying at home. Included are a Spotify playlist (this is why headphones were invented), Disney snacks (including a DIY recipe for the Dole Whip), caricature lessons from Disney artists, links to virtual experiences and more. Go to TravelandLeisure.com then search for "Bring the Disney Magic Home."
If you saw "Frankenstein" on National Theatre Live's YouTube channel, then you know the excellent quality video recordings of their exciting staged shows. Next up is Shakespeare's "Antony and Cleopatra" starring Ralph Fiennes as Antony and Sophie Okonedo as Cleopatra. The free screening runs through 2 p.m. Thursday, May 14. Reports are that the National Theatre Live won't be streaming more videos until July.
You've never seen a "Swan Lake" like the one choreographed and conceived by Matthew Bourne in 2012. The concept here is of a young prince who has always yearned for his exacting mother's love. One night, standing by a sign that reads "Don't Feed the Swans," he becomes fascinated by a flock of swans and finds the love and acceptance he's always needed. But these are unlike any swans ever put to Tchaikovsky's music. These are all men and they bring a fierce danger and graceful muscularity to the roles. The pas de deux between the lead swan and the Prince is simply thrilling. In the final act, however, the swans turn deadly and create a nightmarish scene which children would probably find disturbing. Certainly, purists will find all this rather disturbing, but if you have an open mind and yearn for something quite out of the ordinary while continuing to stare at your own four walls, this is highly suggested. You can find it on YouTube.com. Search for Matthew Bourne's Swan Lake 2012.
The Vero Beach Museum of Art remains closed through June 1. Staffers expect it will probably open even later. But in the meantime, take advantage of its "Museum Extras," which are all online. You'll find Anke's Art Moment, which is a series of short videos exploring pieces of art; Flick Picks, recommends a new film each week and invites viewers to comment on social media; the Museum Stories program is designed for children and comes with lesson plans on books, music and art making; Art Tutorials will inspire that artist within; A+ Art connects art with teens and young adults who are on the Autism Spectrum and those with other special needs; and Museum Fun has photos which will remind you just how much fun it is to personally get involved with a museum … that is, when social distancing is no longer de rigueur. The current Flick Pick is "Mona Lisa is Missing," a story about Vincenzo Peruggia, who stole the Mona Lisa. Visit VBMuseum.org. You can see the movie on YouTube.com for $2.99.
The Scholarship Foundation of Indian River County will host a Zoom webinar 6 p.m. Tuesday, May 12. It will focus on the 55th Annual Awards Ceremony for new recipients, parents, family members, mentors, advisors, educators, Scholarship Foundation donors, sponsors, alumni and board members. To register, call 772-569-9868 or visit SFIndianRiver.org.