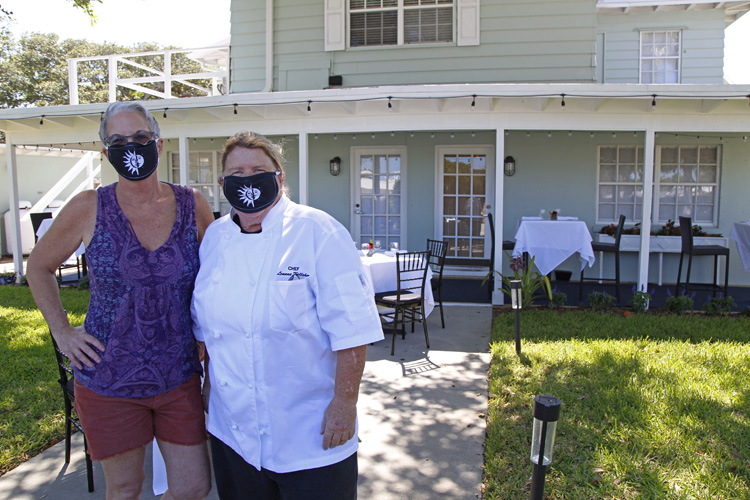 A number of local restaurant owners were planning to resume dine-in service this week in compliance with social-distancing restrictions – but not all of them were excited about it.
Some said their carry-out business had produced better-than-expected revenues and preferred to stay with that model until they could completely re-open their dining rooms – because resuming limited dine-in service could hinder their takeout operation.
They also didn't want to partially re-open their dining rooms, only to be forced to close them again if there's an increase in COVID-19 cases in Indian River County.
"I'd rather be a little too late," Ocean Grill owner Charley Replogle said, "than a little too early."
DeSantis announced that in Phase 1 of his back-to-business plan, the state's restaurants could re-open on-premises dining Monday, but only at 25 percent of capacity indoors and 50 percent outdoors, and social-distancing requirements would remain in effect.
Citrus owner and chef Scott Varricchio said he would continue offering carry-out service and would not partially re-open his dining room this week.
Instead, with Mother's Day this Sunday, he said Citrus will offer outdoors-only seating this weekend.
Varricchio said he's not sure when he'll offer indoor dining.
Varricchio said he has contracted with a cleaning company to regularly sanitize and disinfect the restaurant. He also has talked with a Cleveland Clinic Indian River Hospital doctor, whom he said told him testing his employees won't guarantee they're virus-free the next day.
"I want to make sure I'm prepared for whatever comes my way," Varricchio said, adding that he will monitor the responses of other restaurants, including those outside Florida. "I don't want to make any mistakes. I'd rather do safer than sooner."
Replogle, as did other Vero Beach restaurateurs, also expressed concerns it might be too soon for many in the community to feel comfortable dining out, especially when greeted by servers wearing protective masks.
"It might take the aura out of dining out," he said.
Bobby McCarthy, owner of Bobby's Restaurant & Lounge, closed his popular Ocean Drive bistro on March 18 and chose to not offer carry-out service, but he said he'd re-open his dining room now that DeSantis has allowed it.
McCarthy was among the local restaurant owners that did not offer carry-out service.
"We weren't set up for takeout," he said. "We don't even have a website, so it would've been a waste of time."
Leanne Kelleher, owner and chef at The Tides, said she could seat 25 people in two indoor rooms with seatings at 5 p.m. and 6 p.m. She also was planning to seat as many as 30 people outdoors, though she said she was concerned about the heat.
"We're planning to continue doing carry-out, too, because we're getting requests for both and they're really two separate operations," Kelleher said, adding that The Tides, as is the case with most of the other restaurants, will use disposable paper menus.
"We'll see how it goes, but I think people are ready go out," she said. "I've already got reservations for Mother's Day."
Scot Wilke's 14 Bones Barbecue – a mainland eatery popular with island residents – partially re-opened his dining room, implementing a "fast casual" service plan that allows him to seat people at as many as six tables indoors and four tables on each of the building's two outdoor covered patios.
According to Wilke, customers would place their orders at a station just inside the dining room and take numbers, then go to the available, socially distanced tables and wait for servers to bring their food and drinks.
That format enables him to continue his thus-far successful carry-out service without crowding the food-preparation area.
"Being open 25 percent, or even half-open, is worse than having a closed dining room," Wilke said. "At this point, our takeout/drive-thru operation is viable for us. But if you partially re-open the dining room, it's going to be a challenge to do both well.
"It changes the dynamics of your operation, because there's not enough room for everyone putting together the orders and you're going to have bodies bumping into each other," he added. "So we had to come up with a new way to do things.
"We've worked hard to make our takeout operation work well for us, and we don't want to do anything to jeopardize that."
Replogle said he's confronted with a similar dilemma, though, unlike 14 Bones, the Ocean Grill has been serving only carry-out dinners.
"Our takeout business has been phenomenally good almost every night," Replogle said. "We're probably averaging 100 takeout orders a night. It's a cash flow, but it's only 20 percent of the business we'd normally be doing this time of year.
"Unfortunately for us, this happened in the middle of our season, when we can usually put some money away in case there's a hurricane," he added. "But that money is lost."