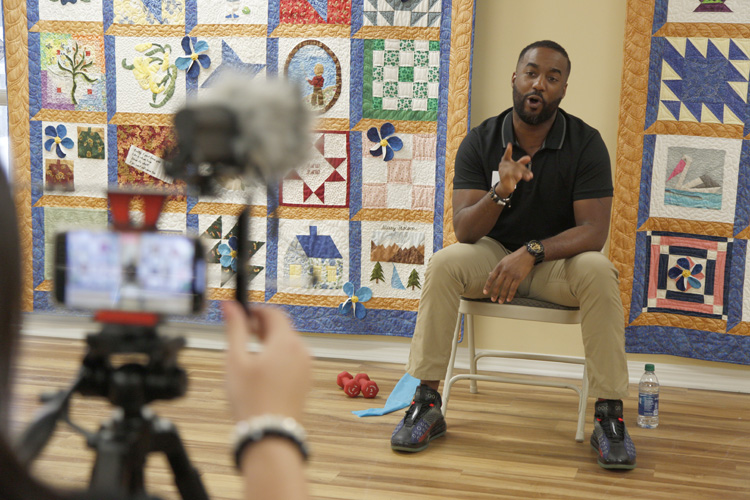 Alzheimer & Parkinson Association of Indian River County staff members are taking the COVID-19 shutdown with a glass half-full philosophy, according to Peggy Cunningham, executive director.
"We've gone after this with a lot of creative energy."
Although recognizing the need to cancel in-person programming, they also didn't want to leave their clients and caregivers in the lurch. Staff initially sent people home with activity kits, before next turning their energy toward finding innovative ways to maintain contact.
"We're utilizing technology every way we can. I think it's going to add to our programs in the long run," said Cunningham.
Under normal circumstances, the nonprofit offers free programs and services to Indian River County residents, including Social Respite programs, where caregivers can drop off clients for the day, which provides patients with safe, social activities and caregivers with a little me-time.
There are also support groups for patients dealing with memory and motion disorders; Project Lifesaver, a search and rescue device in coordination with the Indian River County Sheriff's Office; memory screenings and movement classes; and Virtual Dementia Tours, which give caregivers and family members a better understanding of what their loved ones are experiencing.
"We are very much about connection. That's the essence of our organization. Everything we do is in a group, except for individual guidance," said Cunningham.
With stay-at-home mandates, staff and volunteers are now calling clients and caregivers regularly to see how they're doing.
"It's key that we keep those who use our programs and our services feeling supported and connected," said Cunningham.
"They care about their clients," shared Kelly Bradley whose husband has Alzheimer's. "They not only care about that person, they also care about you as the caregiver. When I first took my husband there, I burst into tears as soon as we got inside the door. They put an arm around me, and they took him to a group class. We each got what we needed at that moment."
Support groups have continued via conference call; social hours, fitness classes and caregiving are offered via Zoom. Videos focusing on balance, arts and crafts, Qigong, games, memory, caregiving and a variety of fitness classes are available as well.
"These are engaging activities the caregivers can do with their loved ones to keep them engaged during the day. The best part is the classes are led by someone they know, and it's a routine they know. A familiar face is extremely keen when you have dementia," said Cunningham.
While Bradley said she and her husband regularly participate in the respite, support and counseling programs, she added that Project Lifesaver actually did save her husband's life.
"He went out to take the dog for a walk and didn't come back," she recalled. After initially searching on her own, she called 911, whereupon the Indian River County Sheriff's Office sent six officers, their helicopter and a dog.
"They found him within 20 minutes by using the equipment to track my husband's bracelet. It was amazing. The only thing that makes me sad is that not everybody realizes this is available. If you have Alzheimer's you should have one of these bracelets," stressed Bradley.
Noting that the continued support is a lifeline that all caregivers need, she added: "The online videos are wonderful."
Cunningham spoke about how stressful it can be for caregivers to go from being able to drop off their family members, to now having to spend all day with them. She added that it is three times harder to care for someone with dementia than any other form of caregiving.
Several weeks into the pandemic quarantine, Bradley said it has been equally difficult for both of them, sharing that her husband gets dressed every day and doesn't understand why he can't visit his friends at the Alzheimer & Parkinson Association's Memory and Motion facility.
"You just don't realize what a break that is for you until you don't have that anymore," said Bradley. She explained that she can't even run to the store to get juice, because she can't leave her husband home alone and a trip to the store would be too much for him.
"For our clientele, 6 feet may as well be 6 miles," said Cunningham. "We hug a lot. We're not used to this distancing bit at all, because so much of how you communicate – particularly with caregivers and those with dementia – is that hug, that support, that connecting. We just have to alter how we're connecting for a little bit."
There is no cost for any of their programs and services, thanks to local philanthropy and fundraisers. Unfortunately, both of this year's major fundraisers were canceled, although for different reasons. The Walk to Remember was rained out, and the pandemic put the kibosh on their annual Successful Aging Luncheon.
In a display of generosity, donations to the walk exceeded expectations, and nearly all luncheon ticketholders declined a refund.
"Now that we're going to settle into whatever this new normal is, it will change in many ways how we do things," said Cunningham. "I think, ultimately, we will get back to our regular congregate activities, the social respite, the educational classes, the social movement classes. I think this will ultimately add a whole new dimension to what we do."
For more information or to view the YouTube videos, visit alzpark.org.