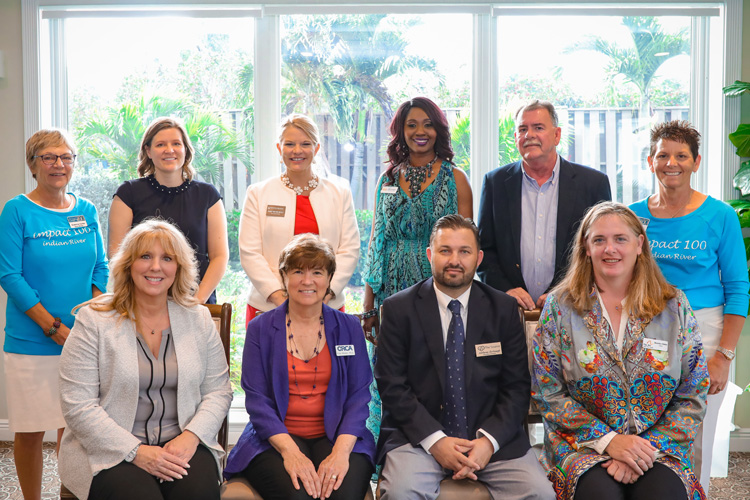 "We are live," said Amy Acker, Impact 100 president, welcoming members on Zoom to the 2020 Impact 100 Virtual Grant Awards Announcement last Thursday.
The generous ladies of Impact 100 followed up last year's challenges with an even greater test of their fortitude and came through, once again, with flying colors. In light of the coronavirus pandemic, the Impact board invited its members and the eight finalists to take part virtually to announce the 2020 High Impact Grant Award Recipients and Merit Award Winners.
Five $100,000 High Impact Grants were awarded to Impact's newest Community Partners, with the remaining $20,481 divided equally among the three Merit Award recipients, giving each a $6,927 grant.
This year's distributions will bring Impact 100's cumulative grant dollars awarded to local nonprofit organizations – since the first two in 2009 – to more than $4.5 million.
This year's overall $520,481 amount included contributions from the current 387 members ($387,000), the amount members at last year's meeting voted to hold over ($125,000), plus an additional $8,481 returned by a prior grant recipient that had successfully completed the project but underspent their budget.
Before announcing this year's winners, Acker thanked the hard-working and dedicated board members for their time and commitment during what she called an impactful, fun and memorable year.
"I want all of our members to know that this year happened because every one of you was an important part of our team effort," said Acker.
The eight finalists had been announced at a reception that took place March 5, but the stay-at-home edict shortly thereafter meant that the remaining part of the process had to be done virtually.
Led by Suzanne Carter, the grants committee worked with each of the eight finalists to help them prepare five-minute video presentations similar to what they would have given in person.
This year's $100,000 Grant Recipients were:
Children's Home Society's
Dodgertown Elementary
Community Partnership School
"I knew it was a great project but the fact that you all have faith in us is very overwhelming," said Samantha Sampson, CHS Southern Region executive director, in thanks.
In her video presentation, Sampson said the Dodgertown Elementary Community Partnership School is a collaborative effort among CHS, the School District of Indian River County, Treasure Coast Community Health and Indian River State College, to take a transformational approach to education by "removing the barriers that too often prevent them (children) from focusing on learning."
She said elementary school children cannot learn the fundamentals that set them up in school and in life when "they're overwhelmed with terrifying and sometimes complex problems that force them to sometimes focus on survival instead of education."
A Family Engagement Coordinator will help remove those barriers, by providing parents with personal support and connecting them with needed resources such as food, housing and healthcare, so that teachers can focus solely on teaching rather than performing the duties of nurses, social workers, counselors and disciplinarians.
Camp Haven's New Multipurpose Services and Programs Building
"We are so appreciative. This will have an impact for decades and decades to come," said Chuck Bradley, executive director.
In his video, Bradley said that Camp Haven, a comprehensive transformational program to rebuild the lives of at-risk and homeless men, "has a success rate of 70 percent of those residents that stay with us beyond a probationary period."
The grant will help fund the construction of a 1,500-square-foot multi-purpose building, which will enable them to expand their residency from 26 to 32 men.
In addition to the space being used for group meetings and as a congregate dining area, they plan to also open it up for AA meetings and other outreach programs such as with the Substance Awareness Council.
Big Brothers Big Sisters
Big Mission
"We are just thrilled," said Stacey Watson-Mesley, CEO. "This has been a giant project to develop and plan, and it will allow us to work with all of these amazing partners in our community and change the lives of children that will certainly need it after this."
In her video, she explained that they plan to coordinate with groups that support military veterans, law enforcement officers and first responders to identify 'Bigs' (adult volunteers) who could mentor and form lasting relationships with 'Littles' (children ages 6 through 18).
Funding will support a Mission Support Specialist, preferably with a military or law enforcement background, who will recruit, train and match service professional 'Bigs' with 'Littles.'
"There are many adults in this community who could completely change the academic and personal trajectory of a child with just a little bit of time."
Treasure Coast Food Bank
Mobile Mercado
"You don't know what this means to us, especially now with our current situation," said a grateful Judith Cruz, president/CEO.
In her video, Cruz said the Mobile Mercado, a self-contained 'roving grocery store on wheels' and SNAP (food stamps) retail access point, will address food insecurity issues by bringing nutritious food to the people who need it where they live and work. Their research has indicated pockets of need that have gone unnoticed over the past few years.
"It's bringing the grocery store directly to the people, providing healthy, fresh food and produce and dairy; the food they want to feed their families but often can't because of access issues. We'll be doing that during the time that they're available," said Cruz.
Commenting that it is a model that can also be utilized in situations such as the current pandemic, Cruz added: "It really had an impact on me and made me realize how important the work that we're doing needs to transition and change as the world changes."
The Source
Dining with Dignity Food Truck
Anthony Zorbaugh, executive director, was only able to say "thank you so, so much" before experiencing technical difficulties, but his smile spoke volumes.
In his video, Zorbaugh explained that the Dignity Food Truck is the next phase of the Source's successful Dining with Dignity Training Program, which provides hands-on culinary training to help the homeless "regain the skills that they need to become productive citizens in our community."
The Food Truck will enable their clientele – the poor and homeless of Indian River County – to receive hands-on training out in the community, where they will interact with customers on a regular basis. It will also generate revenue to sustain the program and the organization.
"It will help us provide much-needed resources and exposure, and again, valuable training for our students and our community," said Zorbaugh.
The three Merit Award winners were:
Heather Dales, CEO of the Arc of IRC, for a Collaborative Music Program with the Atlantic Classical Orchestra to teach their special needs clientele about musical genres and instruments, and eventually express themselves through a composition performed by the ACO.
Moreen Burkart, Visiting Nurse Association music therapy manager, for a Home Health Music Therapy program targeting VNA patients with chronic conditions, including neurological issues, who are receiving rehabilitative services.
Edie Widder, founder of the Ocean Research and Conservation Association, for its Citizen Science program at the ORCA Center for Citizen Science, to educate and engage community members in solving the issues leading to the degradation of the Indian River Lagoon.
"All of our great grant projects this year made the decision very difficult. I want to thank you again for the incredible work that you continue to do to serve our communities," said Acker.
"Women of Impact 100, this was a year of great accomplishment. We did so much and we did it together. That is the power of team philanthropy."
Acker will hand off the baton – virtually – to new board president Gladys LaForge at their May 7 board meeting.
"Gladys is a longtime Impact 100 member, knows our community well and has a passion for the work that we do. Gladys, good luck. You will be great," said Acker.
Prior to the announcement, Acker had shared with Vero Beach 32963 a little bit more about the technological process they needed to implement this year.
"Our new director of board administration, Dee Locke, is a technology guru. We could not have done a lot of this without her," said Acker.
"She's new this year and she has just been spectacular. She has helped guide us through using technology to be able to bring this award announcement to life."
The finalist videos were delivered to Locke, who worked her magic on the technical end, creating a secure and private web page where the videos could be viewed by the membership. Information packets were provided, along with a choice for members to cast their votes online or by paper ballots, with votes ultimately certified by CPA Mindy Howes, of Nuttall, Donini & Associates, who donated her time and expertise.
"I never expected to be ending my year as president this way, for sure. When I talk to people, I say it's a bit of a tale of two presidencies this year," said Acker.
"We had so much momentum leading into the Meet the Finalists announcement. It was such a high and it was such a great event, and then it felt as if the rug got pulled out from under us. As everyone is feeling. I keep saying to everybody, I still am so grateful that we were able to find an innovative way to continue our process and award these grants. This is, more than ever, an important time to make these grant awards, because our nonprofits need the money."
Of the new Impact 100 president, Gladys LaForge, Acker said, "Gladys is very, very capable of coming in to lead the charge for Impact 100. There will probably be some early challenges, though, because we don't know what the environment is going to look like next year."
The model of Impact 100 calls for women to each contribute $1,000, which is then pooled into $100,000 grants, in order to make a greater impact on the community.
For more information, visit www.impact100ir.com.