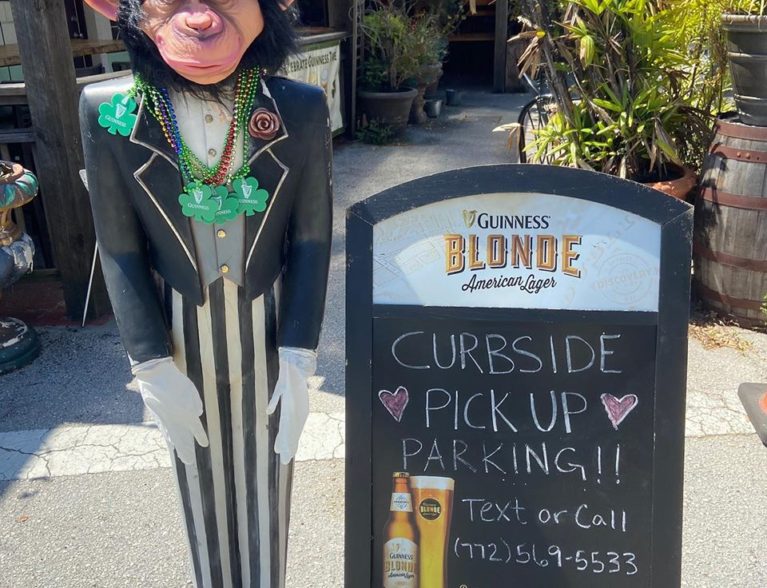 INDIAN RIVER COUNTY — While some restaurants have not suffered major financial losses from coronavirus restrictions, other eateries continue to struggle.
Linda Moore, Co-owner of Kilted Mermaid, said the restaurant suffered a significant drop in revenue during its busiest season of the year because of restaurant restrictions. The owner said money made in February and March usually helps the restaurant stay in operation throughout the summer.
But this year, she's not so sure that will happen.
The restaurant's 16 workers were reduced by half. Some employees have resorted to pulling money from their savings accounts or using credit cards to pay bills.
The restaurant expects to have at least 11 employees total by Monday.
"The longer this goes on, the harder it will be to get through the summer," said Moore, who has worked as the owner since 2011. "It's devastating. Nobody can see the future. It will take us a year to recover."
Thursday, Gov. Ron DeSantis announced phase one his plan to reopen Florida businesses. The "Safe, Smart, Step-by-Step" plan, effective Monday, allows restaurants to offer outdoor seating with six-foot space between tables, and indoor seating at 25 percent capacity.
The restaurants were previously prohibited from serving food inside the buildings, leading most businesses to drive-thru, take-out or delivery service. The restrictions were put in place in efforts to prevent the spread of the coronavirus.
Like other businesses set to reopen next week, The Kilted Mermaid staff has increased cleaning, such as wiping down tables, and repainted the walls, Co-owner Rick Norry said. All employees are wearing masks and gloves inside the business.
When the restaurant reopens Monday, certain tables and the couch room will be closed in compliance with the 25 percent capacity rule.
Norry said the eatery will only allow 16 people inside, and there will be a limited amount of tables outside. There will be space between the tables inside and outside to promote social distancing.
Several regular patrons left supportive comments under a Kilted Mermaid Facebook post about the reopening of the business. One Facebook user wrote, "Awesome, can't wait until things get back to normal. Baby steps I guess," and another wrote, "I miss that cheese fondue…and beers of course."
Even with the reopening announcement, the Kilted Mermaid still needs time to build back up revenue. In the meantime, the eatery has provided carry-out services, sold food items at wholesale costs, sold toilet paper and provided free food for employees, Moore said.
"They have no paycheck now," Moore said.
The owner said none of her staff or crew members have received unemployment. The staff and crew are a tight-knit group, according to Moore.
"This has crippled us. We're concerned about our people," Moore said. "Our bartenders and servers usually do very well. They have homes, mortgages and have good credit."
The owner said eating at restaurants is the pastime of Vero Beach. Moore said she thinks several other eateries in the city won't reopen because of financial losses.
"We're going to be open, but how busy will it be?" Moore said. "Nobody knows what's going to happen."
The owner said it will be an amazing blessing to see and interact with regular customers again.
"We love people. That's our job, our calling," Moore said. "Support local businesses. We've never needed it as much as we need it now. We're all in this together."