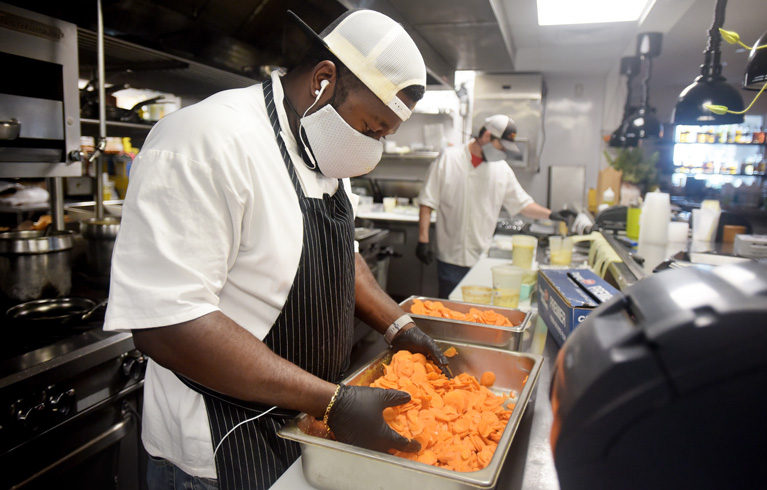 For the island's diners, the month of April – the final big month of "season," when restaurants are packed before winter residents start returning north – was even more challenging than usual.
This April, there were no reservations to be had anywhere – at The Tides, Citrus, the Ocean Grill, The Wave, di Mare, Polo or any of the other popular island eateries.
All were closed to on-premises dining as a result of Florida's efforts to flatten the COVID-19 pandemic. While some simply shut down for the month, others were trying to figure out how best to ride out the storm.
No stranger to calamity, Citrus was closed for nearly a year after a kitchen fire before reopening last March. The key ingredient to making this new "closing" work, according to Citrus owner Chef Scott Varricchio? "Thinking outside the box in order to get things done. If you go in with the attitude, 'Oh woe is me,' I think you're doomed."
Varricchio sent home all but five members of his staff, changed his menu, and instead of serving his cuisine on fine china, has been handing out dishes in to-go boxes, curbside.
"My kind of restaurant is not what people really want during this time. They need comfort food. They need stuff that is affordable and filling and easy and approachable," said Varricchio, sharing that while he's kept a few of his menu items, he also offers things like meatloaf, pot pie, lasagna, soups and stews.
At The Tides, Chef Leanne Kelleher took a different approach. She cleared the restaurant of furniture and turned it into a mercantile where she sells prepared to-go meals, meats, fish, produce, fresh bread and desserts made daily as well as beer, wine and liquor. Kelleher also offers products from local vendors. She changed her hours of operation and now serves lunch along with The Tide's Floridian and New American cuisine dinner menu.
"We're offering the same food but at lower prices because the overhead is less," explained Kelleher. She doesn't expect people to pay the same price for a meal served in an aluminum container as if it had been served on fine china with crystal. She promised, "It's still Tide's food, and it should be Tide's quality. Even if it's takeout."
The one item both chefs never thought they'd be adding to the "menu" was toilet paper. Along with selling staples and prepared foods, both restaurants actually stocked toilet paper alongside the daily specials.
The hardest part of this pandemic for most restaurant owners was having to furlough staff, many of whom are long-term employees who are more like family members to Kelleher. But, the good news, Kelleher said, was "we got our PPP funding." The Paycheck Protection Plan offered through a federal stimulus package enabled her to bring in her staff – in groups of 10, of course – and pay them.
It just so happens the day the PPP funding came through, it was Kelleher's birthday, "It was the best birthday present to be able to give these guys their money. It was such a great day."
Varricchio also applied for the PPP loan and was hoping for good news soon. In the meantime, all tips received are divvied up among the staff members he had to let go. "I had to let an enormous number of my staff go, which hurt. But I had no choice," he said.
The generosity of his patrons has been humbling. Varricchio said one customer added a $1,500 tip to his $40 bill. "I've heard countless times in the last couple of weeks, 'We just want to do a little bit for you,' as folks pick up their meals and purchase gift cards. That's very heartwarming. You can't buy that kind of loyalty."
To their surprise and delight, Easter dinners sold out at both restaurants, and daily orders have been steady. They haven't been hitting the numbers they were accustomed to seeing during the height of "season" in Vero Beach, but people still want to have dinner "out."
"It breaks up the routine of cooking for themselves at home every night, and I think a lot of people are genuinely trying to help the small businesses in the community," said Varricchio.
Kelleher agreed. "When we don't have control over a lot, the familiarity of the faces, the food and the experience is comforting," she said.
What will fine dining look like after the pandemic? It's anybody's guess.
"I probably won't have as many staff because I don't know what people are going to do on the flip side. People are not going to want to sit next to one another. They're going to have that lingering fear," said Varricchio, adding that he'll have fewer seats to appease people's minds and maybe even new laws.
Predicting other changes, Varricchio has already started to plan his COVID-19 menu. "I like the fact that people come here and are buying eight lasagnas and four potpies and giving them to friends or putting them in their freezer. I'll probably still offer those things," which would be a departure from his usual offerings of Italian and Mediterranean-inspired foods.
On April 4, The Tides ushered in 20 years of providing fine cuisine to Vero Beach residents. Kelleher attributed the overwhelming support of patrons to long-term relationships.
"It makes everybody who works in this restaurant every day understand that it matters what you say – your integrity and your character and anything that you do in business matters. And it comes back to you 10 times over if you just subscribe to the fact that it's a customer-driven business," she said.
"There's going to be a significant number of restaurants here and across the country that will never reopen their doors. That is just cold, hard truth," said Varricchio. Then he promised, "This is going to hurt, but I'm going to come out of it on the other side better and stronger."
Both chefs agreed that it's better to err on the side of caution. As painful as the shutdown has been, they don't want to return to "business as usual" too soon. "It's is a shame, and I know it's going to change us as humanity moving forward, but we'll adapt, and we'll make it work. We have to," said Varricchio.
Figuring that social distancing will not magically disappear once the stay-at-home order has been lifted, Kelleher said she'll also reduce the number of tables at The Tides. "We'll probably not pack people in the way we have done for years. You owe everybody to come back into normalcy reasonably intelligently, understanding what we've learned, and keep people safe."
Kelleher also expects many of the island's winter visitors may not head north in May as has been their custom.
"The marketplace, in terms of who we draw from, is going to stay big because they're not going to want to go home to New York and Connecticut and places where the living is denser. They're going to stay down here, which is going to help restaurant people."