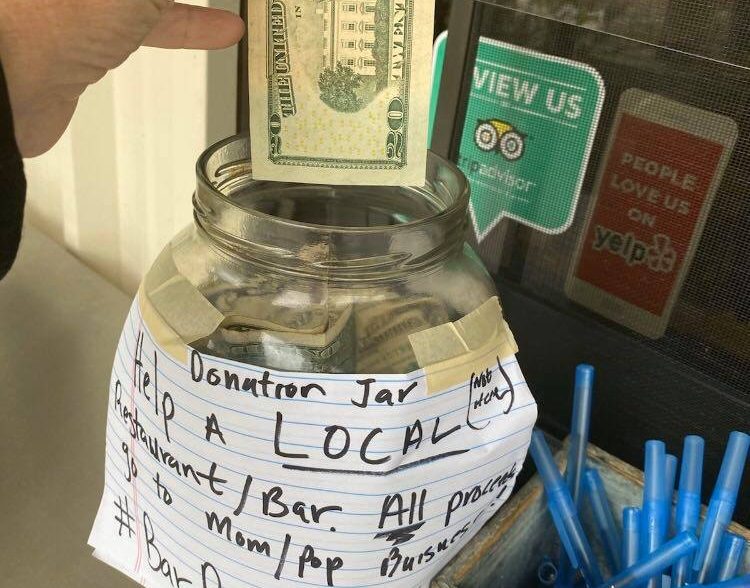 INDIAN RIVER COUNTY — Family-owned businesses have united to raise money for local restaurant and bar employees out of work because of coronavirus public health concerns.
The Pizza Guys, Café 66, Caps Pizza, McDonald's of Vero Beach, Vero Beach Hardware & Gifts and the Sandwich Shack in Sebastian are participating in the "barbuckschallenge" to help collect the funds. Pizza Guys Owner Billy Mullan, who created the challenge April 14, said he plans on participating until May 8, when restrictions on inside restaurant and bar services are expected to be lifted.
"Some restaurants might not open back up in full force. A lot of people are waiting on money from unemployment and not getting it." Mullan said. "If we can help them out, that's what we'll do."
The areas inside several businesses – including restaurants and bars – have been closed to the public in an effort to prevent the spread of the coronavirus. Several shops are still reeling in customers through drive-thru or delivery service, while others have shut down completely.
"Nobody expected this to happen. People are down on their luck," said Lacy Cox, who co-owns Café 66 with her partner Daniel Wood. "We've been blessed. The least we can do is pay it forward."
The participating businesses have raised about $5,500 so far to give out to employees, Mullan said. Cox said she has been writing personal notes to employees to give them encouragement during a stressful and uncertain period.
"We're going to keep raising money because it's the right thing to do. We want to get it into the hands of people who need it as quickly as possible," Cox said. "So many people in the restaurant business aren't able to work because of the pandemic. Our community is so willing to help people in times like these."
Most of the shops host the challenges one day per week at their businesses. McDonald's partakes in the event every Friday; Café 66, Caps Pizza and Pizza Guys hold the event every Wednesday and the Sandwich Shack every Monday.
Some businesses are donating 10 percent of sales to the challenge on the days chosen to raise money. Café 66 also has a tip jar for customers to give money.
"(The participating shops) are all locally and family owned," Cox said. "We're all extremely hands on in our businesses and day-to-day operations."
John Capobianco, who co-owns Caps Pizza with his sister Nicole, said the eatery joined in on the challenge because "it was just the right thing to do."
"Lots of people are being affected by (the virus)," Capobianco said. "When Billy came up with the idea, I knew I would be on board. We felt obligated to participate."
Vero Beach Hardware & Gifts has already donated $250 toward the fundraiser, Owner Christian Talmadge said. Talmadge said the family-owned store will also host a raffle drawing at its location May 9, when ticket buyers will have the chance to win a $720 patio set.
Tickets are on sale now through May 8 at the hardware store. Money raised from raffle purchases – $20 per ticket – will go toward the donations, Talmadge said.
"We need to support each other," Talmadge said. "Family owned businesses are the foundation of the community."
Jeremy Odom, who co-owns four McDonald's locations in Vero Beach with his family, said participating in the challenge has been an awesome experience. Odom, his wife Jamie, along with his parents Joe and Maryann Conrado operate three of the burger shops on U.S. 1 and one by Interstate 95.
"As McDonald's, we have been able to maintain operations during this time, so giving back is the right thing to do," Odom said.
Anyone who wants to donate to the challenge can contact the owners by calling the businesses.
Photos provided by Lacy Cox and Billy Mullan