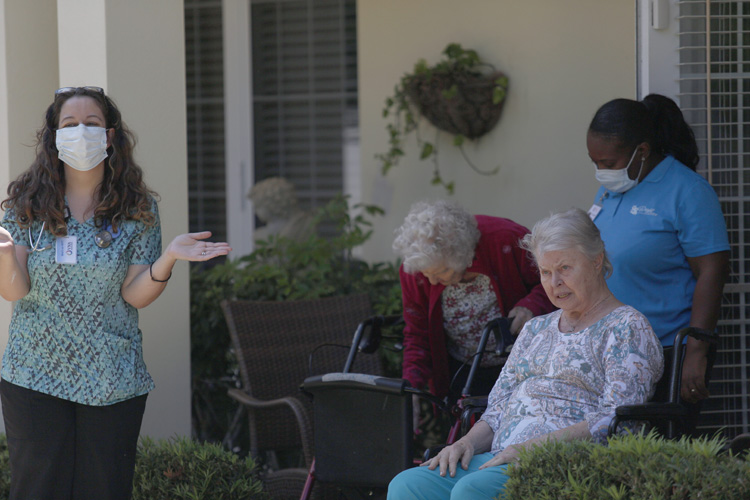 The Visiting Nurse Association of the Treasure Coast has been hitting the right notes recently, strumming a little sunshine into the lives of residents at skilled nursing homes and assisted living facilities through a series of patio concerts. The nonprofit's board-certified music therapists have been traveling throughout the county, creating a bright spot in the lives of the elderly during these uncertain times.
Pre-COVID-19, music therapists had been visiting patients at their homes and living facilities, but mindful that many of their patients are considered high risk, the VNA has implemented innovative ways to provide care.
"We utilize music to help people with clinical goals," shared Moreen Burkart, VNA manager of music therapy, noting that it can help with psychosocial, anxiety, pain management and rehabilitation.
"We're trying to stay connected. Isolation is difficult emotionally and mentally. Social distancing doesn't have to necessarily mean social isolation."
The outdoor concerts are meant to bring joy to the residents, explained Burkart.
"The patio concerts aren't music therapy but entertainment. Music is the universal language. It's such a good way to elevate people's moods and emotions."
Therapists serenade residents from outside, respecting social distancing guidelines. Like the residents at Somerset House, many throw open their windows to listen. Others enjoy the music from the safety of private patios and balconies. At Dixie Oak Manor, mask-wearing residents gathered in the common room.
Heads moved, fingers and toes tapped and a few even sang along to old favorites such as "Show me the Way to go Home," "Oh, What a Beautiful Mornin'" and "Side by Side."
"The staff has really been challenged and has really been creative," said Kathy Orton, VNA vice president of clinical services. "But it hasn't stopped us from providing care. We're still out there every day, touching and reaching out in whatever ways that we can."
VNA has implemented virtual visits and telehealth assessments, and telemonitors placed in homes enable nurses to follow up and provide support even if it's not face-to-face. These are especially important for homebound patients, as many VNA clients live alone or rely on the support of elderly family members as caregivers.
Founded in 1974, VNA provides "compassionate, innovative care of the highest quality, setting the standard for patients and caregivers needing private care, home health, hospice, and community health services."
VNA has multiple service lines, including end of life care for patients at the Hospice House, a 12-bed facility, and in homes and skilled nursing or assisted living facilities. In addition to music therapy, they provide traditional therapies, such as physical, speech and occupational.
For more information, visit vnatc.com
Photos by: Kaila Jones
Click HERE to see more or buy photos