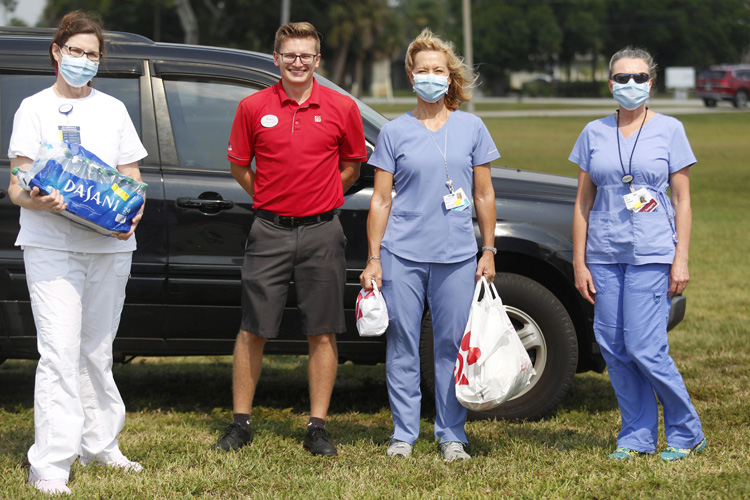 Individuals, businesses and even book clubs are coming up with creative and heartfelt ways to show support for the staff at Cleveland Clinic Indian River Hospital during the COVID-19 pandemic.
Hope Sorrentino, part of the marketing team at Dale Sorensen Real Estate, has friends and family members employed at Cleveland Clinic, including her stepmother, Lori Zoda, who works at the drive-through coronavirus testing site outside the hospital.
When Zoda mentioned in passing that she and her co-workers were worried about going inside the hospital to get lunch, not knowing if they had been exposed to COVID-19 while conducting swab testing, Sorrentino came up with the idea for a "Meal Train" so caregivers would have good food and could eat outside.
"I wanted to set something up to get them fed, so they could keep working and not worry about lunch," said Sorrentino.
It didn't take long for the train to leave the station. Sorrentino took the first shift on March 22. Olivia's takeout restaurant provided lunches for a week, Nino's on Ocean Drive took a shift, and Natalie's donated six cases of orange juice.
When word of the project began to circulate, the Sorensen family took several lunch slots and then shared the Meal Train opportunity companywide.
"We can't do enough right now to thank our first responders and healthcare professionals," said Sorensen managing partner Dale Sorensen Jr., noting that after Sorrentino spearheaded the effort, DSRE agents and employees were quick to follow in her footsteps to support such a great cause.
"It just took off from there and has expanded to the community," says Sorrentino, overwhelmed by the response.
Those signing up to provide a meal are asked to supply food for 17 people, including an Indian River County Sheriff's deputy and hospital security guard, who are working on the frontline every day of the week. The food should be individually wrapped and delivered by 11 a.m.
It's a win-win as far as Sorrentino is concerned. While showing drive-through site workers how much their hard work and sacrifice is appreciated, local restaurants are also being supported.
So far site workers have dined on everything from subs and barbecue to full Italian meals, with food coming from Citrus Grill, Chelsea's on Cardinal, River Twist, Saigon Bistro and other restaurants.
"It's been really touching," says Jenn Puglisi, COVID-19 testing site manager. "Our staff is so appreciative. They've been taken from their normal comfort zones and asked to be on the front lines and take care of some very sick people. Knowing that the community supports them is huge."
Puglisi continued, "It keeps our spirits up. It does get a little daunting, in the heat, and dealing with all these patients that are frankly just scared."
The staff working at the drive-through site are nurses and technicians who usually work in procedural areas at the hospital or in outpatient facilities that aren't seeing patients currently.
The SOB's book club – a longstanding group of 10 women with hair of various Shades of Blond – got into the act on April 2, delivering 100 pizzas to feed the entire hospital staff, from aides to elite surgeons.
The idea came from book club member Susan Perry, who remembered how appreciative nurses were when she brought donuts or pizza to the maternity ward when her daughters were giving birth there.
"Everyone was onboard immediately," said Premier Estate Properties broker associate Cindy O'Dare, also a member of the club.
Perry's husband, Dr. Ted Perry, a surgeon at the hospital, helped arrange matters with the hospital and actually ended up delivering the 100 pies, a mix of plain cheese and pepperoni.
After the order was placed at a locally owned Domino's – "we didn't think most other places could handle such a big order," O'Dare said – it turned out the restaurant could not provide delivery.
Fortunately, the Perrys have six grandchildren and Susan Perry has an SUV that was just large enough to carry the load.
"We contacted the departments and floor managers and they came down with carts to get pizzas for their people," Dr. Perry says. "It was such a nice thing for the club to do. It was a tremendous boost for morale at the hospital and let all the staff and employees know that people outside the hospital care about them and appreciate their efforts to help the sick in the community."
Vero's show of support for the hospital and its workers continued Friday when Nikki Parris, Nurse on Call Home Health sales manager, organized a parade to hearten the doctors and nurses and other healthcare workers.
"I thought, 'We're such a tight-knit community, we have to do this,'" said Parris, who sent out a call for action and saw the idea immediately catch fire.
A caravan consisting of 26 cars – including one with the Easter Bunny and several from first responder agencies and other healthcare facilities – made a circuit around the campus to let hospital staff know just how much they are appreciated, especially during the pandemic.
Vero Beach's message to frontline healthcare professionals amid the horn honking, banner-waving, sirens and lights was a very loud and clear, "Thank you!"
"The parade was great," said Dr. Perry. "It had a good effect."
For information on how you can provide meals for the Cleveland Clinic Indian River Hospital COVID-19 testing workers, visit mealtrain.com/trains/l19l64.
Photos by: Kaila Jones
Click HERE to see more or buy photos