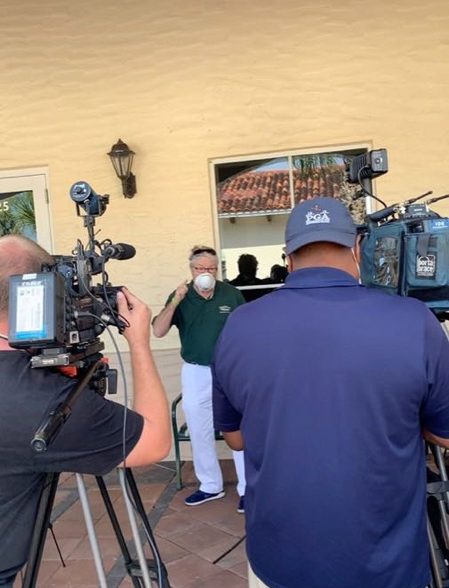 Update:
Social distancing went out the window, and as Sebastian police officers stood by, as a press conference called by Sebastian City Council member Damien Gilliams Thursday afternoon quickly devolved into a raucus shouting match.
It wasn't, however, a total surprise since Gilliams, a frequent and mostly unsuccessful council candidate and combative city government gadfly for decades, stated the presser agenda as "an update of the crisis at Sebastian City Hall and the misconduct of Mayor (Ed) Dodd, City Manager Paul Carlyle and City Attorney Manny Anon Jr., as well as a planned 'news conference' the following day (Friday) with the stated agenda of removal and replacement of Carlyle and Anon."
As a masked Gilliams attempted to yell over the mostly masked crowd of about 50, reading from several typewritten pages, shouts of "Lock Him Up!" "Liar! Liar!" and other similar epithets hurled from the too-close-for-comfort crowd gathered outside, along the City Hall's east wall. Most of Gilliams' comments, including those regarding the coronavirus and related safety measures, could not be heard.
Video by Samantha Baita
Any Gilliam supporters who may have been in the crowd kept low profiles, and only one individual could be heard calling him (Gilliams) Mayor. A behind-closed (and locked)-doors unofficial Council meeting at City Hall the previous night (after Carlyle postponed the official meeting), was allegedly attended by Gilliams, Council member Pamela Parris and vice-mayor Charles Mauti and apparently resulted in what the three seemed to consider a legit majority vote to get rid of Carlyle and Anon and, according to sources, appoint Gilliams mayor.
A squad of media followed Gilliams to his car shouting questions and seeking copies of his presser address to little avail.
Earlier story
SEBASTIAN — The state attorneys' office is investigating after officials said three city council members held a "secret" meeting – locking the doors behind them – late Wednesday.
Sebastian Mayor Ed Dodd said "any and all action supposedly taken at this secret meeting is void as a matter of law." Dodd said the meeting was not authorized or properly noticed, and that the public was not allowed to enter the city council chambers.
"At this point, in spite of the actions of these three council members, I remain the city mayor of Sebastian. We will be vigorously pursuing all legal remedies available against these three individuals," Dodd said in a statement. "The state attorneys' office is conducting a criminal investigation as well."
Dodd said the three officials who held the secret meeting are Vice-Mayor Charles M. Mauti, Councilmember Damien H. Gilliams and Councilmember Pamela Parris.
The incident unfolded when city officials postponed the Wednesday meeting because of coronavirus public health concerns. The meeting was also pushed back because of concern that residents would not be able to attend because of Gov. Ron DeSantis' stay-at-home order, which went into effect earlier this month.
Dodd said that about 3:20 p.m. Wednesday, City Manager Paul Carlisle, in unanimous agreement with city council, postponed the meeting. Later that evening, Mauti, Gilliams and Parris went inside city hall after it was already closed, Dodd said.
The officials went inside the city chambers, locked the doors and held an illegal meeting in violation of the Sunshine Law and city charter, Dodd said. State law prohibits elected officials from discussing business outside of a public meeting.
Dodd said the three council members may release press statements over the next few hours. Dodd noted that any information from them about a new mayor or any other official is likely false.
"It is my objective to protect the integrity of the city itself and city government," Dodd said. "The city government is under attack. It's that simple."
Photos by Samantha Baita