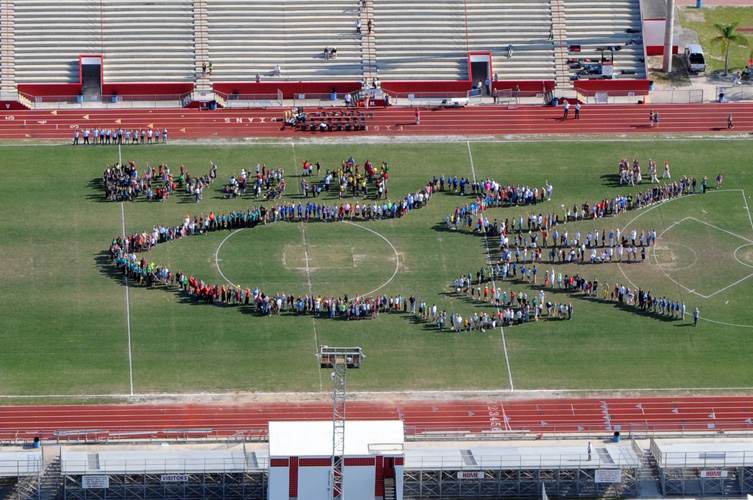 The Learning Alliance was all set to celebrate 10 years of helping Indian River County children become better readers, with a planned gala on April 1. Unfortunately, COVID-19 played a twisted April Fools' joke on the grassroots organization, canceling the event in a literal Lewis Carroll-esque un-birthday way.
The Learning Alliance's 'Once Upon a Time' story began with an idea by two mothers, Barbara Hammond and Liz Woody-Remington, and philanthropist Ray Oglethorpe to ensure that all children would be able to read. The trio traveled the country in search of best practices related to teaching reading. They rejected their initial thought to start a school after realizing they could build on the framework already in place in public schools.
Fortunately, TLA found support with social venture philanthropists who recognized that aggressive goals take time, and that there is no silver bullet.
By collaborating with the School District of Indian River County, TLA has provided research-based reading and language training, social-emotional intelligence classroom management training, and afterschool and summer programs for children reading below grade-level. They have also funded interventionists to work with struggling readers in small group environments.
Their efforts have united the community around the common goal of ensuring that children are ready to enter kindergarten, and that 90 percent of children are reading at grade-level by the end of third grade.
The conversation grew to include nonprofits, law enforcement, educators and more than 125 community leaders, ultimately resulting in the Moonshot Community Action Network.
Rather than working individually to ensure children were healthy and well-fed, received mental health support, clothing and a place to live, there is now a shared objective to create healthy, happy children with the potential to be productive citizens.
Recognizing that literacy must begin at birth in order for lasting change to be made, the newest TLA relationship, a merger with the Kindergarten Readiness Collaborative effective April 1, was to have been announced at the gala. KRC introduces family connections from birth to age 5, which will expand TLA's kindergarten-through-third-grade focus to the broader range of from birth through third grade.
By joining forces, TLA is able to build a continuum of support for families and children from birth through age 8, including in underserved areas through Connection Centers, helping all children be kindergarten ready.
"It's been 10 years of uniting a community around this goal to get third-graders reading on grade-level," said Hammond. "Dozens of innovations from the Learning Alliance and partner organizations have made the pipeline stronger – birth through third grade."
"Success depends on physical, mental and academic factors. We've learned over the years that literacy is the thread that binds all of that together," said Woody-Remington.
Ron Fairchild, director of the nationwide Grade-Level Reading Support Center, said that the decade-long leadership of TLA has helped build a broad community-based coalition of 300-plus GLR campaigns across the country. He added that TLA has provided the model to demonstrate how to build and focus those coalitions on removing the barriers to early learning success for children of low-income families.
As a result of their efforts over the past 10 years, Oglethorpe said that the school district hit 60 percent on the latest Florida Standards Assessment third-grade reading test – its highest ever – jumping from 53 percent to 60 percent achievement over the past four years.
"This school district is now in the top 15 school districts out of 74 in terms of its third-graders reading on grade-level," said Oglethorpe, citing data from the Florida Department of Education.
"We now have a superintendent [IRC School District Superintendent David Moore] who is highly capable both at visioning and implementation. He has done this before, and he will be able to scale change across the system to create innovative schools and a world-class educational system," said Hammond.
"The partnership here is like nowhere else that I have seen," said Moore. "It's a community that came together around literacy, and supported one another to improve literacy within one very solid and united focus. That was one of the reasons in coming here, that partnership, making that a community priority to establish Indian River County as a literacy capital of America."
Moore said that the Moonshot Moment goal can be accomplished through partnerships and the strategic alignment of resources created and generated through the Learning Alliance. He stressed that by connecting those resources all children, regardless of where they are born or live within Indian River County, will be a step ahead of the game.
As a result of CDC guidelines, TLA has been creating innovative ways to continue their work virtually.
Using video conferencing, the team began filming age-appropriate story-time videos for children from birth through second grade in both Spanish and English, and they continue to explore other ways to reach students virtually.
Looking to the future, Hammond said, "it's important for us to go beyond the vision to impact. So far, we've seen the system-wide impact."
"We changed the DNA of this community," said Woody-Remington. "Our name and our logo say it all – we ally people around our children to reach the Moonshot Goal. Everybody needs to come together and work together to make sure our youngest citizens are successful."
For more information, visit thelearningalliance.org.
Photos from previous event
Click HERE to see more or buy photos