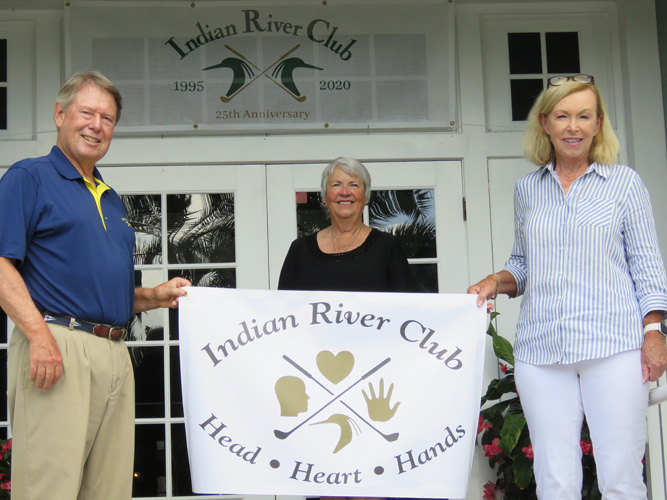 Indian River Club residents aren't letting the coronavirus pandemic get in the way of the support they provide to local nonprofits. Even though the sixth annual Head, Heart and Hands of Indian River County Grant Award Ceremony was canceled, grant checks totaling $159,350 were mailed to the selected recipients to help them continue their critical missions.
Founded in 2014, Head, Heart and Hands is a three-pronged community outreach framework, with Head representing their community-based speaker series, Heart their philanthropy, and Hands their coordinated volunteer effort.
"We had a number of people here in the community that were involved in public service," said Larry Depew, HHH president. "We said, 'Why don't we consolidate this into an organization and see if we can not only coordinate the volunteer activities but start a foundation.'"
Since its inception, the community outreach program has raised nearly $825,000 through an annual solicitation to about 200 homeowners, golf tournaments, and an ongoing cookbook fundraiser, with 100 percent of proceeds donated through grants. This year, 18 nonprofits received awards ranging from $3,500 to $15,000 for programs focused on children and services supporting the South County Area.
"At this point, we're treading lightly this year because of the health crisis. We've created a nice little reserve to ensure we can continue to support the community. We didn't want to become a funder that doesn't have money in the coffers to continue a program that we think is valuable," said Depew.
Grants were provided to the following nonprofits:
Alzheimer & Parkinson Association of IRC, to support its Social Respite program, enabling caregivers to take time out for themselves. "We have caregivers who have told us, very literally, that we've saved their lives with this program," said Peggy Cunningham, executive director.
Big Brothers Big Sisters for its BBBS Reads program, which, said CEO Stacey Watson-Mesley, has volunteers providing one-on-one tutoring to Indian River Academy students who need additional support in reading.
The Boys & Girls Clubs of Indian River County, for Project Learn scholarships, where students learn about good character, citizenship and healthy lifestyles. Executive director Elizabeth Thomason said HHH support directly impacts club members residing in South County.
Children's Home Society is meeting the immediate physical needs of non-parented young adults, ages 18 to 22, who are homeless, at risk of becoming homeless, or have "aged-out" of foster care. "We transform the lives and futures of local youth and young adults," said Sabrina Sampson, regional executive director.
Crossover Mission helps at-risk youth to develop academic and fitness skills, and healthy coping mechanisms, said Cathy De Schouwer, executive director. The grant will help them fight the national epidemic of childhood obesity and focus on positive adolescent mental health strategies.
Dogs for Life, through its Veteran Dog Training program, has trained roughly 236 service dogs to provide physical and emotional support for veterans. Shelly Ferger, founder/CEO, said they plan to continue improving the quality of life for veterans with hearing and mobility challenges as well as the effects of PTSD.
Feed the Lambs intends to help even more children through its afterschool tutoring and summer enrichment programs for low-income children. "We're helping the children that are not doing good in school and keeping them off the streets during the summer," said John May, board president.
The Gifford Youth Orchestra grant will provide annual tuition for three students, ages 7 to 18, providing them with everything they need to receive a year of music education, said president Crystal Bujol.
The Hibiscus Children's Center Career Pathways to Independence Program assists youth living at the Hibiscus Village, by providing career training, preparation and life skills, said Matt Markley, CEO.
The Hope for Family Center provides individuals living at the center with employment and financial literacy training, a place to live and meals, "giving adults and children all the necessary support and guidance during such difficult times," said Diana Grossi, CEO.
Literacy Services of IRC will use the grant for its Tutor Training program, to "provide enhanced and more frequent training, to deploy more tutors to meet demand for services and empower current tutors to help their students achieve success," said Jessica Schmitt, executive director.
Miss B's Learning Bee's provides tutoring services to 45 students whose families could not otherwise afford it. "This grant allows us to stay present for our families. To continue to be a thriving resource within the community," said LaToya Bullard, executive director.
The Senior Resource Association Emergency Meals on Wheels program provides meals for individuals discharged from a medical facility who would not normally be able to get their nutritional value, explained Karen Deigl, president and CEO.
Special Equestrians of the Treasure Coast provides adaptive horseback riding and horsemanship instruction for children and adults with physical, emotional and intellectual disabilities; practicing effective communication and teamwork with horses and volunteers, said Vickie Penly, program volunteer.
Sunshine Physical Therapy provides therapy services to children needing long-term rehabilitation services for developmental delays, birth defects, neurological disorders, autism-spectrum disorders and other disabilities. "In 2019, we provided 164 visits to eight children with the grant funds received from Head, Heart and Hands," noted Lynne Gates House, clinic director.
The Learning Alliance will be able to fund a Third-Grade Intervention position at Indian River Academy, said Liz Bahl, director of program implementation. Diane Fannin, IRA principal, explained that for struggling readers, additional, explicit instruction is critical for their future and academic success.
The Source executive director, Tony Zorbaugh said the grant will be applied to their Dining with Dignity program, which delivers meals to over 150 people from Micco to Port St. Lucie. The program trains individuals who are homeless, lack skills, job references, are underemployed or unemployed.
The United Against Poverty Workforce Development program is helping young people transition into the workforce. "Our STEP program provides a combination of emotional intelligence, soft skills training, employability skills, and certifications that help to break the cycle of poverty before it begins," said Annabel Robertson, executive director.