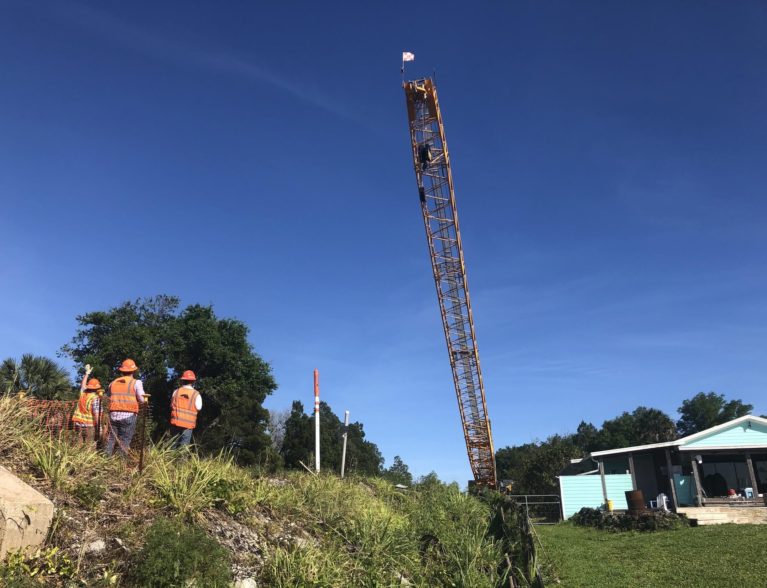 INDIAN RIVER COUNTY – Several Roseland homeowners criticized Virgin Trains USA for starting construction on a new $33 million St. Sebastian River Railroad Bridge during the coronavirus pandemic.
Virgin Trans contractors have rolled a 290-ton Liebherr 1300 crane north on the Florida East Coast Railway right-of-way, coming to rest next to Amy Wood's home on the bluff overlooking the river.
Virgin Trains is replacing the 94-year-old railroad bridge as part of the $2.5 billion construction of high-speed tracks between West Palm Beach and Orlando.
Before the pandemic halted the company's two-year-old passenger rail service between Miami and West Palm Beach, Virgin Trains anticipated extending service to Orlando by late 2022. Indian River County would see 34 trains per day traveling at speeds of up to 110 mph under the plan.
While Virgin Trains discontinued passenger service March 25, construction continues on FECR track upgrades from West Palm Beach to Cocoa and new tracks from Cocoa to Orlando.
But Wood and several other homeowners along 83rd Avenue, which runs parallel to the river, said Virgin Trains should halt work on the bridge project until the pandemic passes.
"They want to build a high-speed rail right outside my window," Wood said. "It's very stressful, especially with what's going on right now. We're under a state of emergency. I don't think we need this destruction right now."
As two pullies dangled from the end of the crane's boom about 20 feet above the family's driveway basketball backboard, Wood said, "I don't think it's safe to do something like this."
Patricia Hyden, whose riverfront home is on the opposite side of the tracks from Wood, called the timing of the bridge construction "disgraceful."
"This is not the time to be doing this," Hyden said. "There are too many things going on in the country. We don't need the disruption. It's adding additional stress at a time when no one needs additional stress in their life. It's just wrong."
Maria Leclair, a nurse whose Roseland home is across 83rd Avenue from Hyden's, said she's afraid the construction noise will disrupt her sleep at a time when she needs to be well-rested to cope with the pandemic.
"Now, where I'm working, we've got eight of them in isolation right now, quarantine," Leclair said about coronavirus patients. "I can't even be near people right now. I carry my mask all the time on me."
"I'm worried about the noise," Leclair said. "When I do get a day off, I like to sleep and I'm sure I'm not going to be able to. Once they start [pile-driving], it's going to be hell living around here with all the pounding."
Mike Cegelis, VTUSA's executive vice president of rail infrastructure, supervised the placement of the crane last Wednesday. He declined a request for an interview by Vero Beach 32963.
Cegelis was among about a dozen construction workers who looked around the FECR right-of-way near 83rd Avenue and reviewed construction drawings.
Virgin Trains is preparing to construct two independent concrete bridges to replace the 1,625-foot-long steel bridge traversing the St. Sebastian River.
Contractors will construct a temporary work trestle on the west side of the existing bridge so cranes can work safely above the river, the project summary says.
Unused bridge girders will be removed from the dormant side of the bridge and new concrete piles will be installed. The new bridge will be installed atop the new piles and trains will be moved to the new bridge.
Next, the trestle will be moved to the east side of the bridge and the process will be repeated with the removal of the old girders and the construction of the second span, the summary says.
Major bridge demolition will start in May. Construction is expected to last through September 2022.
Virgin Trains decided to temporarily cease passenger rail operations in South Florida after the coronavirus caused a 90 percent drop in ridership, said former Vice President Rusty Roberts, in a good-bye letter to Vero Beach officials.
"The positive news is that the suspension of service in South Florida does not affect our expansion to Orlando," said Roberts, one of 250 workers Virgin Trains laid off. "That construction will continue."
"We are buoyed by the support and enthusiasm of transportation advocates across the nation who have closely watched this high-speed rail project and who share our anticipation and grand vision, validated by that first train from Miami rolling into Orlando station," Roberts said.