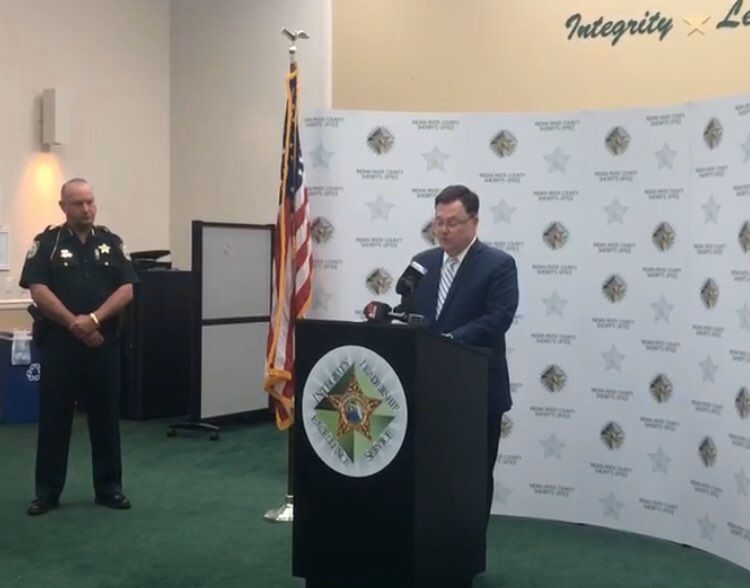 INDIAN RIVER COUNTY — Cleveland Clinic hopes to have more rapid testing for coronavirus available by the end of the week, hospital officials said.
Dr. Greg Rosencrance, president of Cleveland Clinic Indian River Hospital, said the facility shares rapid testing with the Martin Health System. The head of the hospital spoke Friday at a news conference about the facility's preparations to return test results to patients at a faster rate.
The news conference was held at 2 p.m. at the Indian River County Sheriff's Office. Rosencrance said hospital staff have enough personal protection equipment, for now.
Dr. Greg Rosencrance, president of Cleveland Clinic Indian River Hospital, speaks about plans to implement faster testing for #coronavirus. #VeroNews pic.twitter.com/JGabBG3TM4

— Nicholas Samuel (@JournalistNickS) April 7, 2020
"We must, however, continue to preserve these resources in case of a potential surge in patients," Rosencrance said. "We continue to follow Center for Disease Control and Prevention and World Health Organization guidelines."
Rosencrance said the average time that patients get their test results back varies.
Individuals who undergo drive-thru testing get their results back within two-to-three days, Rosencrance said. Those tested inside the hospital get their results back between four-to-24 hours.
Rosencrance couldn't say how much faster the results would be returned with the rapid testing. As of Tuesday, the hospital's drive-thru testing screened 3,241 people by phone and tested nearly 338 individuals.
"Through this process, we've kept people who have COVID-19 symptoms out of the emergency departments and physician offices, thereby reducing exposure to others," Rosencrance said.
Patients who want to undergo drive-thru testing must first call the nurse triage line at 772-226-4846 to determine if they meet the CDC and FDOH criteria. Rosencrance said the total number of people tested at the hospital, including by drive-thru, is 710 individuals.
Rosencrance said Cleveland Clinic received 608 results and 102 are pending.
"I'm extremely proud of the dedicated caregivers at Cleveland Clinic Indian River Hospital and all first responders in our county and Florida region," Rosencrance said.
The head of the hospital added that the facility will be able to provide up to 540 regular beds and up to 100 intensive care unit beds, in preparations for a possible surge.
Rosencrance said as of Tuesday, Cleveland Clinic Indian River Hospital has a 48 percent occupancy, including those hospitalized for various health reasons and coronavirus patients. Rosencrance said the hospital is prepared to use other facilities on its campus for treatment if an unexpected surge in coronavirus cases happens.
There are no surges involving coronavirus patients at any Indian River County hospitals, for now. As of Tuesday, 62 people in the county tested positive for the virus, including 15 people who were hospitalized.
Miranda Hawker, Florida Department of Health Officer, clarified the number of hospitalizations is a cumulative amount. This includes individuals currently in hospitals and all those who were admitted.
Details on people who were in the hospital and later released were not available. It was also unclear how many people in the county have fully recovered from the virus.
Rosencrance could not comment on how many coronavirus patients were using ventilators at Cleveland Clinic.
But, he did say the hospital as an adequate amount of ventilators. Rosencrance said the hospital created a housing program for caregivers looking after patients who tested positive for COVID-19.
Health officials said no deaths have been reported in Indian River County. As of Tuesday, 283 people across Florida have died from coronavirus complications.
Cleveland Clinic is also helping first-responders who are dispatched to coronavirus-related calls.
The hospital implemented a new philanthropic program – Cleveland Clinic Regional First Responder Hardship Program – that will provide financial assistance to first-responders across south Florida. The program benefits first-responders experiencing temporary financial hardships because of COVID-19 and who are on the front lines of the coronavirus pandemic, Rosencrance said.
More information on the hardship program can be found on the hospital's website. 
"We're all impacted by this situation and everyone in the community has a role to play. Don't just flatten the curve, crush the curve," Rosencrance said. "This is not the time to become complacent. Now is the time to double down and stay at home."