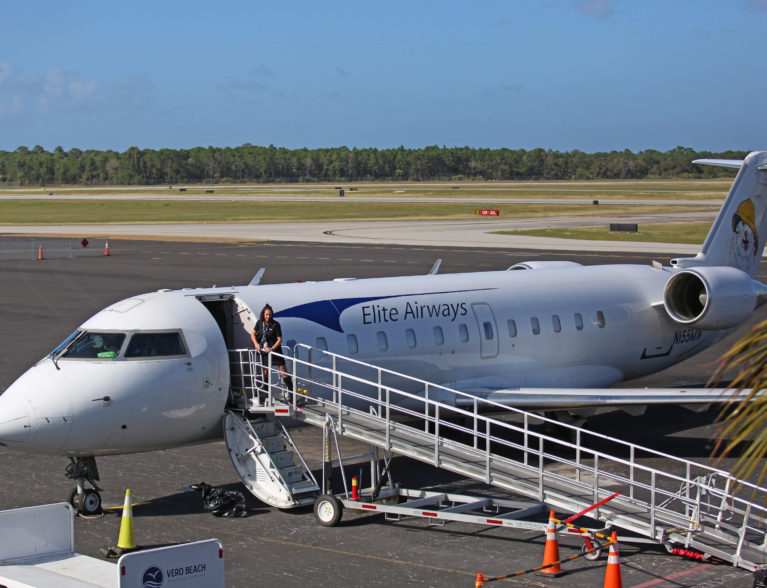 The Vero Beach City Council voted 3-2 Tuesday to terminate its agreement with Elite Airways – effective immediately – despite the airline president's promise to "clear up the bill" for nearly $35,000 in unpaid fees within 30 days.
"It's regretful that you're going to throw us out," Elite President and CEO John Pearsall told the council after the vote, adding, "I think it's a mistake."
Council members Laura Moss and Rey Neville opposed the decision, saying they wanted to continue to work with Elite, which in 2015 returned commercial air service to Vero Beach.
"It's been a bumpy ride, but that doesn't necessarily mean was have to end it," Moss said, describing the airline as a "business many people support and enjoy."
Councilman Joe Graves, however, criticized Elite management for making no effort to pay any part of the overdue fees as it agreed to in January, and made no offers to do so even after knowing the council was considering ending the agreement.
He said it was time for the city to "move on."
Councilman Robbie Brackett expressed his disappointment with Elite's failure to honor its financial commitment to the city, saying, "This hurts."
Pearsall had said repeatedly that Elite's flights between Vero Beach and Newark, N.J., were the airline's most successful connection and that it was "important to customers that we continue to serve this route."
Elite already had canceled its April flights between Vero Beach and Newark because of the coronavirus pandemic, but Pearsall said it hoped to resume service in May, if it were safe to do so. If not, those flights also would be canceled.
Pearsall said the airline already had accepted bookings though the end of the year.
Until Elite's arrival 3 ½ years ago, Vero Beach had been without commercial air service for 20 years.