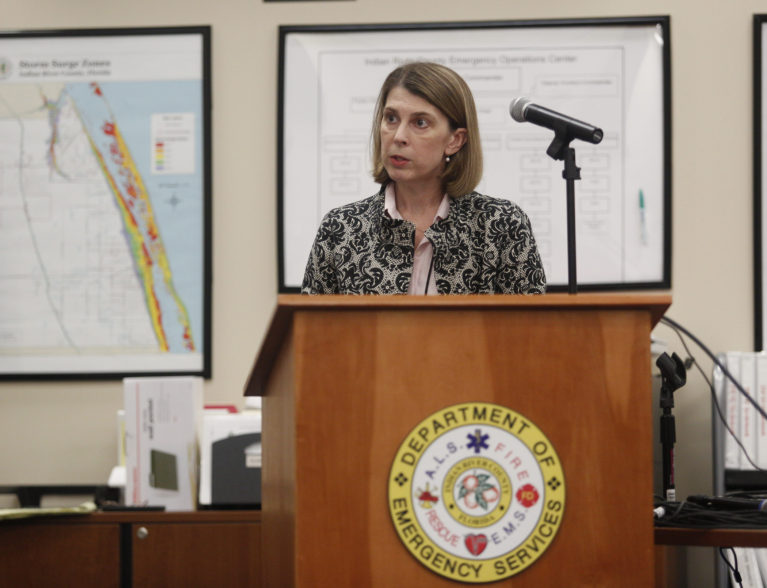 UPDATE:
INDIAN RIVER COUNTY — County officials spoke in calm, reassuring tones Friday as they outlined preparations to monitor the coronavirus situation ravaging parts of the nation.
Cory Richter, the former deputy fire chief, said for now, area hospitals have not seen surges of COVID-19 patients. Richter said both Cleveland Clinic Indian River Hospital and Sebastian River Medical Center are prepared to handle what comes their way.
"We're hoping for the best, but preparing for the worst," Richter said during a weekly coronavirus update at the Indian River County Emergency Operations Center.
Richter said Cleveland Clinic Indian River Hospital has a 245-bed capacity. Sebastian River Medical Center has a 112-bed capacity, Richter said.
Both address the needs of Indian River County, which has a population of nearly 160,000, according to the U.S. Census Bureau.
But, Richter said both hospitals have the ability to add more beds. Richter said emergency officials were working on "surge capacity" numbers in case they see an unexpected rise in coronavirus patients.
"Let's hope it doesn't progress," Richter said.
Richter pointed out that both hospitals are restricting visitors. He advised those who want more information on the restrictions to visit the hospitals' websites, as the rules could change regularly.
Indian River County Assistant Chief for Emergency Services Kevin Yelvington said the county is aware of a shortage of personal protection equipment at some nursing homes and assisted living facilities. Yelvington said the county is working to get these healthcare facilities the proper masks and other protection they need to battle the coronavirus pandemic.
Yelvington said the county regularly receives new shipments of personal protection equipment to be given out to the health businesses. Also, Piper Aircraft is making face shields that will be given to local healthcare workers.
Richter said SRMC has a full supply of masks for all of its workers. It was unclear if there was a shortage of masks at Cleveland Clinic Indian River Hospital.
County cases
Florida Department of Health Officer Miranda Hawker said 44 people in Indian River County have tested positive for coronavirus, or COVID-19, as of Friday morning. Hawker said 17 cases were travel-related, 19 were not travel-related and eight were still under investigation.
"I want to urge all Indian River County residents to stay home and only go out for essential trips," Hawker said.
Florida Department of Health Officer Miranda Hawker gives another update on local #coronavirus cases. #VeroBeach pic.twitter.com/Ccffp8XdkO

— Nicholas Samuel (@JournalistNickS) April 3, 2020
The county cases involve 25 men, one boy and 18 women, Hawker said. The age range of the local cases is 8 to 88.
Hawker said seven people are now hospitalized from the virus.
Anyone showing symptoms of the virus is being instructed to self-isolate, Hawker said. No deaths have been reported in Indian River County.
Hawker reminded residents to maintain social distancing, wash their hands frequently and clean constantly touched surfaces. Hawker said the virus is easily spread through respiratory droplets from an infected person.
She said the virus can also be spread by people not showing symptoms. The Center for Disease Control and Prevention noted that coronavirus is spreading more efficiently than influenza, but not as much as measles, which officials said is highly contagious.
Hospital tests for COVID-19
Richter spoke about how many coronavirus tests have been conducted at the local hospitals.
Richter said 41 tests have been done at SRMC. Out of those tests, 36 were negative, three were pending and two were positive.
The two people who tested positive did not need to be hospitalized and were self-isolating, Richter said. Drive-thru testing for Cleveland Clinic Indian River Hospital has had 2,750 calls.
Cleveland Clinic has conducted 507 tests, with 33 people testing positive, 238 testing negative and 237 pending.
Hawker said the health department has 150 test kits available. The total number of tests conducted by the health department was not immediately available.
Earlier story
The Florida Department of Health and county officials were expected to give an update on the local coronavirus cases Friday afternoon.
Authorities will speak about the county cases at 3 p.m. Friday at a news conference. The conference will be held at the Indian River County Emergency Operations Center, 4225 43rd Avenue.
Residents can also tune in to the update.
The recorded event will be posted on the Indian River County website shortly after the conference ends, officials said. The briefing will also be broadcast on the IRC Government Channel 27 throughout the weekend.
County officials have been conducting weekly updates on local cases since March 20. Friday's update comes two days after Gov. Ron DeSantis issued a statewide stay-at-home order, except for those conducting essential activities, in an effort to curb the spread of the virus.
In Florida, there were 9,585 positive cases of coronavirus, including 163 deaths, as of Friday morning, according to the health department. No deaths have been reported in Indian River County.
Indian River County had 44 positive cases of coronavirus, also known as COVID-19, Friday morning, health department officials said. The people who tested positive in the county range in age from 8 to 88.
All are residents, except six. Health officials said six people remain hospitalized from the illness.
This story will be updated. 
Photos by Kaila Jones