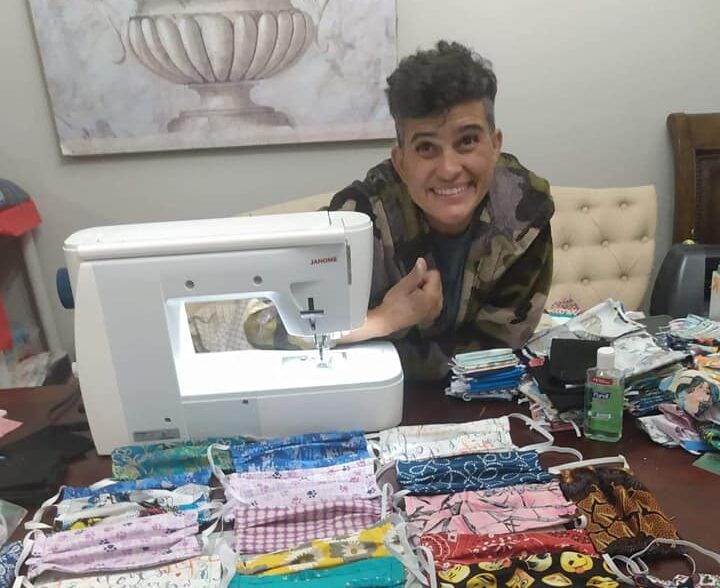 INDIAN RIVER COUNTY — Alex Melo-Crane is no stranger to battling life-threatening diseases.
After being diagnosed with polycystic kidney disease last year, the 43-year-old Sebastian resident now finds herself helping to protect others on the front line fighting against the coronavirus.
The photographer by trade is sewing protective face masks to equip anyone concerned about the virus – doctors, nurses, first responders and everyday citizens.
She knows at any point that if she catches COVID-19, she could have serious or even fatal health complications.
"People that have the same condition as me are scared," Melo-Crane said. "I have several cysts in my breasts. They grow, they pop and cause intense pain. There's no medication to take the pain away."
The disorder causes cysts to mainly form in a person's kidneys, leading the organs to enlarge and lose function overtime.
The cysts can also grow in a person's liver and elsewhere inside their body, including their brain, heart and lungs.
"You don't know when a cyst can develop," Melo-Crane said of the illness, for which there is no cure. "This disease can kill me at any time."
Melo-Crane, however, is not letting her health condition stop her from giving to those in need of personal protection during the coronavirus pandemic.
Making the masks
Still, Melo-Crane said she is living for today and doing whatever she can to help everybody out.
So, Melo-Crane decided to make masks from scratch in her home and deliver them to people, for free. Melo-Crane said she buys fabric from different stores and then sews them into protective medical masks for whoever may need one.
Melo-Crane's wife helps her make the tight woven cotton masks. Melo-Crane said it takes them about two-to-three minutes per mask, creating at least 100 masks each day.
"We start from 6 a.m. to about midnight. We have one sewing machine and two back-ups," Melo-Crane said. "We don't expect anything in return. We're helping people out. There's so much need for them."
Melo-Crane washes and sprays the fabric before sewing. Melo-Crane said she makes masks for adults and children.
"My house looks like Jo-Ann Fabrics Crafts," Melo-Crane joked. Melo posted a video of her creating the masks Sunday on her Facebook social media page.
She picks out different designs showing superheroes such as Batman, Wonder Woman and Ironman. Melo-Crane also selects other fabric designs showing princesses, emojis, musical notes and unicorns.
"The hardest mask I had to make was for a 2-year-old boy," Melo-Crane said. "His mom was afraid of taking him anywhere in public. I made him a Spiderman mask."
Melo-Crane said she has donated more than 950 masks so far and that she has more than 3,500 requests. Melo-Crane said she has given the masks to families, local nursing homes and rehabilitation centers.
"I'm slowly trying to get to every request," Melo-Crane said. "The nurses in Florida don't have any protective gear."
Melo-Crane said she has not had any requests from Cleveland Clinic Indian River Hospital. But, she did have requests from other county healthcare agencies, which she declined to name out of concern they could be reprimanded by the state government.
"I gave 265 masks to a local nursing home," Melo-Crane said. "Three nursing homes have shortages of masks."
Several county nursing homes were not immediately available for comment.
Melo-Crane delivers the masks to different areas throughout Indian River, Brevard and St. Lucie counties. She said she usually sends an alert on Facebook saying which town she will be in and asks anyone if they need masks.
Melo-Crane said she usually meets local residents outside of the Indian River Mall or the Cumberland Farms in Sebastian to deliver the material. The residents stay inside their vehicles while Melo-Crane walks over, wearing a mask and gloves, and gives them the protective face coverings.
Melo-Crane said she has received fabric donations from residents, but noted that she needs more elastic material. She said she has enough cotton to make 1,000 more masks.
"Anybody that needs a mask, I will give it to them," Melo-Crane said. "To anybody who's on the front lines – first responders, medical staff, supermarket workers, gas station employees – thank you."
Anyone who would like a mask or make a donation can contact Melo-Crane at 321-872-7017 or on her website.