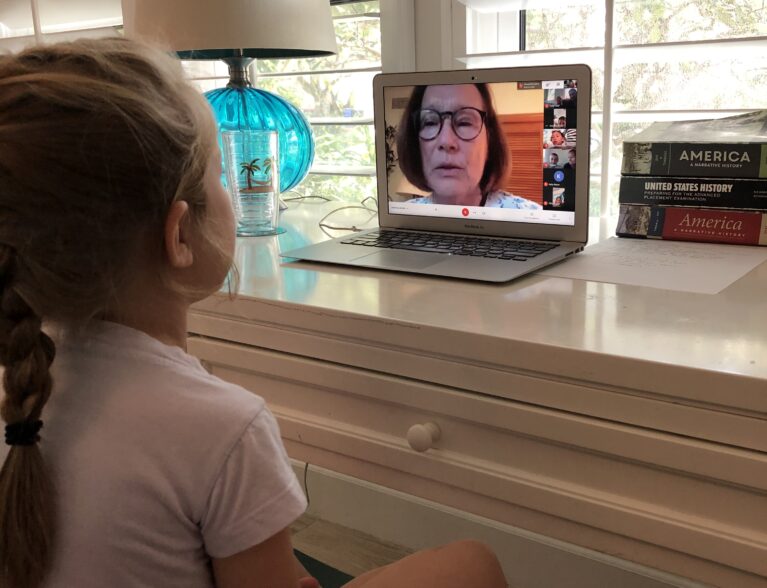 VERO BEACH — The coronavirus did not break the strong bond between teachers, students and staff at St. Edward's School.
Teachers – excited, exhausted, and eager all at the same time – rolled out their virtual lessons this week at the private school. The educators are communicating with students through an internal online network, sending in homework check lists and teaching students in a virtual classroom.
"Obviously no one anticipated us being in this situation, but it truly is unbelievable how quickly we came together to get this new system up and running," said Rikki Bischoff, a middle school history teacher at the private school. "We couldn't do it without our extensive and tireless technical team and admin. We all worked really hard last week to get our classes online, and it actually felt a bit like the first day of school on Monday."
Bischoff already has her hands full with three small children and a husband who works everyday. Bischoff said she is juggling homeschooling her two older girls, entertaining her 3-year-old and teaching online.
"We have created a schedule, but managing my home life definitely has been my biggest struggle," Bischoff said.
Virtual Learning
Schools in the state will be closed until April 15 as the nation faces a public health emergency caused by the coronavirus, or COVID-19. Teachers at campuses across Florida are rolling out online lessons to students in an effort to continue the pupils' education.
St. Edward's School, which has grades pre-K through 12th, had its spring break March 9 through March 13. Virtual learning classes began Monday.
St. Edward's is not part of the School District of Indian River County, which had its spring break this week. School district officials issued out laptops to students so they can be prepared for the instructional provision plan, set to begin Monday.
At St. Edward's, teachers and staff quickly began to brainstorm how they would continue educating pupils using the most up-to-date technology. The educators met last week to discuss ideas on how to transition from in-person instruction to complete online learning.
"Our younger students work with iPads. Those in middle and upper schools have their own laptops and have been taught proper online behavior from the beginning," the school's IT Director Quen Voyles said. "These ingrained behaviors made the transition very smooth from a technical support perspective."
Teachers at St. Edward's, which has 584 students, hold virtual office hours where students can log on and ask questions. Head of School Mike Mersky said educators are still preparing pupils to be strong, contributing members of the community, even if it's through a computer screen.
"Somehow I missed 'Pandemic 101' in my Head's training and career in education, but it has been refreshing to be reminded that we're all learning together, no matter what age," Mersky said. "College acceptances are stronger than ever, with Stanford, Harvard and Dartmouth as just a few examples."
A few members of the school's technology education team that contributed to the virtual learning activities are Shaun Hurley, Kelly Fykes and Amber Mullins. The technology coordinators blended synchronous and asynchronous lessons that all students can use.
"The best part of this program is interacting with the teachers," Fykes said. "We had to make a number of hour-by-hour changes to make this work for our students and families, and without question, every teacher was on board from the beginning. I'm just excited to see where they take it from here."
Some teachers are using online networks such as Zoom and Google Meets for their classes, said Monica Jennings, the school's marketing and communications director. Since the student to teacher ratio at the campus is 13 to one, Jennings said that teachers are able to see every student on small individual screens during virtual learning.
"This allows students to see all of their classmates and teacher," Jennings said. "All the children hear each other and the teacher just as if they were in class together."
Jennings said it's amazing how teachers have stepped up to keep students engaged. Some students from China, Germany and the United Kingdom were sent back home – because of coronavirus health concerns – and are continuing to take classes remotely, Jennings said.
"We're working across the globe," Jennings said. "The kids are responding well and being flexible. They're torn, but happy to be home and safe with their families."
Parents reactions to virtual learning
Some teachers at St. Edward's said they were already using online tools to educate students. With pupils being accustomed to reading text and providing written responses online, the transition to the new virtual platform was an easy one.
Students can check assignments, and download links and videos when needed, teachers said. Parent Wendy Porter said her two boys were intrigued and curious about the virtual learning.
Porter has an eighth-grader, Christopher Porter, and a fourth-grader, Cooper Porter. Porter, 52, said the first week of virtual learning for her boys has gone smoothly.
"Both boys seem to be picking it up quickly and they particularly appreciate having the opportunity to work at their own pace for the asynchronous component. For the most part, the technology they are using is familiar to them and the content has been adapted for on-line use," Porter said. "I attribute this to the incredible work that the faculty has done to plan and prepare for this scenario."
Porter said she is staying at home with her children during the school closings. Porter said faculty and staff have made themselves flexible to provide help to families during the transition.
"While this has been a difficult time for everyone, the school and faculty have been available at all hours of the day, seven days a week to answer questions, provide extra help and give feedback," Porter said. "While it looks and feels a bit different, learning is happening from home."