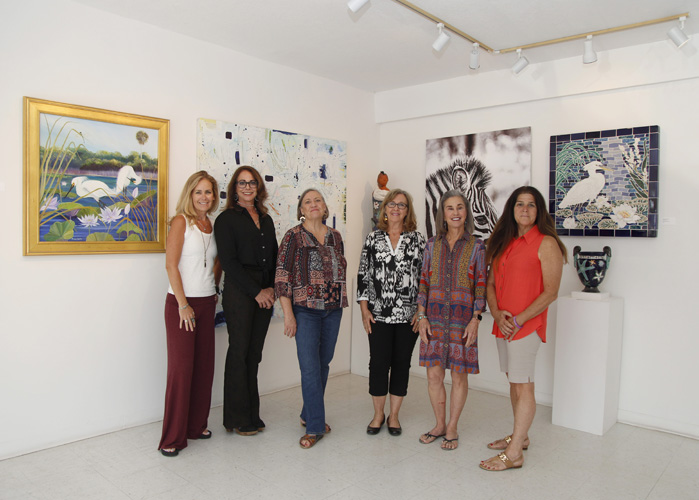 One of the art community's most popular and longest-lived studios – Tiger Lily Art Studios and Gallery – will close its doors for good April 30, leaving a significant hole in the heart of Vero's lively Downtown Arts District, for fellow artists and art lovers alike.
Tiger Lily has been a spacious, light-filled standout on 14th Avenue since 2006, when its artists transformed a lofty space once occupied by a church into an airy, inviting destination, with a gallery in front and a vibrant multi-media studio in the back. The space has been an artistic anchor for the several-block stretch that in recent years has developed into downtown's cultural and culinary ground zero.
But it wasn't always Tiger Lily. And it wasn't always on 14th Avenue.
The six artists who currently "are" Tiger Lily – Glenda Taylor, Sharon Sexton, Julia Carter, Shotsi Cain LaJoie, Travis Blanton and Kirsten Kowalski – gathered last week to talk about the three-decade journey.
Their story begins in 1990, when Sexton was taking a ceramics class taught by Taylor at what was the Center for the Arts (now the Vero Beach Museum of Art). Taylor, then in charge of the ceramics department, mentioned that she was looking for a studio in which to do her own work, and hoped to find another woman artist to share it.
The idea appealed to Sexton who, like Taylor, was an artist and young mother, and for whom art was not only a passion and an outlet for self-expression, but was also a stress reliever. At that time, there was no thought of selling their work. They simply wanted space to do what they loved and were hardwired to do.
The pair found a beachside location where they could rent space – Harvey Kornick's Red Lion Gallery – and set up a little studio.
"There were no hours; we didn't set our stuff out," says Sexton. "We had little kids. It was a place we could get away and just work."
Some 15 months later, artists Lynne Ulrich and Chris Adams Johnson, expressed interest in joining them.
In 1991, the need for more space brought the four young artists across the river, to the Pocahontas Building on 14th Avenue. The time also seemed right to add a bit more structure to their little enterprise and to give it a name. Sexton had always loved the name Tiger Lily, and the other three founders agreed.
By 2001, Tiger Lily uprooted and moved to a significantly larger space on 10th Avenue. By then, Carter had joined the group. Tiger Lily thrived there until 2004, when hurricanes Jeanne and Frances hit. The group was homeless until 2006, when the opportunity to move into their current space presented itself.
LaJoie came on board that year, rounded out by Blanton in 2012 and Kowalski in 2017.
Passers-by have relished broad views of the gallery through a large picture window, where an ever-changing display of art in various forms and colors – gorgeous paintings, photographs, pottery, clay figures, ceramics and sculptures – are shown to their best advantage against the white ceiling and walls.
Up a couple of narrow wooden stairs, a small doorway opens into the studio; a fascinating space with soaring ceiling. In spots allocated to each artist are creations in various stages of the creative process, on easels and walls, leaning against a table and perched on a pedestal.
Gorgeous ceramics and all sorts and sizes of paintings, striking photographs and small unpainted tidbits, splashy canvases and a variety of sculptures, along with brushes, palette knives, paints and tumbles of other implements of the creative process, are scattered about in organized confusion. Color is everywhere, dappled and changing as the earth's daily journey alters the light pouring through a pair of cathedral style windows.
This is where the magic has happened. The six women, whose abundant and diverse talents, along with a love and respect for one another, have deepened over the years, have given Tiger Lily its heart.
As they sit in a circle sharing years of memories, with laughter and tears, it is clear their bond is as strong as any family.
They believe that the reason their studio has been so beloved, continually drawing people in, is its welcoming, non-threatening vibe. Visitors often wander back into the studio to watch the creative process and see a work come together.
"They love to watch," Sexton says.
"People are intrigued by the process," adds LaJoie. "When they watch, it's de-mystified. And it's messy. We change our minds. We start over."
They all laugh in agreement.
Over the years, the gallery has touched visitors and artists alike in ways that transcend the art itself.
Sexton recalls an elderly woman who showed up one day. A "test pile" of various clay sunburst pieces drew her attention. Drawn to a particular piece, she examined it, set it back in the pile, kept returning to it, then turned toward the door.
Sexton had noticed the quiet woman and her interest in the small sunburst. As she was leaving, Sexton felt somehow compelled to give the piece to the lady, who then shared that she had just learned she had cancer and was wandering, aimless, trying to grasp the news. The gift, the woman said, meant more to her than Sexton could ever know.
Taylor shares a similar memory of a man who came to the gallery to enjoy the art and lift his spirits. He, too, dealt with cancer and a bleak prognosis. After sharing his story, he asked Taylor, "Will you dance with me?" And so, in the gallery, they danced.
The women now look forward to new chapters in their lives, appreciating that there are trips to take, grandkids to spoil and new art avenues to explore. Nevertheless, the decision was bittersweet.
They recall many years of bringing their children to the studio and having a wonderfully messy time making Christmas decorations with them. They supported each other, cared for elderly parents, laughed together, grieved together and brought out the creativity in one another. They all feel that their own artistic paths were influenced and enhanced by the others.
"It's always been more than art," says Sexton. "I found I am my own person."
"You always knew five people had your back," agrees LaJoie. "That's a gift you can't buy. And we can still pick up the phone."
As with any family, things weren't always cerulean blue. There were spats, hurt feelings.
"But we were always careful with each other," says Taylor, who was, the others agree, "the adult in the room" during those "fussy" moments.
Taylor, a fourth-generation Florida native, has a BFA in ceramics from the University of Florida, and 30-plus years creating and teaching. Her work is displayed extensively, including in a White House ceramic collection. Taylor's art clearly illustrates her mastery of the thrown form and her Florida roots, with exquisitely detailed patterns and jewel-like colors that often depict the sea and its creatures. She plans to start a home studio and teach at Indian River Clay.
Sexton, for the most part self-taught, works in whatever medium strikes her fancy – clay, oil, acrylic, silk, mosaic. She started painting murals at 18, influenced by South Florida's tropical environment. Her many public projects include the City of Vero Beach hibiscus logo design and installation, and those four wonderful columns at Royal Palm Pointe Park, created with 900 hand-sculpted tiles. She is beyond excited about her new studio at the family ranch, where she plans to teach mosaics and silk painting.
Carter is a contemporary artist, whose joyful style and vibrant, sunlit paintings have been said to "trigger the mood to rejoice in life's simple pleasures." One of the 2005 Turtle Trax artists, her turtle remains on view in Humiston Park. Carter was the featured artist at one of the Vero Beach Wine and Film Festivals and some of her whimsical works can be viewed at the Vero Beach Book Center. She plans to paint at home and show her work at design markets.
LaJoie's work is in several private collections and she has plans for gallery exhibits going forward. "Ideas, images and color guide me into my creative space. Unknown territory is exciting to me," she says, something that is crystal clear when viewing her exuberant, colorful paintings and clay images. She plans to paint and show her work at home and perhaps open a public studio someday.
Kowalski is a landscape and portrait photographer whose work, often in black and white, dramatically portrays her various subjects. A beach lover, Kowalski can be found at the shore at all hours, capturing the changing sea and sky. She is also a published author, whose first novel, "Becoming Home," has just come out.
Blanton calls her chosen medium – clay – both sensual and childlike. "I fell in love with clay the first time I touched it. My skewed sense of humor finds delight in both the ribald and the absurd expressions of life. I hope my work provokes, titillates, confounds and amuses." She will be moving to Indian River Clay, and hopes to give workshops there.
Other Tiger Lily artists who came and went over the years: Bonnie Bower Dennis, Deborah Worsfold, Jill Pease, Linda Proctor, Donna Dodderidge and Christina Abazaid.
Without their shared space, the six dear friends plan to continue posting new work on their Instagram page, tiger_lily_vero. They also plan to travel to art events together and have group shows and exhibits. They are already planning a group show at the Sexton Treasure Hammock Ranch next season.
For more information, visit tigerlilyvero.com, or call 772-453-9049 or 772-778-3443.